We get it—deciding to enroll in an online degree program can be intimidating. You want to know everything you can about the program so there are no surprises once you start weekly coursework and projects. If you're reading this, you most likely know that health and wellness management is a growing field with diverse career potential. But, what does a University of Wisconsin Health and Wellness Management online master's degree course look like? What exactly are you expected to complete each week? And, how do you interact with classmates and faculty?
Below are the answers to all of these questions and more. This is your course inside look at HWM 730: Biopsychosocial Aspects of Health.
What will I learn in the course?
HWM 730: Biopsychosocial Aspects of Health examines the biological, psychological, and social-environmental aspects of wellness. After completing the course, you will be able to:
Understand employee well-being through the interaction of biological, psychological, and social factors.

Understand the relationship among theory, research, and practice.

Select appropriate theories for particular wellness interventions and employee populations.

Apply behavioral economic principles to evaluate wellness promotion programs.

Connect employee needs satisfaction to health outcomes.

Critically examine current wellness industry programs and trends.

Identify methods for cultivating employee strengths.
What will the lectures be like?
In fall and spring semesters, the course is comprised of 15 lessons that span 15 weeks (1-2 lessons per week), while the summer semester is an accelerated 11-week format (1-3 lessons per week). Unlike an on-campus program, you are not required to attend a lecture during a specific time. Instead, you are assigned videos, readings, discussion posts, and lesson quizzes to complete each week. You can start and stop a reading or video on your own schedule within the lesson period, and you can listen to, watch, or reference content as many times as you need to reinforce the material.
All readings, assignments, projects, and quizzes are clearly outlined in the Course Calendar that you can refer to anytime during the course: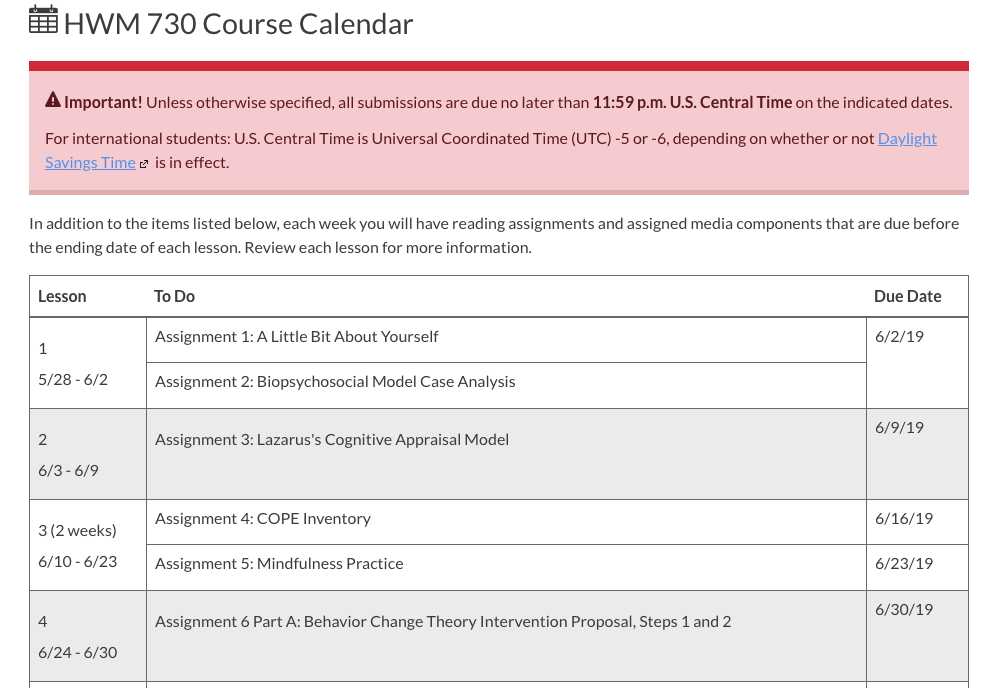 What types of assignments will I complete?
The number and variety of assignments may vary from course to course within the UW Health and Wellness Management program, but the amount of time and effort you spend each week in HWM 730 is consistent with other courses.
Each week you are assigned 3-4 required readings and/or video lectures. These textbook chapters, videos, and other articles focus on the week's lesson(s) and prepare you for assignments and quizzes.
Along with readings, some lessons include video lectures and discussion boards where you will interact with classmates and the course instructor through posts.
I loved how this course dove into the mental side of health. I enjoyed learning about how stress can play a role in your health and coping methods for stress, in addition to learning how to enjoy the little things in life that can truly make you happy. This course was great for professional and personal development.
–Summer 2019 student
What else will I do in the course?
Toward the middle of the course, you will take what you've learned in the video lectures, reading, assignments, and discussions and apply it to a Behavior Change Intervention Proposal. By using a Behavior Change Theory approach, you will select a personal behavior (i.e. reduce processed sugar in diet, exercise 150 minutes a week, sleep at least 7 hours a night) to improve upon.
Once a behavior is selected, you will complete  multi-week assignments in which you self-observe and self-monitor your progress, and identify cognitive-behavioral strategies to apply to the intervention. This assignment concludes with a written reflection paper about what worked and what challenged your intervention process. 

Get Program Guide
Learn more about our 100% online degree and certificate programs.
Who is the instructor?
Todd Wilkinson, Ph.D., is a professor at the UW-River Falls department of psychology and has worked at the university for 11 years. He earned his bachelor's degrees in psychology and economics from Macalester College and his master's degree and doctoral degree in psychology from University of Minnesota-Twin Cities. At UW-River Falls he serves as the department specialist for health psychology and teaches courses including Sports Psychology, Health Psychology, General Psychology, and Research Methods.

In the HWM 730: Biopsychosocial Aspects of Health he strives to provide opportunities for students to experience the research process from conceptualization through presentation of findings.
When you enroll in the course, you will be provided Todd's office hours, phone number, and email. This way you can reach out to him with questions regarding course lectures, readings, assignments, and more.
Professor Wilkinson was very responsive to any issues that I had and did his best to improve or figure out technical difficulties. He provided great feedback and invested his time to the class in his responses.
–Summer 2019 student
Do students in the course interact?
Yes. Students interact and share ideas through graded discussions in Canvas, the course's learning management system. You can also collaborate, ask questions, and have general, non-assessment discussions in the virtual Student Resource Lounge. Many students are surprised to find that they get to know their instructors and classmates better online than in a traditional classroom.
How much do I do in one week?
Some students report putting in 20 hours of work per course each week. Keep in mind, this time commitment varies depending on how much previous educational and/or professional experience you bring into the program, as well as your work and life schedule.
In addition to the UW Health and Wellness Management academic directors and other resources offered by your chosen home campus, the UW Extended Campus Student Services team is comprised of Student Success Coaches. Offering support for academic, coursework, graduation, and personal needs, your Student Success Coach is there to guide you through the program.
Very positive learning environment and 'tone' to this class! Professor Wilkinson is very respectful and approachable and provides good feedback. His feedback also provokes additional critical thinking and sparks new ideas on how to look at topics. I love this material. Interesting, real, usable, and there should be more like it in this program. Assignments are both relevant and personal, and therefore learning is memorable.
–Summer 2019 student
---
Have questions about HWM 730: Biopsychosocial Aspects of Health or the online master's UW Health and Wellness Management program? Learn about our expert faculty, how to apply, and more. Enrollment advisers can help with all of your questions. Call 608-262-2011 or email learn@uwex.edu