We get it—deciding to enroll in an online master's degree program can be intimidating. You want to know everything you can about the program so there are no surprises once you start weekly coursework and projects. If you're reading this, you most likely know that healthcare administration is a growing field with diverse career potential. But, what does a University of Wisconsin Healthcare Administration online course look like? What exactly are you expected to complete each week? And, how do you interact with classmates and faculty?
Below are the answers to all of these questions and more. This is your course inside look at HCA 705: Population Health and Epidemiology.
What will I learn in the course?
HCA 705: Population Health and Epidemiology focuses on how to identify and address epidemiology and biostatistics. After completing this course you will be able to:
Interpret the broad definition of health and health determinants at the individual, patient, and population level.

Recognize the principles of epidemiology as a foundational science for medical research, evidence-based clinical practice, and public health practice.

Identify the main study designs, methods, statistical inferences, and methodology terminology in clinical and epidemiology research.

Interpret the different and complementary nature of individual- and population-based strategies for prevention.

Design strategies to identify and address the health needs and health disparities of a patient population.

Apply epidemiology/biostatistics to the evaluation of healthcare quality.

Analyze the features of U.S. healthcare and public health systems.
What will the lectures be like?
In fall and spring semesters, the course is comprised of 15 lessons that span 15 weeks (one lesson per week), while the summer semester is an 11-week format. Unlike an on-campus program, you are not required to attend a lecture during a specific time. Instead, you are assigned videos, readings, discussion posts, and lesson quizzes to complete each week. You can start and stop a reading or video on your own schedule within the lesson period, and you can listen to, watch, or reference content as many times as you need to help reinforce the material.
All readings, assignments, projects, and quizzes are clearly outlined in the Course Calendar that you can refer to anytime during the course: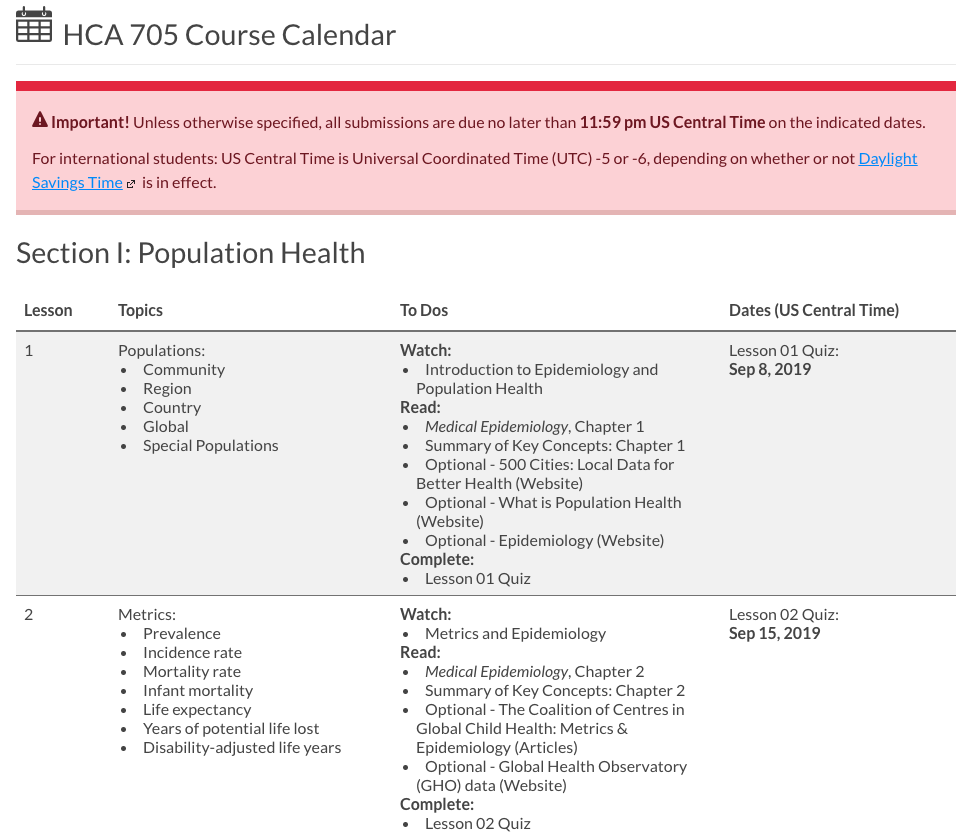 What types of assignments will I complete?
The number and variety of assignments may vary from course to course within the UW Healthcare Administration program, but the amount of time and effort you spend each week in HCA 705 is consistent with other courses in the program.
Each week, you are assigned 3-4 required readings and 1-2 optional readings. These chapters and articles focus on the week's lesson topics and prepare you for the end-of-lesson quiz. 
Along with the readings, some lessons include video lectures and discussion boards where you will interact with classmates and the course instructor through posts.

Sample lesson slides from Chapter 5: Social Determinants of Health: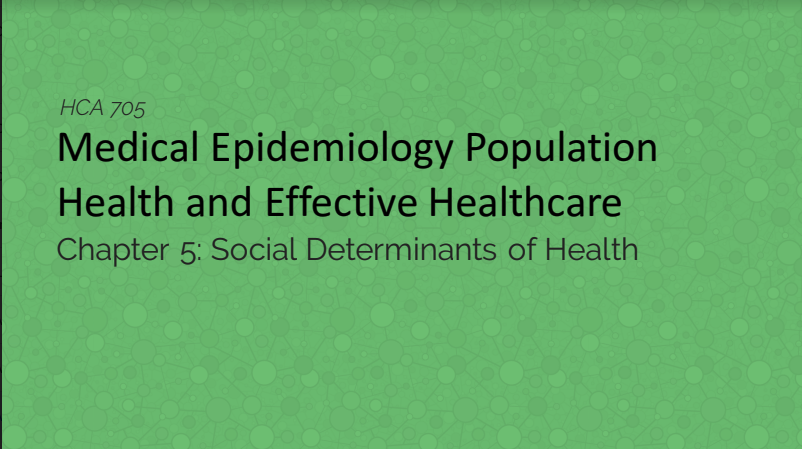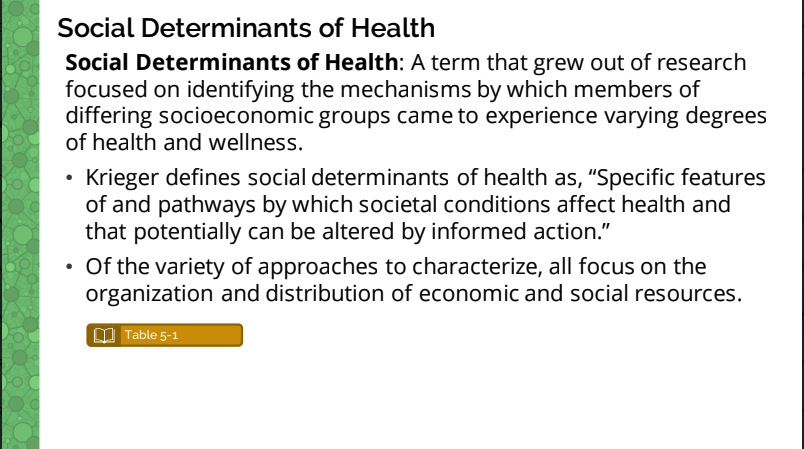 What else will I do in the course?
Throughout the course, you will learn strategic tools to choose a topic and craft a thesis statement as part of completing a literature review project. This project will strengthen your literature analyzation skills, which you will put to use when writing a literature review on your chosen topic. 
Part 1 assignment instructions for the literature review project: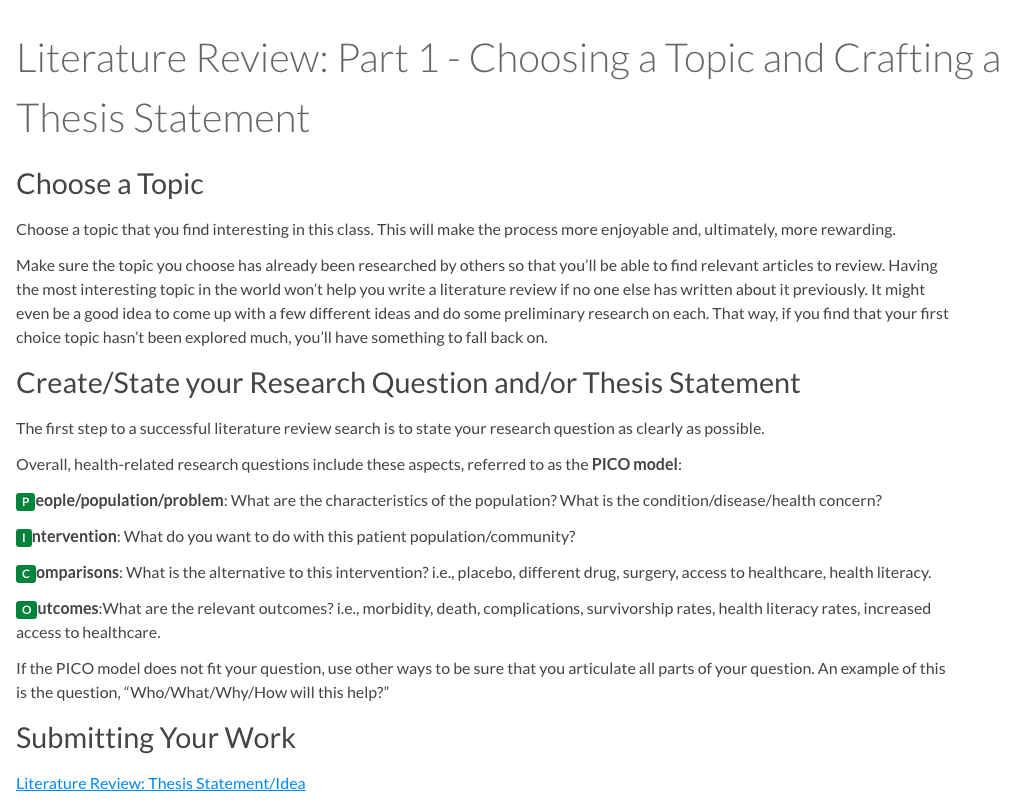 Who developed the course?
Alyson Haugen is an associate lecturer at UW-La Crosse and a faculty member for UW Healthcare Administration. She earned a bachelor's degree in athletic training/trainer from Luther College and a master's degree in public health from UW-La Crosse.
Professionals including hospital CEOs, clinic administrators, and other healthcare leaders from across Wisconsin and the Midwest, worked with UW Healthcare Administration leadership as part of a focus group for the program. During this time, they identified program outcomes and course competencies that Healthcare Administration students need in order to succeed in healthcare careers. Based on these findings, UW Extended Campus instructional designer, Stephen Beers, worked with Alyson to create this Healthcare Administration course. Understanding that epidemiology might be unfamiliar to new students, they identified the most important learning goals for the course and how to meet them through the lesson materials.
After building the course's overall structure, the two went into production mode. Alyson created all of the assignments and instructions, and Stephen converted them to a web friendly format, laying out the course in Canvas— the program's learning management system. One big goal of the course is for students to understand the importance of research and the research process, which are skills healthcare administrators need in order to improve patient care outcomes, increase quality of care, and interpret research findings to explain to various audiences.
As a result, HCA 705 focuses on a literature review that builds throughout the course—breaking down assignments with key check-in activities every few weeks so students can simultaneously learn and gain confidence in their literature review skills.
Do students in the course interact?
Yes. Students interact and share ideas through graded discussions in Canvas, the course's learning management system. You can also collaborate, ask questions, and have general, non-assessment discussions in the Student Resource Lounge. Many students are surprised to find that they get to know their instructors and classmates better online than in a traditional classroom.
How much do I do in one week?
Each week of the course is devoted to one lesson that focuses on various topics. For example, week one/lesson one introduces medical epidemiology and explores health populations by community, region, country, global, and special population distinctions. You have seven days to complete readings and other learning materials, lectures, assignments, and discussion posts. If you take the course during the summer semester, the timeline is accelerated, and you may complete multiple lessons per week.
Some students report putting in 20 hours of work per course each week. Keep in mind, this time commitment varies depending on how much previous healthcare experience you bring into the program, as well as your work and life schedule. 
In addition to the UW Healthcare Administration academic director and other resources from your chosen home campus, the UW Extended Campus Student Services team is comprised of success coaches. Offering support for academic, coursework, graduation, and personal needs, your success coach is there to guide you through the program.
What do students say?
"I really enjoyed the Population Health + Epidemiology course taught by Professor Haugen. It was well structured and workload was appropriate. Professor Haugen was quick to respond to questions and was clear in her expectations in the syllabus."
–Halli Erickson
"I enjoyed HCA 705. Professor Haugen did an outstanding job with giving us adequate amount of time to complete assignments. The structure was a good balance between writing, reading, and quizzes. The content was interesting and relevant."
–Chelsea Hamelund
Have questions about HCA 705: Population Health and Epidemiology or the online UW Healthcare Administration program? Learn about our expert faculty, how to apply, and more. Enrollment advisers can help with all of your questions. Call 1-877-895-3276 or email learn@uwex.edu

Get Program Guide
Learn more about our 100% online degree and certificate programs.