The role biotechnology plays in addressing human, animal, energy, and environmental issues has come to the forefront more recently because of the COVID-19 pandemic. Given the increasing impact that biotechnology is having globally, I would like to highlight the countries and companies that are playing in this space, and how the equitable impact of biotechnology on both developed and less developed parts of the world are being at last partially addressed. 
The growth of biotechnology
A December 2021 market research report by Polaris Market Research Analysis showed the expected growth of the global biotechnology market size from $753.48 billion in 2020 to an estimated $1,000.46 billion in 2021. This steady rise will continue for the foreseeable future, with projections for it to reach $3,879.51 billion by 2030 with a Compound Annual Growth Rate of 13.9 percent.
As seen in Figure 1 by Polaris Market Research, the overall biotechnology market size is expected to grow significantly. The United States continues to be the global leader in biotechnology, however Europe, Asia Pacific, Latin America, the Middle East, and Africa are expected to have an increasing impact in this sector. Illustrated in Figure 2 by thinkBiotech, the United States (and North America in general), Europe, Australia, New Zealand, and parts of South America and Asia lead development in biotechnology products and services. The thinkBiotech website compiles measurement data of global biotechnology innovation and allows viewers to browse the results by category, country, or region. Each region is analyzed and ranked based on seven different criteria:
Productivity

IP Protection

Intensity (relative to population and economy size)

Enterprise Support (business friendly features and availability of capital)

Education and Workforce

Foundations (a country's infrastructure)

Policy and Stability (governmental support)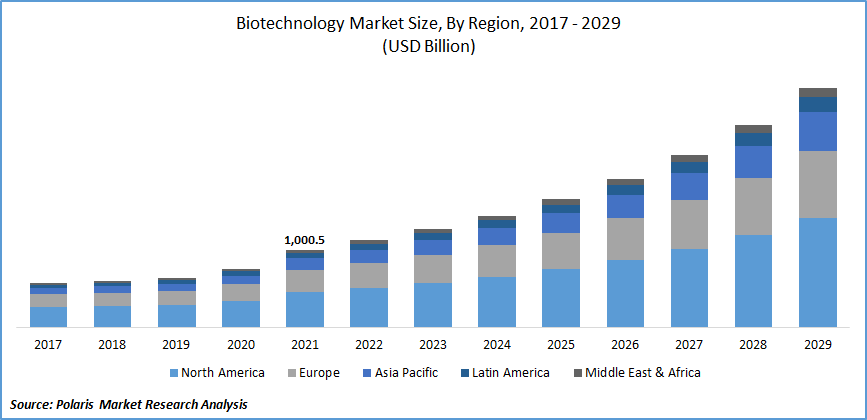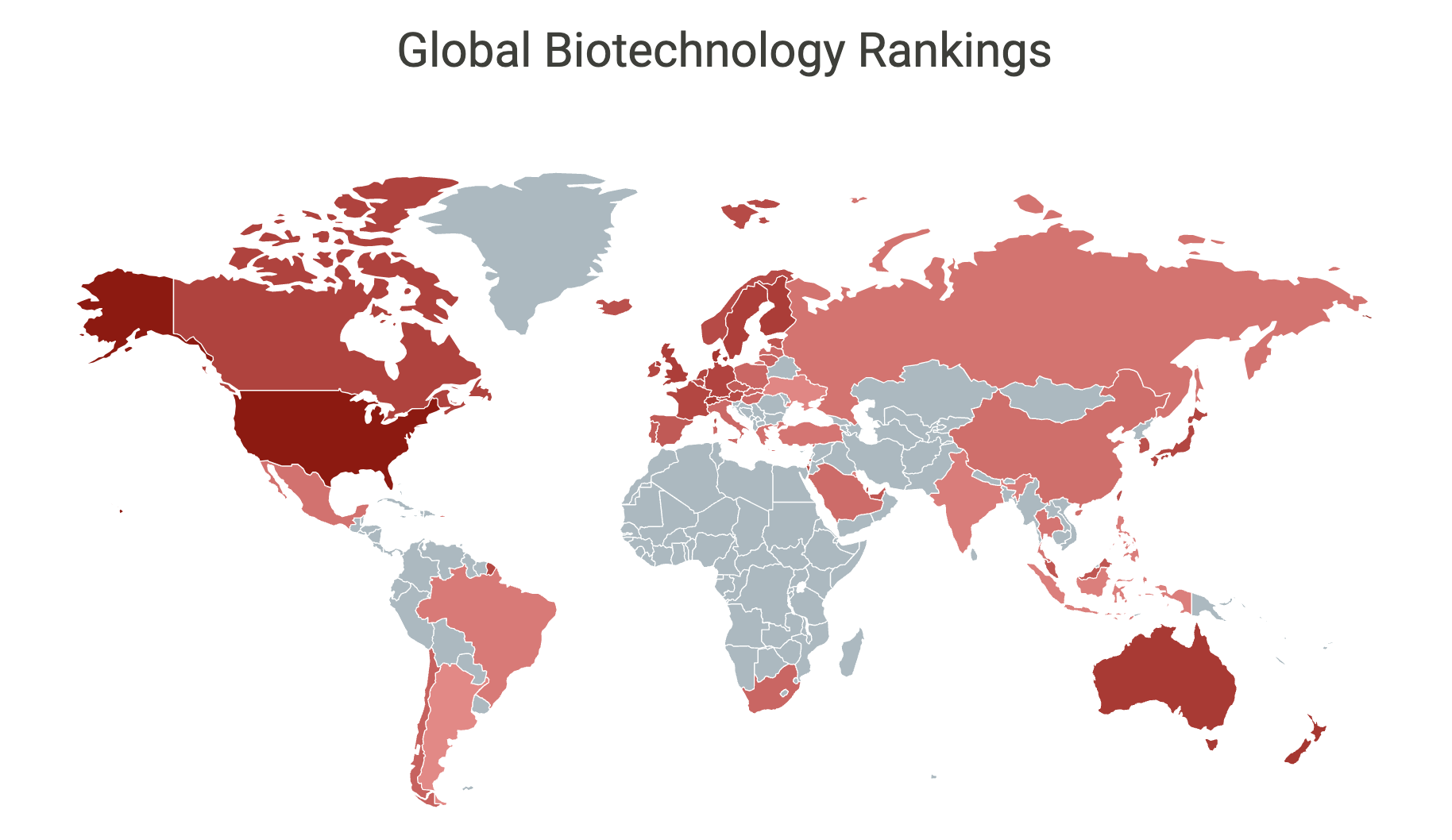 The areas of biotechnology being addressed by these countries can be divided into six major areas, including biopharma, industrial, agricultural, food, environmental, and bioinformatics. Below, Figure 3 from Donald K. Martin, et. al's journal report, A Brief Overview of Global Biotechnology, highlights the relative percentage of current activity in global biotechnology, with biopharma and industrial biotechnology being the largest sectors, and agriculture a very close third. This distribution speaks to the importance of human and animal health, the use of enzymes in many industrial processes, and the need to improve agricultural productivity to feed an ever-growing world population.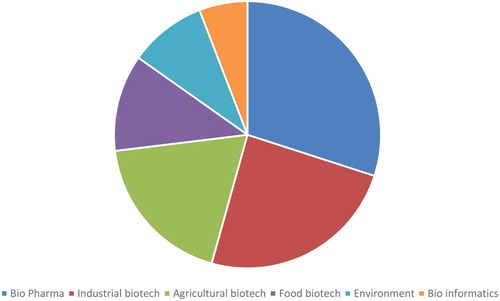 Where biotechnology advancements are happening
While global biotechnology has been on the rise since the 1980s, the advancements in biotechnology are generally concentrated in the more developed or higher-income countries. According to Donald K. Martin, et. al, the U.S. and Europe see more investments in biotechnology than other countries, in particular, when compared to developing countries. The investments in biotechnology in the U.S. and Europe are not only in the government sector (20 percent), but a significant proportion occurs in the private sector as well (80 percent). This attests to the expensive nature of biotechnology research and product development, the need for advanced technologies to perform such development, and the highly regulated nature of biotechnology product development.
In the private sector, the top 25 global biotechnology companies, based on their stock market value, or market cap, as determined by BioSpace include):
| | | |
| --- | --- | --- |
| Company | Market Cap (billion) | Global Headquarters |
| Johnson & Johnson | 435.77 | New Brunswick, New Jersey |
| Roche (Genentech) | 287.85 | Basel, Switzerland |
| Pfizer | 220.56 | New York, New York |
| Abbott | 213.19 | Chicago, Illinois |
| Abbvie | 202.25 | Lake Bluff, Illinois |
| Novartis | 194.0 | Basel, Switzerland |
| Merck & Co. | 191.89 | Kenilworth, New Jersey |
| Eli Lilly and Co. | 178.13 | Indianapolis, Indiana |
| Novo Nordisk | 173.37 | Bagsvaerd, Denmark |
| AstraZeneca | 141.88 | Cambridge, United Kingdom |
| Bristol Myers Squibb | 141.65 | New York, New York |
| Amgen | 140.75 | Thousand Oaks, California |
| Sanofi | 127.55 | Paris, France |
| GlaxoSmithKline (GSK) | 94.57 | Brentford, United Kingdom |
| Gilead Sciences Inc. | 81.75 | Foster City, California |
| Moderna Inc. | 74.98 | Cambridge, Massachusetts |
| Bayer | 63.89 | Leverkusen, Germany |
| Illumina Inc. | 56.89 | San Diego, California |
| Vertex Pharmaceuticals | 56.76 | Boston, Massachusetts |
| Takeda Pharmaceutical | 52.99 | Tokyo, Japan |
| Regeneron Pharmaceuticals, Inc. | 52.30 | Tarrytown, New York |
| BioNTech | 49.56 | Mainz, Germany |
| Biogen | 41.03 | Cambridge, Massachusetts |
| Alexion Pharmaceuticals, Inc. | 37.42 | Boston, Massachusetts |
| BeiGene Co. Ltd. | 32.38 | Beijing, China |
These companies are all in the biopharma or medical device/diagnostic testing sectors, as they tend to have the highest stock market values. However, major biotechnology companies in other sectors included in the agricultural arena are: Bayer CropScience, BASF, DuPont Pioneer, Dow AgroSciences, and Syngenta. Companies in industrial biotechnology are equally numerous and cover such areas as industrial enzymes, research tools, bioenergy, bioremediation, and bioprospecting. Worldwide, Donald K. Martin, et. al estimates that the biotechnology industry employs over 900,000 people, which may be an underestimate as the number of biotechnology companies and employees is constantly changing and growing.

Get Program Guide
Learn more about our 100% online degree and certificate programs.
Biotechnology and a better quality of life
Access to medical treatments, bioengineered crops, and environmental remediation using biotechnology solutions could have a dramatic impact on the quality of life in countries around the world. To address the inequities in the development of, and access to, biotechnology products among higher and lower income nations, several organizations and initiatives are being developed.  A few organizations are highlighted for their efforts in these areas and include the Food and Agriculture Organization of the United Nations (FAO) and the World Health Organization (WHO).
The FAO established the GM Foods Platform and recently submitted a report on effective risk-based food safety and regulatory management. This platform is a transparent and reliable repository of safety data for all countries to access that is based on the Codex guideline for the conduct of food safety assessment of genetically modified foods. The platform also addresses and mitigates trade problems between countries, sets up mentoring schemes between geographically distant countries for testing collaborations, and provides references for how to conduct safety studies by countries with less experience in this area. In addition, it can be used to establish effective and appropriate communication strategies to educate various populations about genetically modified foods. The FAO will continue to facilitate global information-sharing opportunities to ensure food safety and food security around the world.
Based at the WHO headquarters, the Special Program for Research and Training in Tropical Diseases (TDR), is a global program of scientific collaboration that facilitates and supports efforts to combat diseases of poverty. The program is jointly sponsored by the United Nations Children's Fund, the United Nations Development Program (UNDP), the World Bank, and the WHO. This program focuses on malaria, tuberculosis, vector-borne diseases, and neglected tropical diseases, and utilizes educational programs, training and research centers, clinical research, and grant funding to promote treatments and cures for these diseases.
TDR is part of a multi-partner effort to improve the capacity in low- and middle-income countries to enhance access to and delivery of new health technologies, including biotechnology drugs, diagnostic tests, and vaccines. Led by the UNDP and funded by the government of Japan, this aspect of TDR is called the Access and Delivery Partnership. Throughout the pandemic, TDR has been instrumental in connecting at-risk populations with COVID-19 testing and vaccination campaigns, as well as providing safety monitoring. 
Global biotechnology will continue to impact healthcare and the environment for years to come, and further emphasis should be placed on initiatives to make biotechnology solutions available equally to all.
UW Applied Biotechnology
The UW Master of Science in Applied Biotechnology equips students to lead efforts in the various growing sectors of biotechnology. As an online program, it's an ideal choice for busy adults who are seeking advanced education.
Do you want to learn more about UW Applied Biotechnology? Contact a knowledgeable enrollment adviser at 608-800-6762 or learn@uwex.wisconsin.edu.

About the author: Dr. Natalie Betz received her Ph.D. in Biochemistry and Molecular Biology from the University of Nebraska Medical Center and Eppley Institute for Research in Cancer and Allied Diseases, where she studied the role of the Ha-ras oncogene in skin tumorigenesis.
After working as a postdoctoral fellow at Kansas State University and UW-Madison, she was a Technical Service Scientist at Promega for more than nine years. In 2006, Natalie joined the in-person UW-Madison M.S. in Biotechnology program full-time, where she now serves as the Associate Director of the program. 
Natalie became the Academic Director for the UW Extended Campus collaborative 100 percent online M.S. in Applied Biotechnology program in 2018, and she continues to design and coordinate courses for the program, as well as recruit industry faculty members.