The capstone project of a master's program can seem daunting. It requires you to rely on skills and knowledge gained in previous coursework and projects, and it can be difficult to look back in order to move forward. While coursework is challenging, the capstone offers an opportunity to reflect on everything you've learned in the program, to take a bird's eye view of your progress, and to recognize an increased confidence in your ability to effect positive health and wellness change.
In the UW Master of Science in Health and Wellness Management program, the HWM 790: Capstone course incorporates everything you've learned throughout the program—putting your knowledge to work at an external partner site. All the while, you connect with classmates by sharing your worksite experience via in-course discussions. This way, you give and receive support among your peers who are navigating their own worksite roles. At the end of the semester, you complete an oral presentation of findings and recommendations to your partner site team members.
Motivated to enhance the student capstone experience, HWM 790 instructor—Dr. Betsy Barrett—and the UW Extended Campus instructional design and media teams updated the capstone course with new features that highlight how the previous courses in the UW Health and Wellness Management program prepare you to succeed in the capstone project and beyond in your career.
RELATED: UW HWM Capstone Projects Showcase
A Capstone that Connects the Dots
The HWM 790 capstone course now houses an interactive visual that allows you to explore how each course you've completed comes into play at the end of the program. Marked with flags, each summit of your UW HWM journey represents a course. When you click on a flag, a separate pop-up window appears that provides a short summary of how the work in the capstone connects with previous projects and assignments.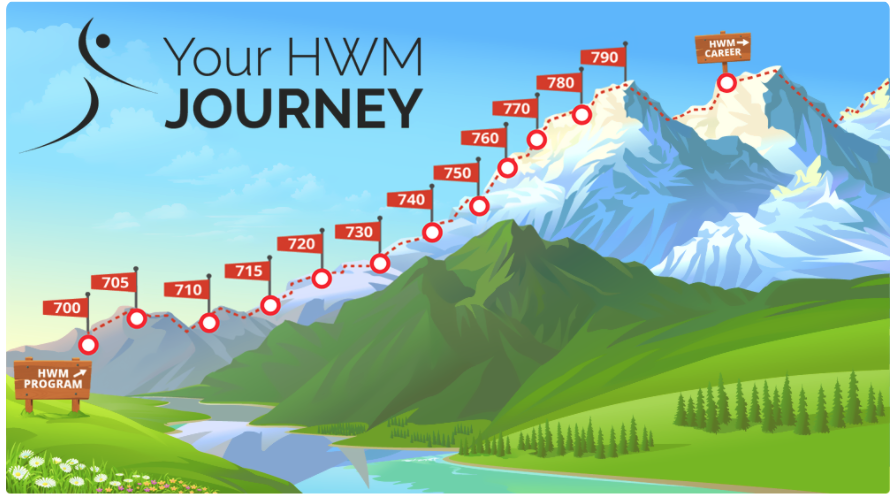 "Capstone instructor, Dr. Barrett, and I wanted to show students how the capstone course project is connected to and is a culmination of all the coursework within the master's program," UW Extended Campus instructional designer, Laurie Berry, said. "We accomplished this by creating an interactive image, as well as including language that recalls specific related assessments students have completed. Showing these connections will better prepare students for their capstone project and set them up for success."
For example, lessons and projects from the HWM 730: Biopsychosocial Aspects of Health course—such as the Behavior Change Theory Intervention project, where students choose a behavior to improve for their own health—are used in the capstone as outlined below: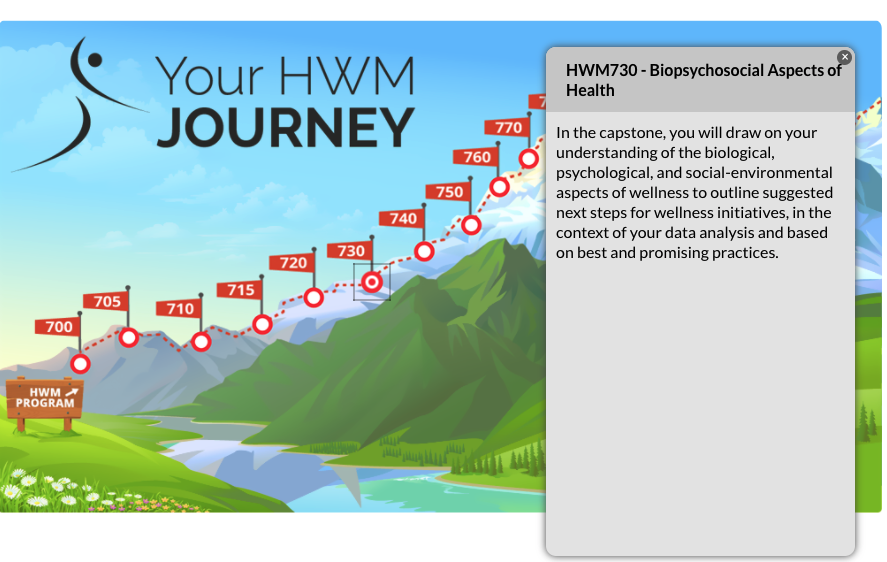 RELATED: An Inside Look at a UW Health and Wellness Management Course: Biopsychosocial Aspects of Health
You'll notice the many peaks and valleys in the interactive visual. This illustrates that while you may face challenges, such as a difficult course or figuring out the next steps in your career, you are still continuously strengthening your skills and knowledge.

Get Program Guide
Learn more about our 100% online degree and certificate programs.
Reminders that Keep You Moving
Throughout the capstone learning modules, there are integrated tiebacks to prior coursework—all designed to help you recall readings, projects, and discussions.
To kickoff the capstone, students re-record one of their first assignments within the UW Health and Wellness Management program—a "Stairwell Speech" explaining why worksite wellness is important. This assignment gives you time to reflect on what health and wellness means to you and to evaluate if your point of view, goals, and overall mindset have changed after advancing through the master's program.
RELATED: UW Health and Wellness Management Capstone Tips
After the first capstone assignment, you will find discussion overview reminders before most discussion post assignments. These reminders name specific UW HWM courses and projects—to jog your memory and inspire your discussion responses.
The capstone course was a great opportunity for me as a student to grow into a health and wellness professional. The course offered content that portrayed how far you have come in your journey as a student as well as resources to show where you can take your professional career."
—UW Master of Science in Health and Wellness Management Graduate, Kylie DeSmet
It's Time for Your Health and Wellness Management Journey
The UW Master of Science in Health and Wellness Management capstone is strategically built for you to gain real-world experience, which is crucial in advancing your health and wellness management career. UW Extended Campus is with you every step of the way—from instructional designers and faculty members who help build the courses, to your student success coach who helps guide you through the program. Our goal is that you feel empowered to take the next step in your career journey.
Interested in learning more? Review the master's curriculum or reach out to one of our helpful enrollment advisers. Call 608-800-6762 or email learn@uwex.edu.