In health information management (HIM), credentials are a big deal. Many times, you need a Registered Health Information Administrator (RHIA) certification to be considered for HIM positions at hospitals, clinics, and other health facilities. (See this post if you'd like to learn the basics of RHIA certification.)
But when you're applying for an HIM job, you may have questions related to credentials or the overall job outlook.
Let's look at the data.
RHIA credential: harder to earn, more desirable
According to AHIMA—the organization that grants RHIA and other certifications—74% of first-time testers passed the RHIA exam in 2020. This is slightly less than the 78% first-time testers who passed the RHIT exam that same year.
Although these percentages are largely the same, there are other factors to keep in mind when deciding between the two credentials.
As former UW HIMT Program Manager Wil Limp explains, "a CAHIIM-accredited bachelor's degree is a prerequisite to taking the RHIA exam, making the credential more difficult to earn than other AHIMA certifications. This also makes RHIA-certified professionals more desirable to employers."

Get Program Guide
Learn more about our 100% online degree and certificate programs.
A rise in new registered health information administrators
There has been a rise in the number of registered health information administrators who passed the RHIA exam in Wisconsin. Wil believes UW Health Information Management and Technology (HIMT) graduates may be partly responsible for the recent spike in new RHIA credentials in Wisconsin, since the UW HIMT program at UW-Green Bay is the first CAHIIM-accredited HIM bachelor's degree program offered by University of Wisconsin.
This makes sense. Neighboring states Minnesota and Illinois have had accredited HIM programs at non-profit universities for years and consistently produce more RHIA-credentialed professionals than Wisconsin.
For Wisconsin HIM professionals, fewer new RHIA credentials could mean more job opportunities
In its latest Workforce Study, AHIMA predicted that the health information management practice will become more specialized—and the demand for credentials will only increase.
Today, you can see this reflected in HIM job descriptions.
Searching the terms "RHIA" and "Wisconsin" results in more than 100 job matches on Indeed.com. And all position openings in the Wisconsin AHIMA chapter job network require or prefer an RHIA credential.
In Wisconsin, fewer new RHIA credentials means that these jobs are ripe for the picking for RHIA-certified professionals.
And there's more good news. The Bureau of Labor Statistics projects that HIM jobs will grow nicely, with employment of medical records and health information specialists increasing 9 percent from 2020 to 2030.  Roughly 34,000 openings for medical records and health information specialists have been projected each year over the next decade.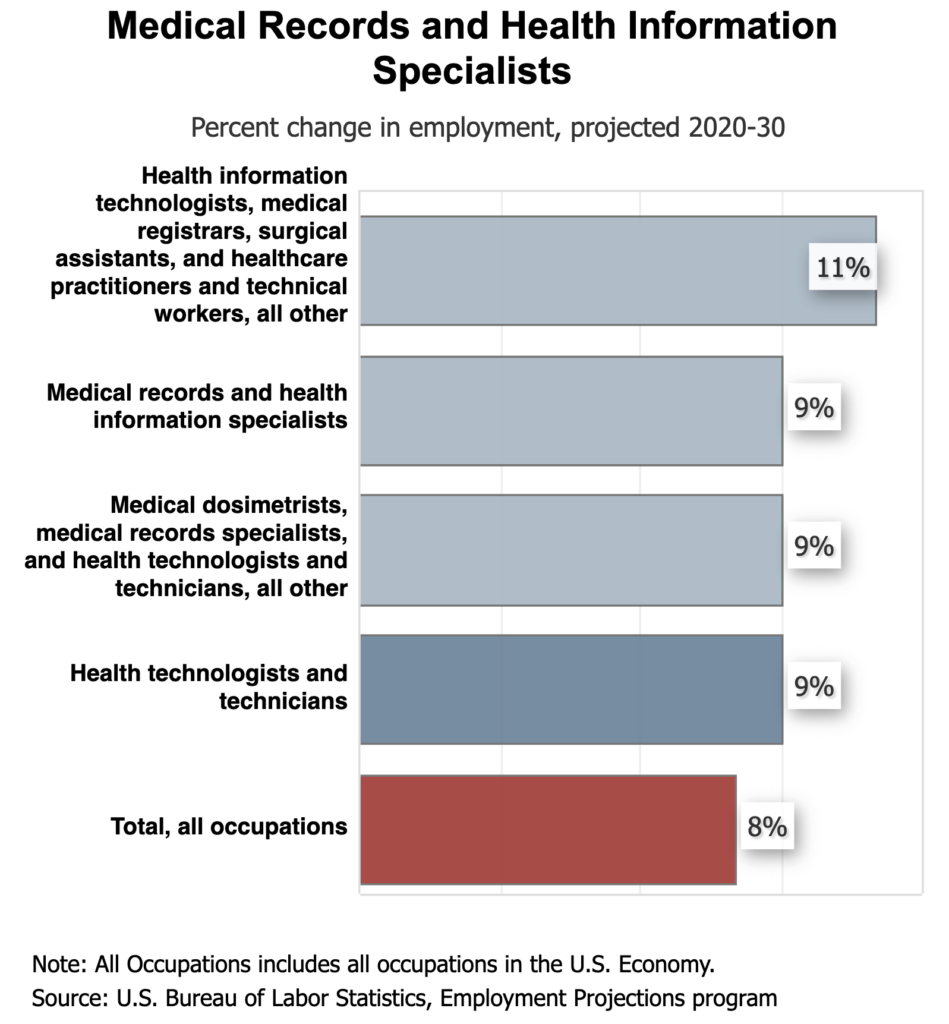 If you're waiting for the right moment to start your HIM career, now is the time. Wil says, "Earning a bachelor's degree in HIM, along with professional credentials, is crucial to starting and advancing your healthcare career. It shows employers you are committed to life-long learning." 
For more information about the UW HIMT program, please speak with an enrollment adviser at 608-800-6762 or learn@uwex.edu. Enrollment advisers are available Monday through Friday from 8:30 a.m. to 5:00 p.m. CST, or by appointment.
Find out more about the RHIA credential
RHIA Certification: What Is It? Should You Get One?
13 Things You Need to Know Before Taking the RHIA Exam
10 Ways to Feel Better Prepared for the RHIA Certification Exam