Wisconsin is a biotechnology powerhouse. Surprised? You shouldn't be. There are more than 1,700 biohealth companies across the state that create over 46,610 direct biohealth jobs, according to the 2020 Wisconsin Biohealth report produced by BioForward Wisconsin, an organization representing more than 220 biotechnology member organizations in Wisconsin. Biotechnology is a significant contributor to the state's economy, with connections to a global biotechnology industry.
The same report also states that Wisconsin ranks high in employment concentration for medical device and equipment manufacturing and has above-average concentrations in bioscience-related distribution and agricultural feedstock and industrial biosciences. In fact, there are over 131 medical device manufacturers based in the state, according to the Wisconsin Economic Development Corporation's latest biohealth report.
Biotechnology hotspots in Wisconsin
The biotech industry has a longstanding history in Wisconsin, and many well-known scientific discoveries were made in the state. For example, vitamins A and B were discovered at the University of Wisconsin-Madison, and Lyme disease was discovered and treatments for it were identified at the Medical College of Wisconsin. Biotech companies across the state continue to make meaningful scientific discoveries.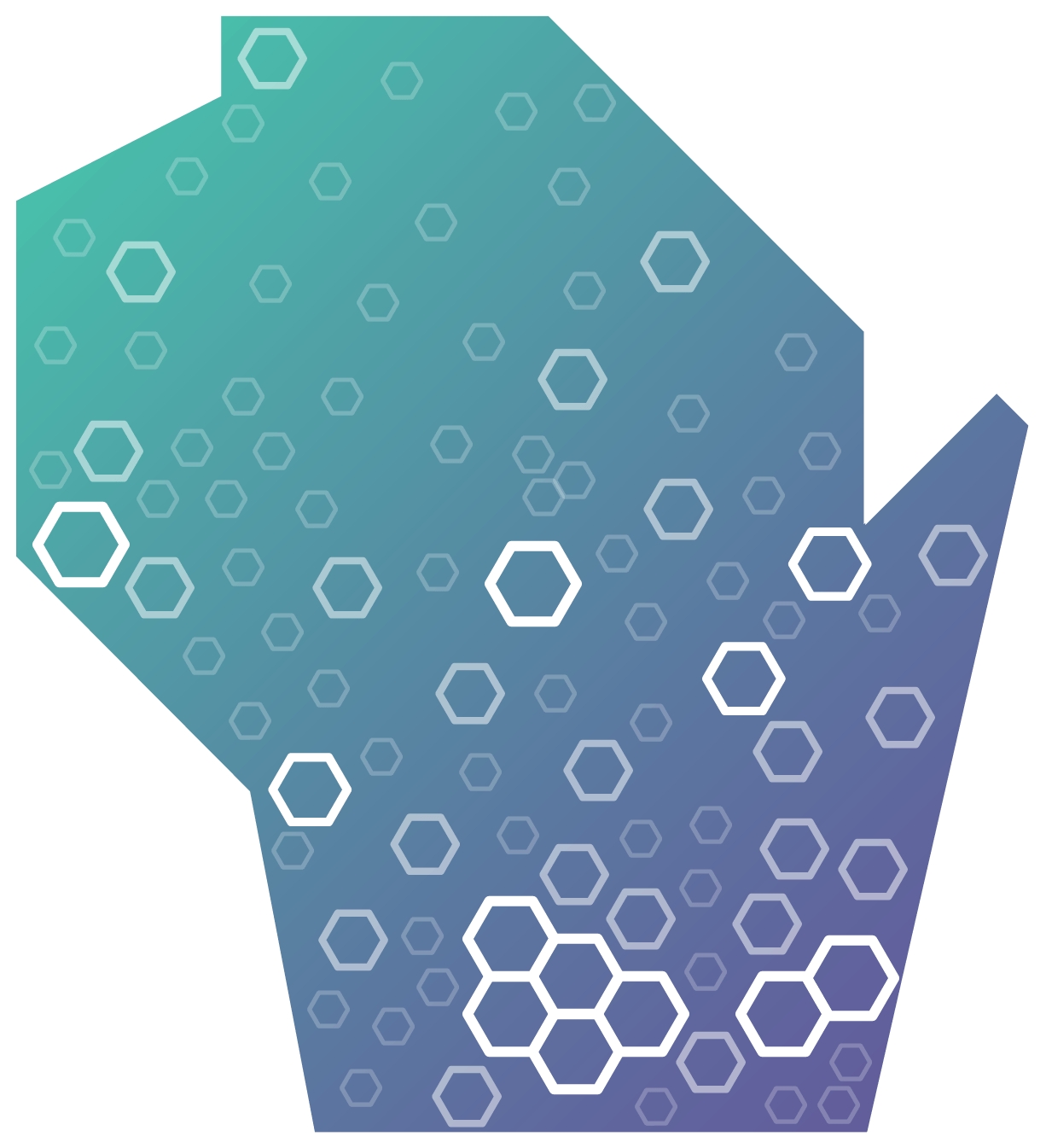 Madison—the state's capital, and second-largest city—is a diverse biotech hub. The city and its suburbs have specialized concentration in four of Biotechnology Innovation Organization's (BIO)'s five bioscience subsectors, including bioscience-related distribution, drugs and pharmaceuticals, medical devices and equipment, and research, testing, and medical laboratories. Madison is one of only eight cities in the nation with specialized concentration in four or more bioscience subsectors.
With the benefit of a highly skilled workforce and leading research university, the Madison metropolitan area is home to many biotech companies:
Milwaukee—the state's largest city, located in the southeastern part of the state on Lake Michigan—has its own claim to biotechnology fame. The city specializes in medical devices, with the fifth-highest concentration of Medical Devices and Equipment jobs in the nation.
With its proximity to the Chicago metropolitan area, Milwaukee is home to several biotech companies. 
GE Healthcare

has locations around the state, but the company recently announced it will be investing

$50 million in its West Milwaukee plant

to create a world-class medical imaging facility, solidifying its roots in the Milwaukee area.

Alcami

,

a company leading end-to-end contract development and manufacturing, is headquartered in Durham, North Carolina, but hosts its Center of Excellence for drug development, scale-up, and commercialization in the Milwaukee suburb of Germantown.
Other biotech companies have made their home outside of the Madison and Milwaukee metropolitan areas, including the cities of Green Bay, Appleton, and La Crosse. 
Phillips-Medisize

—a global biological molding and assembly company—is headquartered in Hudson, Wisconsin, near the Twin Cities, and has several locations around the state. The company employs more than 2,600 Wisconsinites.

Prevention Genetics

is located in Marshfield, Wisconsin, near Stevens Point. The company provides patients around the world with sequencing and deletion/duplication tests for nearly all clinically relevant genes.
To learn about other leading biohealth companies located in Wisconsin, read BioForward Wisconsin's 2020 Biohealth report.

Get Program Guide
Learn more about our 100% online degree and certificate programs.
Biotech jobs are plentiful
Overall, biohealth job availability grew 8 percent in the last five years, more than double the state average for all industries. As shown below, employment growth occurred in all five of BIO's biohealth subsectors.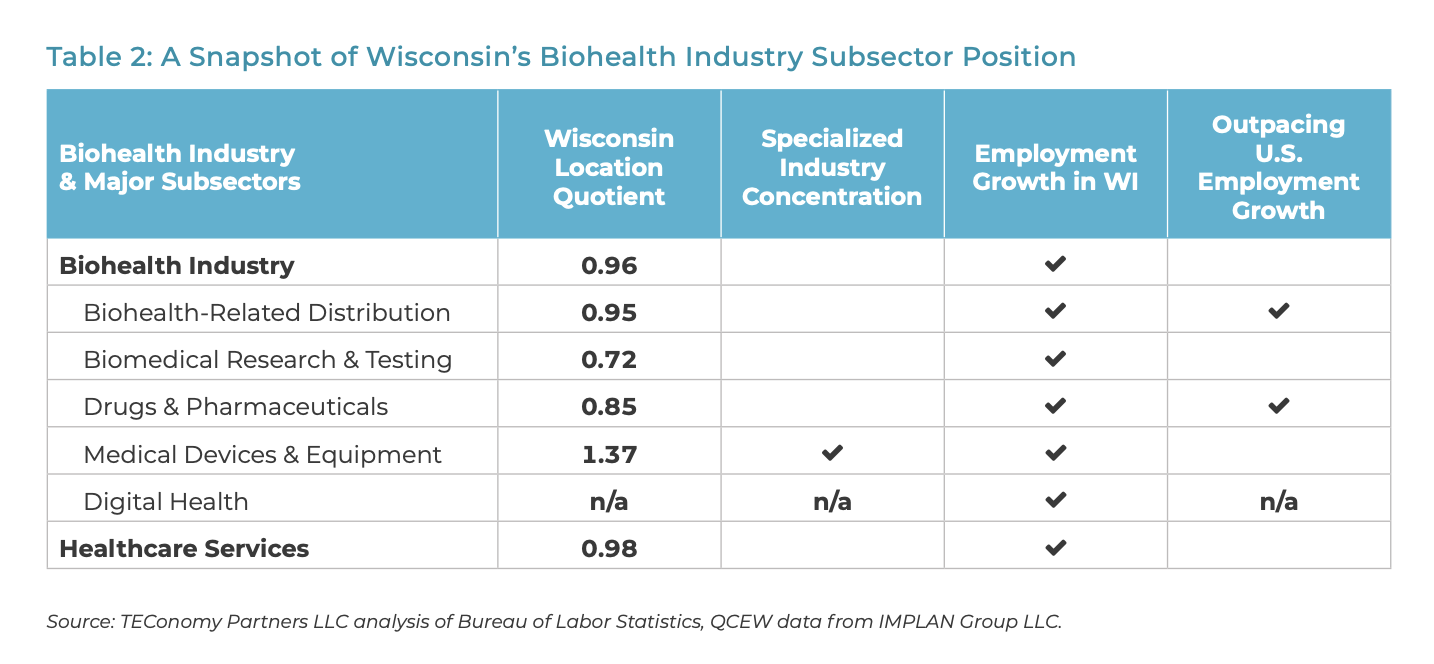 Not only is Wisconsin's biohealth job market thriving, but it's also surpassing the national rate of some biohealth jobs. Specifically, Wisconsin's growth in biohealth-related distribution and drugs and pharmaceuticals far outweighs that of the United States overall, as shown below.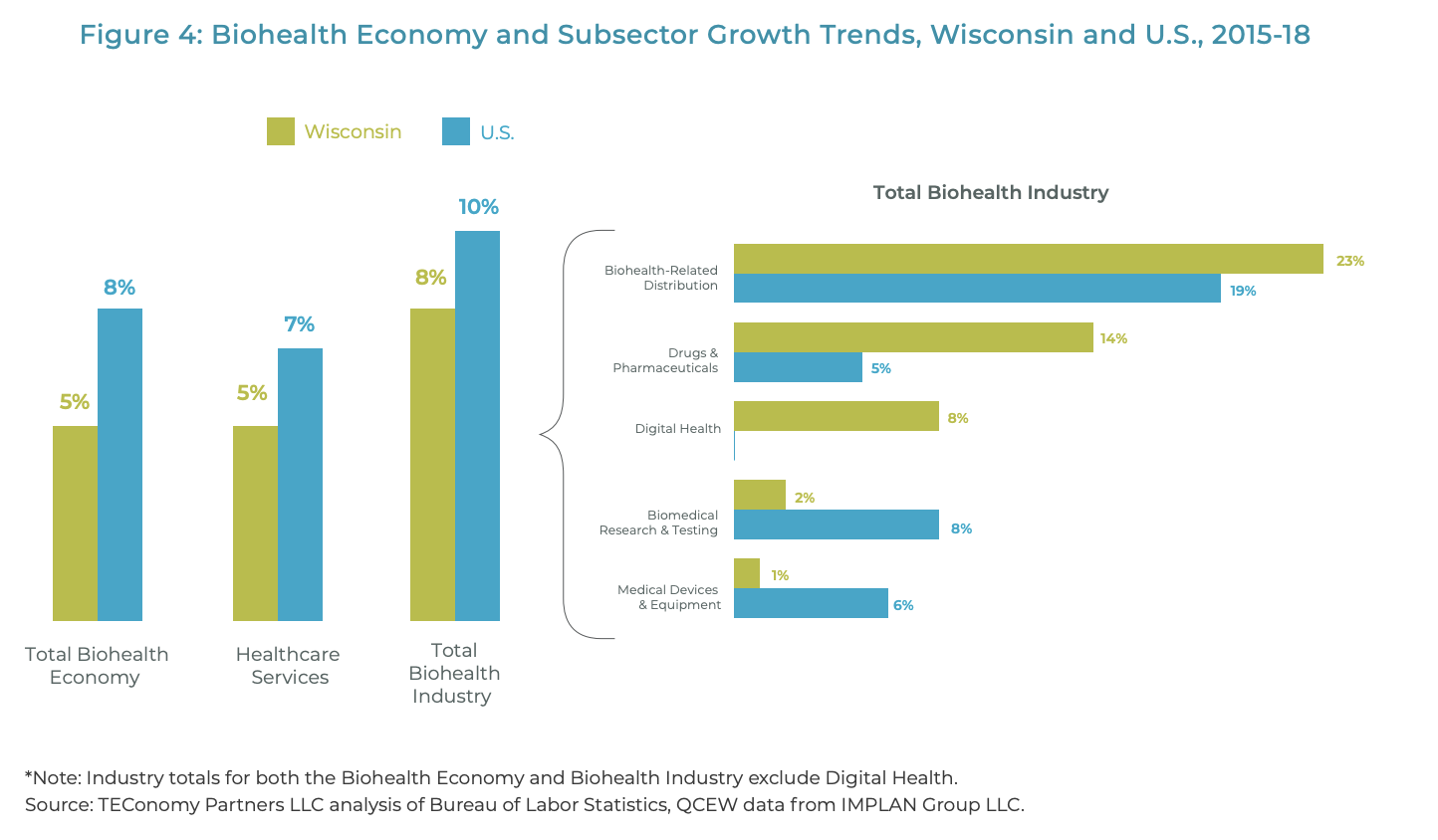 Wisconsin is also in the top ten states for direct jobs in agriculture, along with California, North Carolina, Texas, Georgia, Pennsylvania, Ohio, New York, and Alabama. This impressive employment growth points to a continuing diverse and thriving biotech future for the state.
Support from academic institutions
Wisconsin's leading universities and medical centers are making strides in biotechnology. Institutions—both public and private—are developing highly skilled talent that advance the research development within the state and beyond. According to the 2020 BioForward report, Wisconsin's university biohealth research supports a total of more than 9,750 jobs and $1.8 billion in output.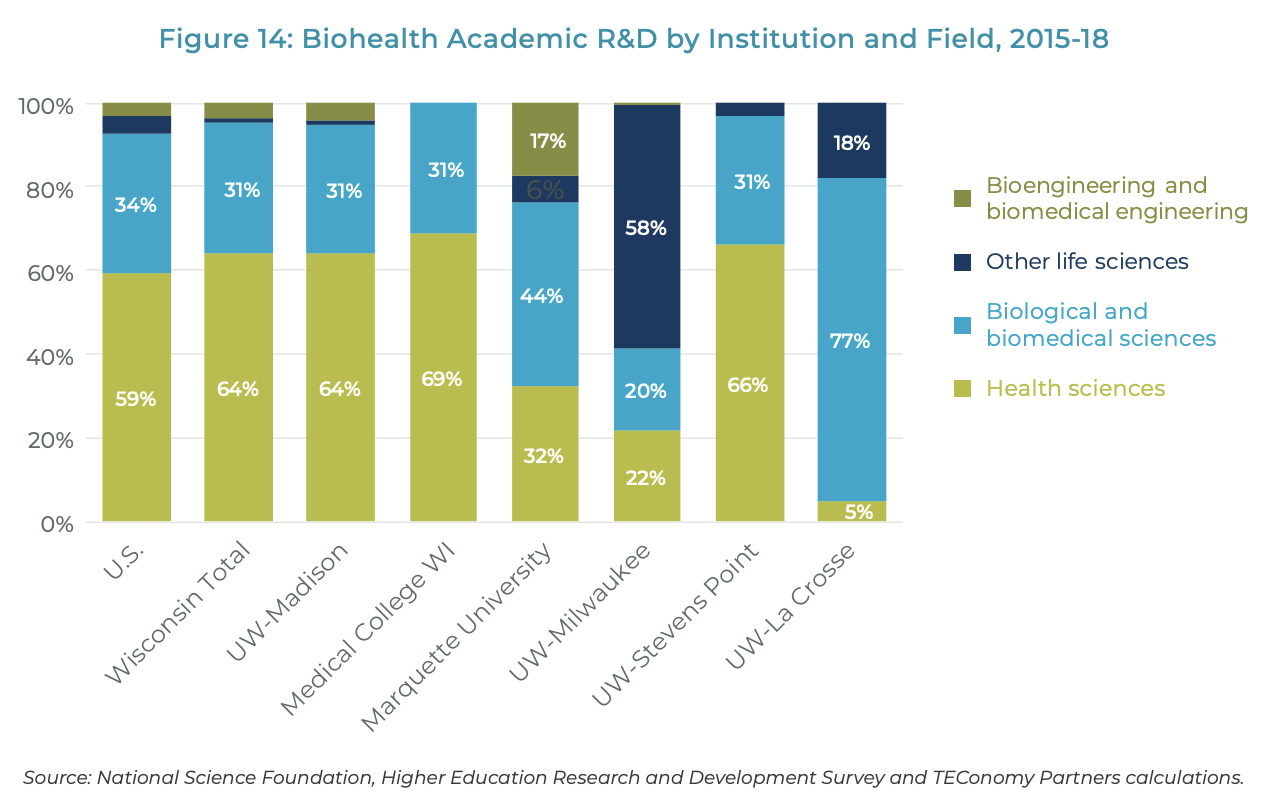 As seen in the figure above, Wisconsin's universities are overall concentrated on health sciences research, but the state's individual universities and institutions vary in focus. For example, UW-Madison, the Medical College of Wisconsin, and UW-Stevens Point focus heavily on health sciences. In addition, UW-Madison ranked 8th place in the national research rankings for public and private universities in the 2020 Higher Education Research and Development Survey, which details research and development expenditures. UW-La Crosse emphasizes biological and biomedical sciences and UW-Milwaukee specializes in other life sciences. Marquette University focuses on bioengineering and biomedical engineering.
"Science doesn't work in isolation. Research is improved by connections made across scientific areas." – Dr. Melinda Verdone, former program manager of UW Applied Biotechnology
The state's academic institutions are training scientists to thrive in a biotechnology environment, and many prominent companies have relationships with Wisconsin's universities because they consistently produce top talent for the many job opportunities in biotech. This includes recruiting students for jobs after graduation or encouraging their employees to pursue an advanced degree.
For example, Ashley Pratt—a UW-Platteville student pursuing a master's degree through UW Applied Biotechnology—is earning her degree while working at Promega. "Because I wanted to expand my knowledge of the technologies used in biotechnology for use in my new career path, I explored options to go back to school for the Master of Science in Applied Biotechnology," said Pratt.
Importance of collaboration in science
Just as collaboration is essential between Wisconsin's companies and universities, connections are important among the scientific research community. Due to the complexity of the discoveries being made, it's general practice for scientists to work together toward a common goal. Whether the goal is to develop a system to filter water or study brain activity, it's important for scientists to build on each other's knowledge and brainstorm new approaches.
"Science doesn't work in isolation," said Dr. Melinda Verdone, former program manager of UW Applied Biotechnology. "Research is improved by connections made across scientific areas."
Collaboration has always occurred across scientific disciplines, but it became increasingly evident while fighting the COVID-19 pandemic. Many Wisconsin companies have played large roles in the fight, from developing diagnostic tests, to manufacturing pipettes needed to perform the tests, to processing the completed tests.
UW Applied Biotechnology: Join Wisconsin's biotechnology industry
The online University of Wisconsin Master of Science in Applied Biotechnology program puts you in the center of the impactful scientific discoveries happening in the state. The program will teach you the skills you need to succeed in Wisconsin's biotechnology industry and beyond.
The curriculum concludes with a capstone course, where you'll have the opportunity to complete a project for an actual workplace —perhaps in one of Wisconsin's leading biotechnology companies—and apply what you've learned in the program to real-world problems.
Recognizing the importance of collaboration in science and education, UW Extended Campus partners with several UW campuses to deliver the UW Applied Biotechnology master's program. The multi-campus partnership means you'll learn from expert faculty across the state with strong connections to the industry. 
The program is also supported by the UW Applied Biotechnology Advisory Board. Members—who have diverse experience in biotechnology—provide insight on trends facing the industry and advice on how to best prepare graduates. You can be confident that you'll graduate with a degree that biotechnology companies—in Wisconsin and beyond—respect and trust.
Do you want to join Wisconsin's biotechnology industry? The UW Applied Biotechnology will equip you with the skills and knowledge you need. Contact a knowledgeable enrollment adviser at 608-800-6762 or learn@uwex.wisconsin.edu.