Cybercrime, which has accounted for more than $600 billion in losses globally, continues to threaten large organizations, small businesses, and the everyday consumer. For example, according to the 2019 Official Annual Cybercrime Report from Cybersecurity Ventures, a ransomware attack occurs every 14 seconds. Consequently, this growing number of threats directly impacts the demand for cybersecurity talent. The clear solution is to hire qualified professionals to take on this evolving challenge. The problem? Organizations can't fill information security positions fast enough.
The high demand for cybersecurity professionals coupled with a low pool of skilled candidates is a leading concern for businesses. Today, organizations depend on extremely sensitive and proprietary information to operate. Without the right professionals to secure this information and anticipate cyber-attacks, businesses, and their consumers, face imminent risks.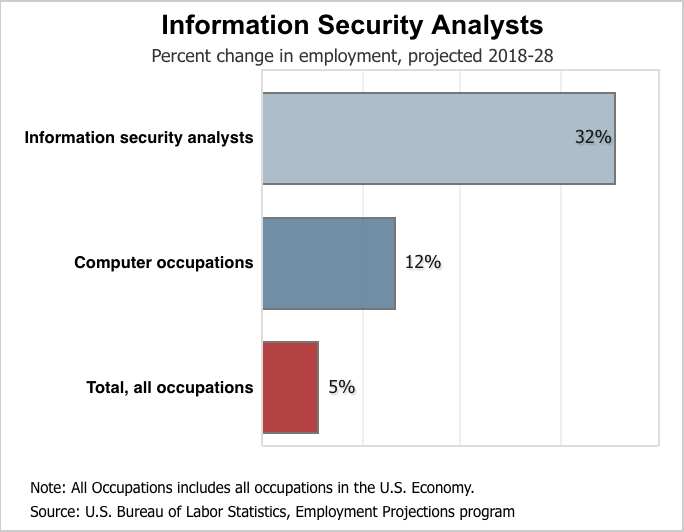 4 Industries with Large Demand for Cybersecurity Talent
 It's no secret—the growing number of cyber threats require businesses to have a more vigilant approach to cybersecurity. While all industries stand to benefit from cybersecurity talent, these four industries have the greatest demand:
Internet/Technology
Internet and tech companies, which are built on their digital products and services, are at an increasingly high risk of cyber-attacks and subsequently require a significant amount of data security. Not surprisingly, some of the biggest cybersecurity employers in this industry are Google, Amazon, Facebook, and Apple. These tech and internet giants need teams of knowledgeable information security professionals to secure their most important assets and to maintain the trust of consumers.
Retail
From emails and phone numbers to credit card information and shopping history, retailers collect mass amounts of customer data. If left vulnerable to an attack, retailers face significant financial risk. Target showed just how expensive a data breach can be. After the 2013 credit card breach, which affected 41 million Target customers, the company agreed to pay an $18.5 million multi-state settlement.
Financial
Credit information remains among the most sensitive data. Equifax, one of the largest credit reporting agencies, demonstrated in a nearly $700 million settlement with the Federal Trade Commission (FTC) that exposing Social Security numbers, birth dates, addresses, and driver's license numbers comes at a substantial cost. Capital One also joined the growing list of hacked businesses in 2019. Financial institutions and those affiliated, store our most personal and private data, and cybersecurity professionals are needed more than ever to protect it.
Government
As the demand for cybersecurity professionals grows stronger within the private sector, government agencies struggle to hire and retain talent. This dilemma has impacted agencies such as the Department of Homeland Security (DHS) and the National Security Agency (NSA). The DHS's Cybersecurity and Infrastructure Security Agency (CISA), has been a strong proponent of closing the gap in cybersecurity talent. According to TechCrunch, CISA assistant director, Jeanette Manfra stated that the lack of talent, in both government and the private sector, is a national security risk. Due to the desperate need for cybersecurity professionals, government agencies are heavily investing in cybersecurity education and in some cases establishing incentives for new hires.

Get Program Guide
Learn more about our 100% online degree and certificate programs.
How To Enter the Field of Cybersecurity
It's clear cybersecurity is booming with opportunity and specializations, so where do you start? Often, cybersecurity hopefuls will start in these feeder roles:
 

Systems Engineering

 

Software Development

 

Networking

 

Security Intelligence
People in these jobs typically have the foundational knowledge required to enter the field, but this is not an exhaustive list. From here, employers look for candidates who possess additional cybersecurity knowledge. Top cybersecurity skills requested by employers include: 
 

Cryptography

 

Information Assurance

 

Security Operations

 

Risk Management

 

Risk Assessment

 

Threat Analysis
You can bolster your skillset to align with cybersecurity demand by earning a graduate-level degree. The University of Wisconsin offers a 100% online Master of Science in Cybersecurity. The program, which is designed for working professionals, was developed with input from industry leaders and serves to fill the skill gap identified by today's employers. Curious about what you'll learn in the UW Cybersecurity courses and how it will apply to your current and future roles in the field? See the curriculum. 
Questions about the online UW Master of Science in Cybersecurity?
To learn more about the program and how to apply, contact one of our enrollment advisers. Call 1-877-895-3276 or email learn@uwex.edu.