You've spent several years in the working world. Memories of your first college experience are starting to fade, but you've been interested in an applied computer science degree for a while. The question on your mind: How do you know it's the right fit?
This list is for you. We asked two IT professionals and a UW professor about their experiences in the field and created a list of six telltale signs that applied computer science is right for you.
1. You love solving puzzles.
Maybe you're a gamer. Perhaps in school, you had an aptitude for math. If neither of these apply to you, ask yourself this: Do your friends describe you as logical, practical, and resourceful? Do you enjoy tasks with clear metrics of success and failure?
If those things resonate with you, you'll fit naturally in technical positions such as a web developer, security analyst, database administrator, or software developer. For these positions, you need to be able to quickly identify a problem and develop an efficient solution.
"Problem solving is the single most important skill for any IT professional to have," said Lisa Landgraf, the former academic director of the UW Applied Computing program and retired professor of the Computer Science and Software Engineering Department at UW-Platteville.
Why? If you're good at problem solving, you're good at puzzles. And code is essentially a big puzzle.
2. You studied the humanities or have a two-year technical degree.
Does one of these describe your academic background?
You have an associate degree in an area of IT and want to move up.

You earned an undergraduate degree or some college credits in a non-technical area (e.g. history, art, English) but never really found the right career.
Landgraf said she expects most students in the UW Applied Computing program to have one of these educational backgrounds.
Part of what made the Macintosh great was that the people working on it were musicians, poets, and artists, and zoologists, and historians. They also happened to be the best computer scientists in the world.

—Steve Jobs
3. Your Myers-Briggs personality is an "analyst" type.
Like any field, IT is a patchwork of many temperaments. You don't need to have a particular personality to do well. But Landgraf said the Myers-Briggs type she most often encounters in her computer science classes are "analyst" types: INTJ (the architect), INTP (the logician), ENTJ (the commander), and ENTP (the debater)—with INTJ being the most common.

"INTJs are great students," Landgraf said. "They have original minds and the drive to achieve their goals."
What if you're not an "analyst"? Not to worry. Today, employers look for IT professionals who can round out their team—that means they look for individuals with all sorts of strengths. And these strengths can make you stand out.
Take Tommy Shafer, a web developer in Madison, Wis. "I have strong written and verbal communication skills. For example, I don't mind speaking up and explaining technical things in meetings. I think that's been my leg up in the industry."
4. You're highly organized and detail oriented.
IT projects can be reiterative and detailed with clear processes to follow. Do you have the organization skills and precision to succeed in and enjoy this kind of work?
For example, think of documenting processes. It's something all IT professionals need to do often, so others can replicate the process days or even years later.
Programming, documenting process, project planning—all of these core computer science tasks and many more require exceptional organization and attention to detail.

Get Program Guide
Learn more about our 100% online degree and certificate programs.
5. You are musically talented or have some other "master hobby."
Is there a link between programming and musical ability? A coding bootcamp alumni outcomes study reported that musicality was a powerful predictor of coding success. "Code and music are both systems," Landgraf said. "So, it makes sense that musicians would make good coders."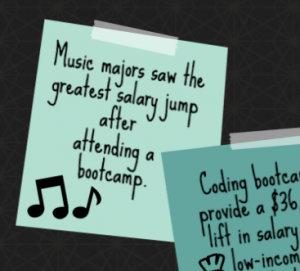 You may not be a maestro, but most IT professionals have at least one master hobby, or something they know a lot about. That attention to detail we mentioned before? It spills over into these hobbies, meaning that whatever hobby IT professionals pursue—whether it's home improvement, video games, or obscure horror films—it's often a tad extreme.
6. You have grit.
Here's an interesting question. How do you respond to failure?
"I was just working on a project where lots of little bits were failing. It definitely doesn't make me want to stop working," Shafer said. "I am determined to finish it and get it right."
"Badly," said another IT specialist in Madison, Wis. "I usually continue to work on a project after the obvious failing point."
Here's what Landgraf said about failure: "In IT, you need to have the grit to push past failure and keep going. To most applied computer science professionals, their work is an addiction. They keep on trying to get it right because when they finish programming something and it works, it's the best feeling in the world."
There you have it. Six signs that an applied computing degree is right for you. If this list resonates with you, start exploring UW Applied Computing now.
Or, jump to the Applied Computing curriculum page to see what you'd learn.
Have a question about the online bachelor's degree completion program? Our enrollment advisers would be happy to help. Email learn@uwex.wisconsin.edu or call 608-800-6762.