Award-winning HIMT instructor, Betty Rockendorf, has a career that spans almost every area of the health information management field. Betty is an instructor and UW-Parkside's program director for the UW Health Information Management and Technology (HIMT) online collaborative degree program. She recently received the 2020 Educator of the Year award from WHIMA.
Her 20-year career in HIMT began as a part-time medical transcriptionist. After earning her bachelor's degree in business administration and management from UW-Green Bay in 2001, Betty later became the Health Information Management director at Door County Medical Center—the place where she continued working until she joined the UW HIMT program.
HIMT INSTRUCTOR'S PERSONAL EXPERIENCE WITH ONLINE EDUCATION FUELED PASSION TO TEACH ONLINE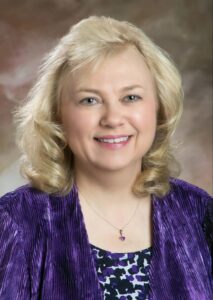 Betty completed her master's degree in health information management from the College of St. Scholastica in 2012, entirely online. After graduation, she was promoted to privacy officer at Door County Medical Center. Betty found learning in the online format was enjoyable. It was this positive online learning experience that inspired her to teach in the online UW HIMT bachelor's degree program.
Outside of her work, Betty enjoys spending time with her family, including her three grandchildren. She also likes to go for walks and observe the changing seasons in Door County.
The following Q&A with Betty spotlights her experience as a UW HIMT faculty member and program director:
HOW DID YOU GET INVOLVED WITH THE 100% ONLINE UW HIMT BACHELOR'S DEGREE PROGRAM?
I had been following the UW HIMT degree program ever since I heard about its creation. While attending a Wisconsin Health Information Management Association (WHIMA) conference, I had the opportunity to learn more about it while networking with the program manager in the exhibit hall. I told him that I was impressed with the program, and he later contacted me about an opening for a part-time adjunct instructor for UW-Green Bay.
I had taught some in-person classes at a local community college, but when the opportunity opened to teach online, I knew I wanted to try it, especially after my excellent experience with online learning during my master's degree. Two years later, I was very happy to accept the program director position with HIMT and teach full-time through UW-Parkside.

Get Program Guide
Learn more about our 100% online degree and certificate programs.
HOW DO YOU USE YOUR EXPERIENCE IN THE FIELD TO HELP GUIDE STUDENTS IN THEIR CAPSTONE EXPERIENCES?
While working at Door County Medical Center, I hosted UW HIMT students for their capstone experiences and was always really impressed. I not only noticed that these students were very eager to learn, but also that they came well-prepared with relevant skills for my workplace. This experience pushed me to be part of the coordination and preparation efforts for capstone projects.
Now, I'm teaching Healthcare Information and Technology-Standards (HIMT 450), Healthcare Information and Technology-Data (HIMT 400), Pre-Capstone (HIMT 489), and Capstone (HIMT 490), which is very satisfying professionally. Assignments are often based on real-world scenarios (which are pulled from my past experience), as well as current scenarios and topics accumulated through my own continuing education in the field, environmental scanning, and connections with the HIMT Advisory Committee. To coordinate the capstone project placements for the students, I reach out to professionals around the country asking them if they would like to host a student. To do this, I often utilize the connections I've made through professional organizations, such as AHIMA, and state associations, such as WHIMA.
YOU Are Now an Award-Winning HIMT Instructor. HOW DID YOUR INVOLVEMENT IN PROFESSIONAL ORGANIZATIONS LEAD TO THIS HONOR?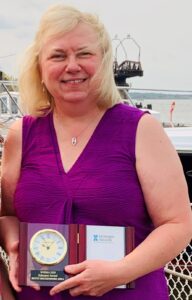 It's really important to be part of professional organizations—including your state AHIMA chapter—because it's a way to network with your peers and continue learning. These professional connections keep you connected about job openings, potential capstone mentors for students, profession news, advocacy efforts, and committee work. Over the years, I've volunteered for WHIMA in several different ways, including serving on the board of directors for five years, and as the president. Participation is essential because you get to know others, and they also get to know you. They see your accomplishments, both at work and on volunteer committees.
I was first formally recognized in 2016 when I received the WHIMA Distinguished Member award. Then, four years later, I was awarded the WHIMA 2020 Educator of the Year award. For me, this award was an affirmation. I've only been teaching full time since 2016, but this award shows that I've been doing something right.
Each year, the association calls for nominations for various awards. I make a point to recognize and nominate HIM professionals who have made great strides and accomplishments in the field.
I hosted UW HIMT students for their capstone experiences and was always really impressed. I not only noticed that these students were very eager to learn, but also that they came well-prepared with relevant skills for my workplace. – Betty Rockendorf
WHAT IS YOUR FAVORITE PART ABOUT THE UW HIMT BACHELOR'S DEGREE PROGRAM?
My favorite part of the program is its flexibility. Students complete courses online and on their own schedule. It also allows for a great diversity in students—both in geographic location and age. While the average age of our students is 34 years old, we have younger students, too. It's helpful to have a mix— more experienced people and those who are just beginning their careers. They learn from one another and get to know one another well. The program also allows for people from around the country to connect with others that they may not have been able to meet with an in-person program. It's a great group of students.
WHAT'S NEXT?
Would you like to explore the online University of Wisconsin Bachelor of Science in Health Information Management and Technology? You will learn from expert faculty, like award-winning HIMT instructor Betty Rockendorf. Contact an enrollment adviser at 608-800-6762 or learn@uwex.edu.