If you plan on earning your Registered Health Information Administrator (RHIA) credential, CAHIIM should be top-of-mind when choosing a health information degree program. To qualify for the RHIA exam, you must graduate from a program accredited by the Commission on Accreditation for Health Informatics and Information Management Education (CAHIIM). 
Due to the extensive CAHIIM accreditation process, not all programs are able to meet the accreditation requirements, which is why it's important to check that your program has undergone this process and received accreditation. All partner campuses of the online University of Wisconsin Bachelor of Science in Health Information Management and Technology are—or are in the process of becoming—fully CAHIIM accredited, equipping students for success in the health information field upon graduation.
CAHIIM, a rigorous accreditation process
To ensure that a program meets CAHIIM's quality standards, programs must undergo a rigorous review process with the following steps to achieve accreditation:
Develop programs that meet the stringent educational standards recognized by CAHIIM

Perform an in-depth self-assessment of the program curriculum, as well as its goals and outcomes, to ensure they meet the stated requirements for CAHIIM accreditation

Conduct a formal site visit with a dedicated CAHIIM appraisal team, who perform an in-depth analysis of the program

Create and present an outcomes-based Annual Program Assessment Report (APAR)

Submit a report that shows how the curriculum competencies are being met, how successful students are, and how faculty members are able to work with accreditation structure
After earning accreditation, a program must continue to meet CAHIIM's standards to keep accreditation. This includes updating program courses to meet curriculum competencies declared by CAHIIM, ensuring that there is a program director at every campus that maintains a CAHIIM credential, and submitting an APAR showcasing student success and faculty performance.
An opportunity to take RHIA and RHIT certification exams
Healthcare information professionals need to graduate from a CAHIIM accredited program to qualify to take American Health Information Management Association (AHIMA) Professional Certification Exams, including RHIA and RHIT. AHIMA wants to ensure that those taking the exams have the skills and knowledge needed to succeed in the exam and, ultimately, thrive in a professional health information role.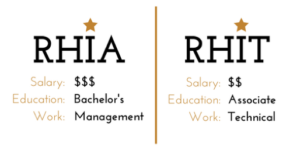 Health information management (HIM) professionals focus on the business aspects of healthcare. They are responsible for planning, organizing, overseeing, and following up on all activities related to the HIM department and the integrity of clinical and financial data. Some common job titles are health information manager, compliance officer, and clinical informatics coordinator. 
Earning the RHIA credential qualifies individuals to transition into leadership roles. RHIAs are equipped to perform duties such as participating in administrative committees, preparing budgets, managing projects, drafting department and hospital-wide policies and procedures, and much more. They focus on data governance, HIPAA privacy and security, and data analytics.
Health information technology (health IT) specialists handle the technical aspects of managing patient health information. They know what data is needed, where it is stored, and how the data is used. Those interested in health information technology (HIT) roles—such as systems analyst, data architect, or electronic health record (EHR) implementation specialist—can find success without an RHIA certification, but may want to consider the Registered Health Information Technician (RHIT) instead.
RHITs tend to focus more on the data itself rather than its applications. They use computer applications to analyze patient information with the goal of controlling costs and improving care. They also specialize in data input and capture, including medical coding data for reimbursement and research purposes. Individuals need at least an associate degree from a CAHIIM accredited program to qualify for the RHIT exam. Learn more about the differences between the two credentials here.

Get Program Guide
Learn more about our 100% online degree and certificate programs.
Stand out to employers
Employment for medical and health services managers has a strong outlook. The U.S. Bureau of Labor Statistics predicts that employment will grow by 32 percent between 2020 and 2030, which is considered much faster than average.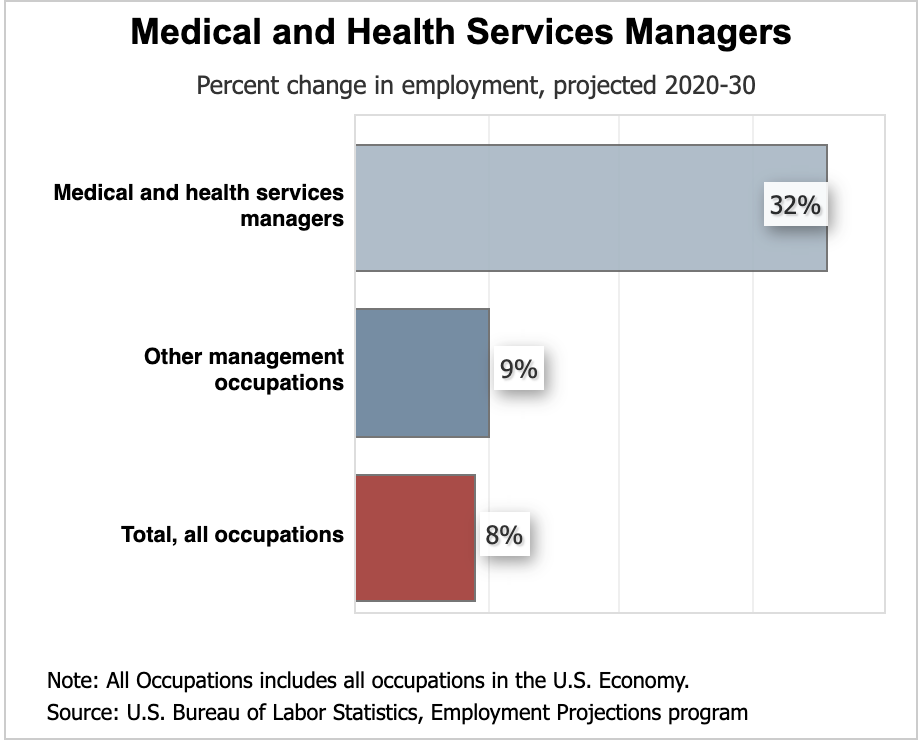 Though the demand is high, employers still want to ensure they hire quality individuals. They want to hire graduates who have experienced a curriculum relevant to today's EHR environment and who possess applicable knowledge and skills. A degree from a CAHIIM accredited program signals that graduates meet—and exceed— these standards.
UW Health Information Management and Technology Program
The UW Bachelor of Science in Health Information Management and Technology (HIMT) degree teaches a unique combination of both health information management (HIM) and health information technology (HIT) skills in a single degree program. Since the program is in a flexible, online format, it is a great choice for busy, working adults who want to advance their health information careers.
The program curriculum adheres to CAHIIM's strict guidelines, and is continuously updated to ensure that the courses are relevant and helpful. For example, the course HIMT 430: Quality Assessment and Improvement, immerses students in a simulated healthcare-like setting, providing practice in making impactful decisions. Get an inside look here.
UW HIMT is a collaboration between three UW campuses: UW-Green Bay, UW-Parkside, and UW-Stevens Point. All campuses are CAHIIM accredited, or in the process of becoming accredited, for the management track. Prospective students should reach out to a home campus for specific information about its CAHIIM accreditation. A complete directory of CAHIIM accredited programs is available here.
The UW HIMT team—including academic directors, program directors, distinguished faculty, and Success Coaches—works hard to maintain a program that benefits both students and employers. CAHIIM accreditation ensures that UW HIMT students receive a rigorous and quality education, setting them up to effectively meet the challenges of today's health information field.
Ready to enroll?
Enrollment advisers are happy to answer any questions you may have about the program or the application process. Call 608-800-6762 or email learn@uwex.edu.