Climate change continues to be a critical issue that impacts every part of the world. Following a tumultuous 2020, the International Monetary Fund reported U.S. greenhouse gas emissions dropped more than 4.6 percent. 
Although these emission numbers are promising, the increase in extreme droughts and a nearly record-breaking hurricane season in 2020 serves as a warning that a bolder transformation of energy infrastructure and a sharp focus on sustainability are needed to reduce the effects of uncontrolled global warming. It is no longer enough to be carbon neutral: the country and world must move to a carbon negative or drawdown mindset, collectively. There is no time to waste.
The 100 percent online University of Wisconsin Bachelor of Science in Sustainable Management prepares graduates to tackle climate crisis challenges within their sustainability roles across various industries and sectors. Specifically, the SMGT 305: Climate Change and Sustainability course gives students the tools they need to systemically turn the tide on the climate crisis through a multitude of ways including creating effective, strategic sustainability plans.
What does a UW Sustainable Management online course look like? What are you expected to complete each week? How do you interact with classmates? This is your inside look at SMGT 305: Climate Change and Sustainability.
What will I learn in the course?
SMGT 305: Climate Change and Sustainability focuses on the science of climate change, greenhouse gases, natural and human impacts of climate change, and sustainable and efficient strategies to limit carbon emissions. The course is divided into three major areas: 
Climate science and measured impacts

Modeled predictions and mitigation/adaptation strategies

Sustainable and carbon neutral practices
This course not only emphasizes the economics of carbon budgeting and increasing efficiency, but also the human role in creating and solving the climate crisis. It looks at the discrepancies in who, where, and what will be impacted by climate change and the necessary solutions.
At the end of this course, you will be able to:
Identify and describe the anthropogenic drivers of climate change, particularly carbon emissions within a systems context.

Evaluate the relative uncertainties in past, current, and predicted states of the climate, and identify observed and predicted impacts.

Identify and evaluate the environmental, social, and economic impacts of different adaptation/mitigation and policy strategies.

Use a sustainability framework to critically analyze these strategies.

Describe examples of more efficient and lower emission industrial adaptations and their role in a sustainable economy.
What will the lectures be like?
The course consists of 13 lessons that span 15 weeks and is currently offered during the spring semester. Unlike an on-campus program, you are not required to attend a lecture at a specific time. Instead, you are assigned narrated slideshow presentations led by the instructor, followed by weekly quizzes to test your knowledge on the material.
These presentations are organized by section, so you can jump around and return to specific slides later as needed, allowing you control of your learning experience.

Get Program Guide
Learn more about our 100% online degree and certificate programs.
What types of assignments will I complete?
Most lessons have a weekly quiz to check your content knowledge. Additionally, there will be graded discussion posts and papers where you will apply your knowledge to real sustainability issues, such as analyzing current and past carbon dioxide data, evaluating your personal and the country's carbon footprint, among other areas. The final project is an essay or presentation that ties together all of the course's covered lessons.
A typical week may require readings, narrated slideshows, and/or video lectures. A variety of textbook chapters, online articles, videos, and other learning materials provide comprehensive content that better prepares you to contribute to group discussion boards and other assignments that require you to dig deeper into your analysis skills.
All assignments and due dates are clearly outlined in the Course Calendar, which you can refer to anytime while taking the course.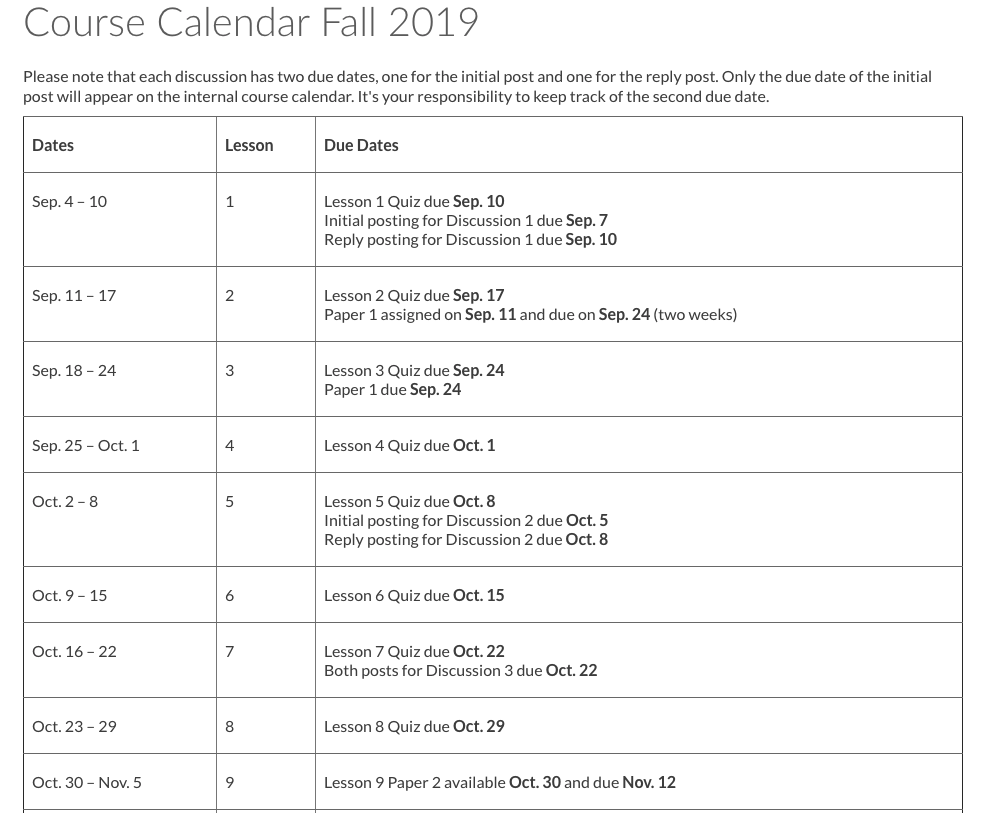 What else will I do in the course?
Along with lectures, quizzes, and papers, you will be tasked with reality-based discussion assignments. After completing research and examining sustainability issues and processes in your community, you will write a short summary of your findings and share it with classmates in the course's discussion board.
For example, Discussion #4's assignment asks you to consider six carbon reduction proposals and then explain which one is the best to adopt based on:
Overall impact of carbon reservoirs

The organization that submitted the proposal

Interests and stakeholders connected with the proposal

Scientific validity of the proposal
These discussion assignments help make sustainability issues less abstract—narrowing your focus on the concrete, socioeconomic, climate change, and other impacts within your own community. All the while, you grow your understanding of systems thinking and how sustainability connects to virtually every aspect of life.
Who is the instructor?
Dr. Rachel Headley is the director of the Center for Environmental Studies and an associate professor in geosciences at UW-Parkside. Outside of higher education, she is a geomorphologist and glacial geologist. She earned her M.S. and Ph.D. in earth sciences from University of Washington and her B.S. in physics from University of Maryland, College Park.
"This course provided a diverse learning environment that covered far-reaching aspects and controls of climate change, along with the resulting impacts for the present and future. What I thought to be especially important was the continuous reminder and analysis of latent effects that are being felt from decades ago, along with those from the present that we will continue to be subject to in the coming years. It is clear that accelerating the adaptation and mitigation strategies for climate change processes is increasingly pertinent for a sustainable future."
-Ryan, UW SMGT student
Do students in the course interact?
Yes. Students interact and share ideas through graded discussions in Canvas, the program's learning management system. You can also collaborate, ask questions, and have general, non-assessment discussions in the virtual Student Resource Lounge. Many students are surprised to find that they get to know their instructors and classmates better online than in a traditional classroom.
How much do I do in one week?
Time commitment varies depending on how much previous educational and/or professional experience you bring to the course, as well as your work and life schedule.
Do I receive support in the course?
In addition to the UW Sustainable Management academic directors and other resources offered by your chosen home campus, the UW Extended Campus Student Services team is composed of Student Success Coaches. Offering support for academic, coursework, graduation, and personal needs, your Student Success Coach is there to guide you through the program.
Has the SMGT 305: Climate Change and Sustainability course piqued your interest in what other courses are offered in the UW Bachelor of Science in Sustainable Management program? Check out the full curriculum of the bachelor's-level courses or explore the master's-level courses. Enrollment advisers can help with all of your program questions. Call 608-800-6762 or email learn@uwex.wisconsin.edu.