Amy Kostelansky is a process operations and corporate social responsibility manager at SWIM USA, based in Pennsylvania. In Fall 2021, she started her first semester as a master's student in the 100 percent online University of Wisconsin Sustainable Management program. As a scholarship recipient for the Fall 2021 semester, Amy submitted a personal essay to be considered for an award that covers part of the semester's tuition. What follows is her abbreviated submission: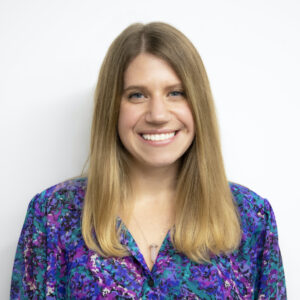 I applied to UW Master of Science in Sustainable Management (UW SMGT) in August 2021 after vetting several universities with sustainability programs. I chose UW SMGT because the enrollment advisers, curriculum, videos, and information available on the UW SMGT website spoke to a well-organized, established program with faculty and staff who genuinely care about engaging with students. The ability of UW SMGT to convey the importance of this program was indicative of the support I would receive as a student.
My choice to focus on sustainability was based on my 15+ years of experience in the garment manufacturing industry and my love of the outdoors and protecting nature. The garment industry is well known for exploitation of human labor and the natural environment, and this knowledge began to weigh heavily on me. Simultaneously, the natural environment was nurturing my mind and soul in my garden, on bike rides, and backpacking trips. I felt these two paths were contrary to one another, and I knew I needed them to converge in order to continue my journey in the manufacturing industry.
To start, I will help my team lead our company in corporate social responsibility initiatives. My initial focus will be to ensure we are in compliance with environmental, social, and corporate governance regulations and to quantify our carbon emissions so we can create a science-based target and become carbon neutral in alignment with the Paris Climate Agreement.
There are many additional areas where my company can affect change in the manufacturing industry. As a trained pattern maker, seamstress, and product manager by trade, I will help identify pain points in our current sourcing, development, and production processes all while improving the sustainability in our supply chain and operations.

Get Program Guide
Learn more about our 100% online degree and certificate programs.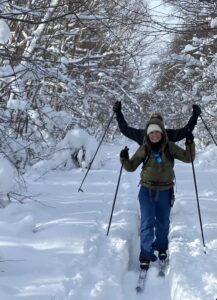 I have found sustainability regulatory information inconsistent, difficult to find, and challenging to understand. Moving forward, I want to make this valuable information available to all. I will leverage my learnings from this master's program to share the message of sustainability beyond my current workplace through volunteer consulting to small businesses and nonprofit companies.
Over the last several years, I have increasingly embraced sustainability and environmentalism. My time is spent outside in rain, sunshine, or snow. When it's too dark to be outside, I am inside processing the harvest or reading a book about conservation. This peace, passion, and fervor is brought on by my love of the natural world. I hope to continue passing on this vulnerable and emotional way of existing in the world, because caring about nature sometimes requires an emotional state, not just a scientific perspective.

Additionally, I must cater to my pragmatic side. I will use my influence and knowledge as a graduate student, grounded by fact and education, to make positive changes in today's world of manufacturing at scale. My hope is that through improvement and results, I will convince and inspire colleagues to be stewards of the land.

Since launching the scholarship program in 2011, UW Sustainable Management has awarded nearly $1,000,000 to students to help pay for their education and advance the positive impact of sustainability across the world. To learn more about the UW Sustainable Management, "We are the Future of Sustainability" scholarship, visit the scholarship page.
Explore the possibilities of a career in Sustainable Management. Contact an enrollment adviser at 608-800-6762 or via email at learn@uwex.wisconsin.edu.
UW Sustainable Management is a collaboration of UW System campuses. Amy is earning her degree from UW-Green Bay.