This week on Forward, Sustainably, University of Wisconsin Sustainable Management program manager, Amanda Goetsch, and podcast guest, Jessy Servi Ortiz, dive into a smorgasbord of sustainability topics. To kick things off, they talk about entrepreneurship, sustainable agriculture and food systems, supply chains, and fair trade labels on the market. Then, they focus locally on sustainability initiatives in Wisconsin, where exciting workforce developments, career opportunities, and benchmarking tools are taking effect thanks to Wisconsin sustainable business leaders including Kohler Company, Madison Gas and Electric, and General Plastics.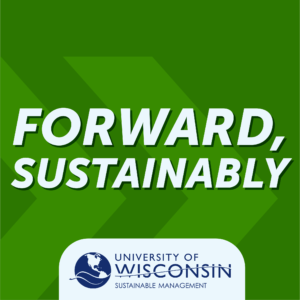 Featured guest, Jessy Servi Ortiz, brings her diverse background in business, strategic planning, design, permaculture, and sustainable agriculture to Forward Sustainably's listeners. In 2013, Jessy earned an MBA from Alverno College with a focus in sustainable business management. Set out to help businesses with sustainability goals, she cut her teeth as the sustainability manager at Outpost Natural Foods in Milwaukee, Wisconsin and is now the managing director of the Wisconsin Sustainable Business Council—an organization supporting Wisconsin businesses through sustainability strategies. Jessy is also a member of the UW Sustainable Management Advisory Board.
Businesses have the power to transform culture, industry, and the planet. Learn how sustainability can help you do what you do better.
Listen to the episode here:
—
Recording Date: September 19, 2019
Published: October 3, 2019
University of Wisconsin Extended Campus Recording Studio

Get Program Guide
Learn more about our 100% online degree and certificate programs.