Grab your favorite beverage and get ready for the season one finale of Forward, Sustainably. University of Wisconsin Sustainable Management program manager, Amanda Goetsch and podcast guest, Paul Graham, the CEO of Central Waters Brewing Co. located in Amherst, Wisconsin, explore how sustainability is possible all while creating delicious beer. The pair dive into a discussion about the next best practices in sustainability, waste, water, energy, community, and people—all aspects that tie back to the brewing industry.
Central Waters Brewing Co. isn't flashy when it comes to its sustainability practices, but its crew is intentional about every part of the brewery's operation. Featured guest, Paul Graham, believes it is no longer an option, but rather a requirement to integrate sustainability efforts while improving Central Waters' beer along the way.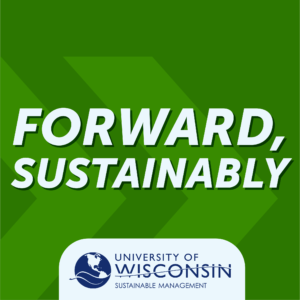 After graduating from UW-Stevens Point, Paul began working with the original founders of Central Waters Brewing Co. A few years later, Paul purchased the business and gave his all to every detail: "I make a lot of decisions with my heart," Paul says.
Don't miss out on additional topics such as packaging, biodigesters, family farms, and how Paul—a geography major—became a sustainability leader in the brewing industry.
Editor's note: In October 2019, Wisconsin Governor Tony Evers signed Executive Order #52, which established the Governor's Task Force on Climate Change. The task force reported its findings and policy recommendations to Governor Evers in a report published on December 2020. Shortly after recording this episode with Paul, it was announced that he would represent Central Waters Brewing Co. on the Governor's Task Force on Climate Change.
Share your feedback and guest recommendations with us via email at forwardsustainably@uwex.wisconsin.edu and follow us on Twitter @UWSMGT.
Listen to the episode here:
—
Recording Date: October 10, 2019
Published: November 27, 2019
University of Wisconsin Extended Campus Recording Studio

Get Program Guide
Learn more about our 100% online degree and certificate programs.