Join us in kicking off Forward, Sustainably as we celebrate the 50th anniversary of Earth Day! Founded by Wisconsin governor and senator Gaylord Nelson, Earth Day began as a teach-in (similar to a general educational forum) and is now celebrated across the planet. The lessons and message behind Earth Day have evolved, but the value of the holiday stays the same—we all have the power to create a better future through our actions. 
In this episode, University of Wisconsin Sustainable Management program manager, Amanda Goetsch, sits down with Tia Nelson, daughter of Gaylord Nelson, to learn about how she is working to create a better future through education, bridge building, storytelling, and more. 
Tia Nelson is internationally recognized as a tireless champion for environmental stewardship and climate change education. She spent 17 years with The Nature Conservancy in government relations as a policy advisor for Latin America, and later as the first director of the Global Climate Change Initiative. For this work, she received the EPA's Climate Protection Award in 2000. Tia returned home to Wisconsin to serve as Executive Secretary to the Wisconsin Board of Commissioners of Public Lands, which included a gubernatorial appointment as co‐chair of Wisconsin's Task Force on Global Warming. She directs Outrider Foundation's climate program, a nonpartisan educational nonprofit committed to making the world safer and more secure.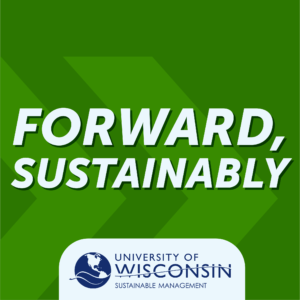 During their conversation about Earth Day's past, present, and future, Tia talks about the timely short film When the Earth Moves, which was published to YouTube and Outrider.org on April 15, 2020. The video marked the commencement of the nation's week-long online celebration of the 50th anniversary of Earth Day, concluding on April 22. The film reclaimed the authentic story and original vision of Earth Day as a bipartisan and socially just environmental movement and highlighted the need for people across generations and on both sides of the political aisle to play an active part.
Share your feedback and guest recommendations with us via email at forwardsustainably@uwex.wisconsin.edu and follow us on Twitter @UWSMGT.
Listen to the episode here:
—
Recording Date: March 9, 2020
Published: April 16, 2020
Correction note: In this episode, it was stated that Lake Erie was on fire. It is not. It was the Cuyahoga River in Ohio.

Get Program Guide
Learn more about our 100% online degree and certificate programs.