The health information management (HIM) career outlook is bright. The U.S. Department of Labor's Bureau of Labor Statistics predicts that employment of medical and health services managers will grow by 32 percent between 2020 and 2030—far outpacing the average for all occupations in the United States.
Demand for Health Information Management Professionals
Over the last decade, new technology and regulations have changed the health information field dramatically. And as a result, it is growing fast. According to the U.S. Department of Labor's Bureau of Labor Statistics:
Widespread use of electronic health records (EHRs) will continue to create demand for managers with knowledge of health information technology and informatics systems. Medical and health services managers will be needed to organize, manage, and integrate these records across areas of the healthcare industry.
In 2021, the U.S. News & World Report ranked medical and health services manager as the #1 job in best business jobs, #4 of the 100 best jobs, and #4 in best STEM jobs.
Health Information Management Job Titles and Salaries
Job titles and salaries of HIM professionals vary considerably and are usually dependent on work setting and experience. A University of Wisconsin Bachelor of Science in Health Information Management and Technology (HIMT) can be the foundation for many HIM positions, such as these listed in the 2019 AHIMA salary study:
Salary information below represents self-reported, rounded averages. 
Revenue Cycle Management / Coding Billing: $66,370
Coding professional

Revenue cycle manager

Clinical documentation improvement specialist

HIM revenue cycle auditor

Benefits coordinator
Operations / Medical Record Administration: $81,950
Meaningful use specialist

Patient or cancer registrar

Health information manager

Director of HIM
Informatics / Data Analytics: $83,490
Data integrity analyst

Clinical informatics coordinator

Project manager

Research and development scientist

Director of clinical informatics
 Compliance / Risk Assessment: $89,230
Credentialing specialist

Quality improvement analyst

Compliance auditor

Privacy officer

Information security manager

Director of risk management
IT / Infrastructure: $98,180
Implementation support specialist

Data quality manager

System analyst

Data architect

Chief technology officer
HIM professionals work in a variety of settings, which also affects their salary.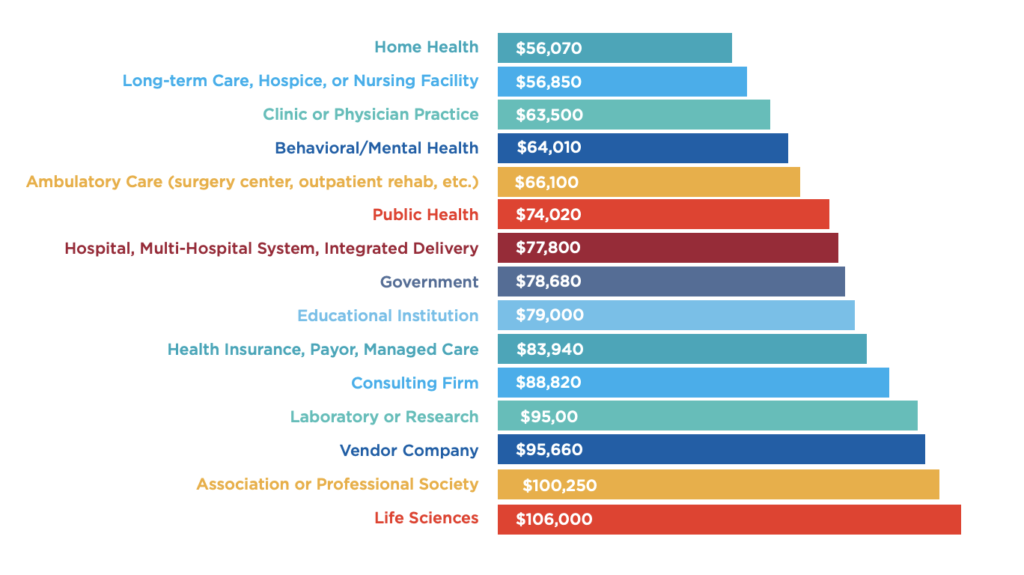 Health Information Management Careers Spotlight
HIM Manager
HIM managers plan, organize, oversee, and coordinate day-to-day activities related to medical documentation within HIM departments. It's their job to make sure medical data is current, accurate, and in compliance with institutional ethical standards and patient privacy laws. They may direct and train staff, develop department budget, and evaluate daily procedures so that medical records are documented and completed in a timely fashion. If they work for a large health system, HIM managers may report to an HIM director. According to the latest AHIMA Salary Survey, the average manager-level HIM professional earns $79,690. 
HIM Director
HIM director is one of the highest-ranking positions in HIM. Directors oversee health information management departments for healthcare systems. They develop organizational goals, manage large HIM teams, and ensure the facility complies with all laws and guidelines related to health record documentation. HIM directors also maintain external relationships with state and national organizations to keep departments up to date on regulations and trends in HIM. The average salary for a director-level HIM professional is $100,620 according to AHIMA's Salary Survey. 

Source: AHIMA US Salary Survey Report: HIM Professionals in 2019
The UW HIMT Capstone: Getting Your Foot in the Door 
In the UW HIMT program, students are required to take HIMT 490, the capstone course. Students find healthcare-related internship sites and set up semester-long projects in order to gain hands-on, real-world experience. Upon graduation, they are prepared for a variety of health IT and health information management careers. View our capstone library for a list of recent capstone projects completed by UW HIMT students. See how this student's capstone project jumpstarted her career. 
Job Resources
Searching for health information management jobs? Below are links to several job banks where you can find HIM position openings.
WHAT'S NEXT?
Explore
Interested in starting or advancing your HIM career? University of Wisconsin offers an online Bachelor of Science in Health Information Management and Technology. Start your journey here.
Ask
Questions about the UW degree program or HIMT field? Contact an enrollment adviser.