The 2021 U.S. median annual wage for a cybersecurity career—a computer and information technology occupation—is $97,430 according to the U.S. Bureau of Labor Statistics. Emsi data shows that the advertised wage trend for cybersecurity-related occupations has increased nearly 22 percent since 2019, with a future projection that continues to climb.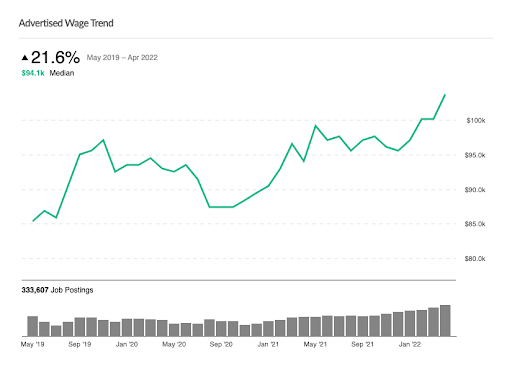 This positive cybersecurity salary outlook is a result of an increase in cybercrime and attacks that critically affect companies, regardless of size and industry. The alarming surge in cyber threats has triggered a high demand for cybersecurity professionals, especially those who have advanced graduate degrees.
RELATED: Cybersecurity Career Outlook
Cybersecurity Salary by Job Title
Employers are willing to pay talented cybersecurity professionals at competitive rates. However, salary is highly dependent on experience, job title, industry, company size, location, and level of education. 
The following is a general list of cybersecurity job titles and salaries for the U.S. Job title descriptions come from the National Initiative for Cybersecurity Careers and Studies (NICCS):
Information Security Analyst
Responsible for the analysis and development of integration, testing, operations, and maintenance of systems security. 
Median annual salary: $102,600 (Source)
Cybersecurity Architect
Ensures that the stakeholder security requirements necessary to protect the organization's mission and business processes are adequately addressed in all aspects of enterprise architecture.
Median annual salary: $120,520 (Source)
Information Systems Security Manager
Responsible for the cybersecurity of a program, organization, system, or enclave.
Median annual salary: $159,010 (Source)
IT Program Auditor
Conducts evaluations of an IT program or its individual components to determine compliance with published standards.
Median annual salary: $84,00 (Source)
RELATED: Which Cybersecurity Track is Right for You?
Systems Administrator
Responsible for setting up and maintaining a system or specific components of a system, such as installing, configuring, and updating hardware and software.
Median annual salary: $80,600 (Source)
Chief Information Security Officer (CISO)
Executes decision-making authorities and establishes vision and direction for an organization's cyber-related operations.
Median annual salary: $230,204 (Source)
Threat/Warning Analyst
Develops cyber indicators to maintain awareness of the status of a highly dynamic operating environment. Collects, processes, analyzes, and disseminates cyber threat/warning assessments.
Median annual salary: $79,343 (Source)
Senior Systems Engineer
Designs, develops, tests, and evaluates information systems throughout the systems development lifecycle.
Median annual salary: $166,500 (Source)
What's Next?
Cybersecurity salary outlook is bright—and so is your future in the 100% online UW Cybersecurity program. The master's-level curriculum was developed with input from industry leaders and serves to fill the skill gap identified by today's top cybersecurity employers. With a focus on core cybersecurity topics, such as network security, cryptography, managing security risk, and more, graduates of the program will gain competencies that set them up for success as information security analysts, cybersecurity architects, chief information security officers (CISO), and systems administrators.
Check out the program's curriculum or connect with a helpful enrollment adviser at 608-800-6762 or learn@uwex.edu.