In the United States, the need for computer and information technology managers has risen rapidly in the last decade and is expected to increase 10 percent between 2019 and 2029 according to the Bureau of Labor Statistics. This growth translates to nearly 50,000 new job openings in or related to the IT management field in the United States over the next decade. However, the need is already here, as HR and recruitment teams find that there aren't enough skilled IT management professionals to meet the demand.
The shortage of qualified candidates for IT management positions applies to Wisconsin employers, too. Over the next 10 years, Wisconsin is projected to see a 7 percent increase in IT management related jobs, which works out to about 2,200 job openings for IT management positions.
Across the U.S., growth looks promising for IT Management.  U.S. News and World Report ranks IT Manager jobs as #2 in Best Technology Jobs, #8 in best STEM Jobs, and #13 in best paying jobs.
The chart below shows job growth in the U.S. and Wisconsin for the four main occupations related to IT management: computer and information systems managers, computer systems analysts, network and computer systems administrators, and computer network architects.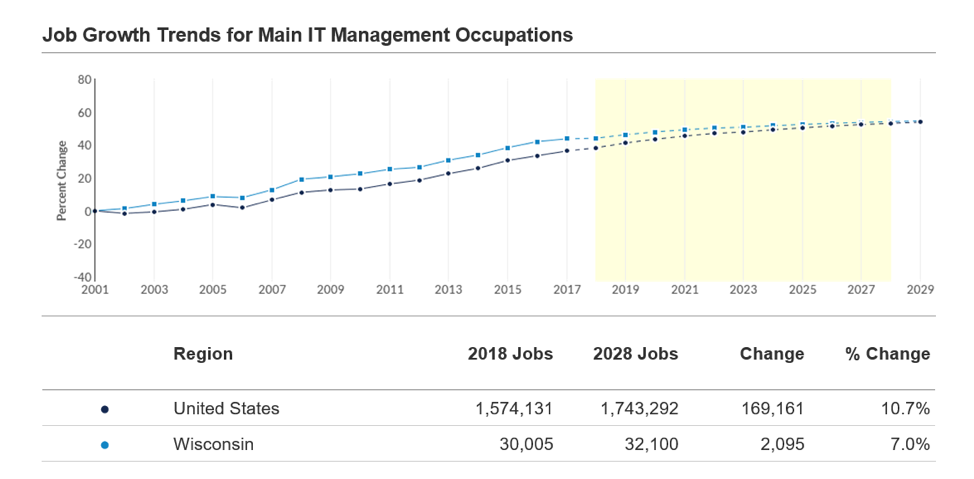 Industries with the Largest Demand for IT Managers
Which industries are largely responsible for such rapid growth?
The top industry adding the most IT manager jobs in the U.S. from 2018 to 2028 is the computer systems design services industry, which includes companies like Cerner Corporation, and Sapient Corporation. According to the North American Industry Classification System (NAICS), organizations within this industry are involved in planning and designing computer systems that integrate hardware, software, and communication technologies. They also offer installation and training services to users of their systems.
The second industry contributing to the most IT manager jobs in the U.S. is the custom computer programming services industry, which includes companies like Hewlett Packard Enterprise Co., Unisys Corp, Oracle, and Fiserv. This NAICS designation applies to companies engaged in writing, testing, modifying, and supporting software to meet the needs of their users.
Depicted below, other industries that add to the IT management job demand include computer services, management offices, management consulting, and health insurance carriers.


Get Program Guide
Learn more about our 100% online degree and certificate programs.
Demand for Trained IT Managers
As IT departments expand and become a critical function of business operations across all industries, the need for trained managers has spiked.
Companies are looking not only for individuals that possess hard technical skills, but also those who have training in business fundamentals such as project management, finance, and communication. Often this interdisciplinary training is attained through a combination of work experience and graduate-level education.
In fact, an analysis of 2018 job postings, along with current levels of education within IT management occupations, found that the following IT management occupations are most likely to require a master's degree: computer and information system managers, computer occupations, "all other" (which includes IT project managers), and information security analysts. Combined, these occupations are projected to grow by 14 percent nationally between 2018 and 2028—that's an additional 122,595 jobs that are likely to prefer graduate degree holders.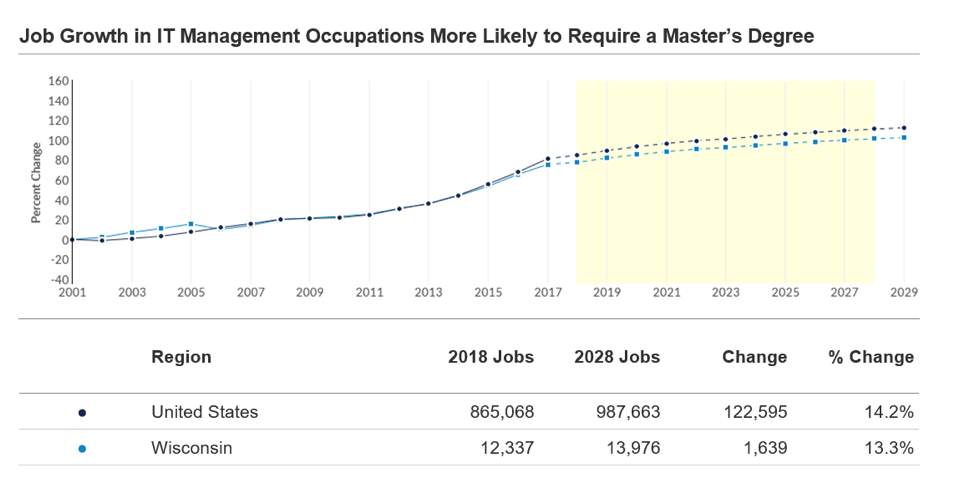 Earning Your Master's in IT Management
If you're considering a next step toward IT leadership, the University of Wisconsin offers an online, 37-credit Master of Science in Information Technology Management degree specifically designed for working professionals.
The curriculum was developed with input from industry leaders and serves to fill the skill gap identified by today's employers. With a focus on business acumen such as finance, IT leadership, and project management, graduates of the program will gain competencies that set them up for success as IT directors, IT project managers, information systems managers, database managers, and even CTOs or CIOs.
Interested in learning more about the roles and responsibilities of an IT manager? Find information about IT manager job responsibilities and required skill sets here: What Do IT Managers Do?  For salary information: What is an IT Manager Salary?
What's Next?
Curious about what you'll learn in the UW IT Management courses and how it will apply to your current and future roles in the IT field? See the curriculum.