Two University of Wisconsin IT Management master's students, Mitch Frydrych and Zac Avery, recently reached the halfway milestone in the 100% online degree program. At their current pace, both are set to be the program's first graduates.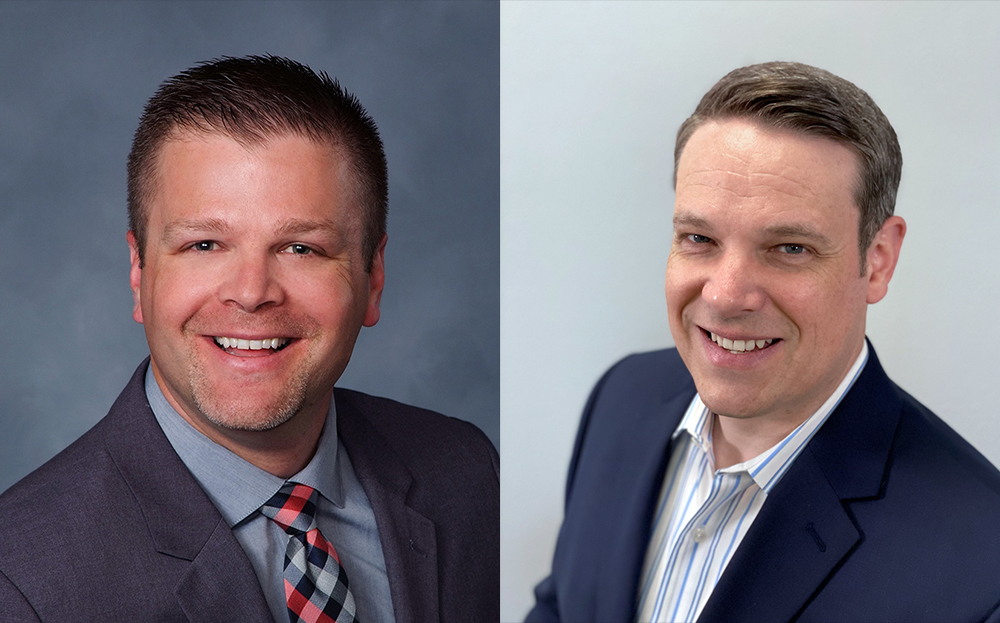 Mitch, the Senior Vice President of Information Technology at National Exchange Bank & Trust, enjoys fixing people's IT problems and began his career working in a student IT role at Georgia-Pacific's data center. Since graduating with a bachelor's in information & computing science from UW-Green Bay, he's held various IT specialist and administrator roles in manufacturing, healthcare, and banking.
Similarly, Zac had an interesting pathway to his current role of Systems and Security Manager at Township High School in Highland Park, Illinois. Coining the phrase, "Zac of all trades" to describe his many ventures, Zac has worked as a business systems analyst and business applications developer in small businesses and corporations, and he owned a freelance web design business before moving into an IT role within education.
While both Mitch and Zac decided to pursue a master's degree to help them become better qualified for Chief Information Officer (CIO) roles, neither of them expected to form a supportive friendship that has motivated their progress throughout the program. UW Extended Campus talked with both of them to learn more about their unique student experiences and to gather advice they have for prospective UW IT Management students:
Why did you decide to pursue a master's in IT management?
Mitch: I got to a point in my career where I couldn't advance without more education. I thought to myself, if I ever want to become a CIO or if I want to get into a higher profile job, going back to school is the next step. I realized having a family, working full time, and getting a master's degree is a lot and not very appealing. But, I knew I needed that leg up to continue to grow professionally.
Zac: At first, I wanted to pursue an MBA, but that didn't work into my employer's tuition reimbursement requirements. When I came across the UW IT Management program, it better aligned with my current position and my goal to become a CIO. To do this, I knew that I needed to supplement my business undergrad, and this program checked a lot of boxes—covering technology subjects and more business-minded/leadership aspects, too.
Why did you choose the UW IT Management program?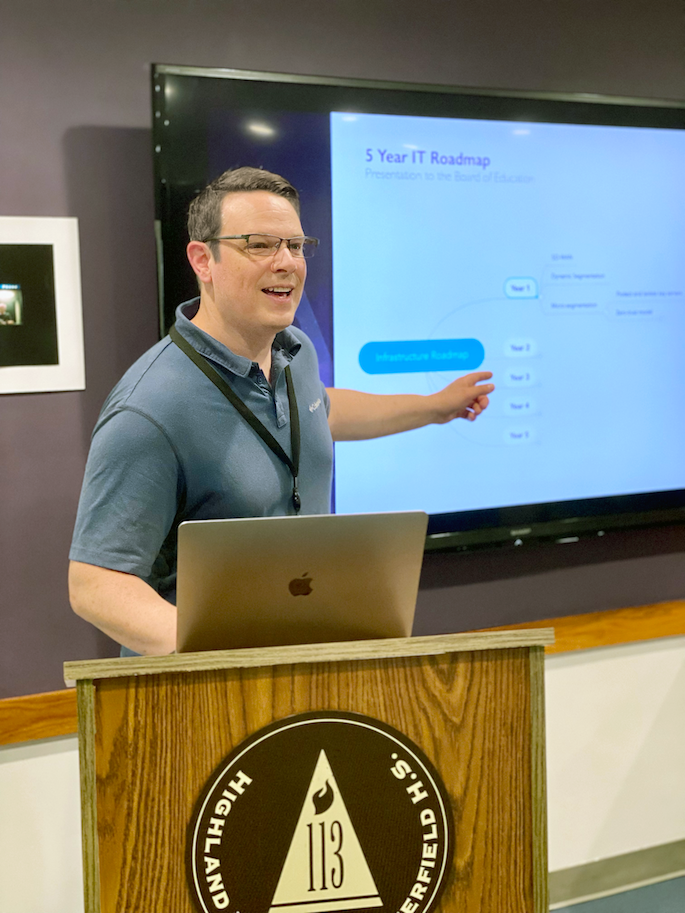 Mitch: I chose UW because my wife and I want to raise our family in Wisconsin. I could go out and get a master's degree from a small online college, but I didn't feel it would hold as much weight as a UW degree. It was also the obvious choice considering I received my undergraduate degree from UW-Green Bay. The reputation of UW was the deciding factor for me.
Zac: I needed the flexibility. My job—and I think this goes for a lot of people in IT—doesn't allow me to punch out at 5 p.m. and call it a day. I'm working around the clock on weekends, nights, and holidays. With my kids being older, I knew I would have some more time on my hands too—not needing to run them off to soccer practice. Knowing that the program was 100% online and that I could complete coursework when it made sense for me with my busy schedule was a huge deciding factor.
What has your experience in the program been like so far? Do you have a favorite course or project?
Mitch: A course that really stood out to me was ITM 720: Cloud Computing and Enterprise Applications. Many people think they know what the cloud is, but do they really understand everything that goes on behind the scenes, such as how organizations make financially sound decisions around cloud applications? It was eye-opening to gather insights from the cloud provider and cloud consumer perspectives. That course helped me better understand from an organizational and consumer standpoint how cloud computing works best with specific goals in mind.
I also learned a lot from the ITM 735: Business Analysis and System Development course. I gained a good understanding of the value of business analysis, engaging the right people, having those critical business conversations, and how to navigate different personalities.
Zac: Some of the instructors have gone above and beyond while teaching their courses. You can experience some anxiety when going back to school after so many years working, especially when you need to take a course that you didn't do that well in during undergrad. In the ITM 710: Finance for IT Managers course, there was some required calculus. The instructor learned that I along with other students hadn't taken any form of higher math education since high school, and he took extra time out to schedule multiple Zoom sessions where he patiently worked out calculus problems with us on a whiteboard. That was so unique, and we all appreciated the care and time.
How do you balance classwork, your job, and life responsibilities?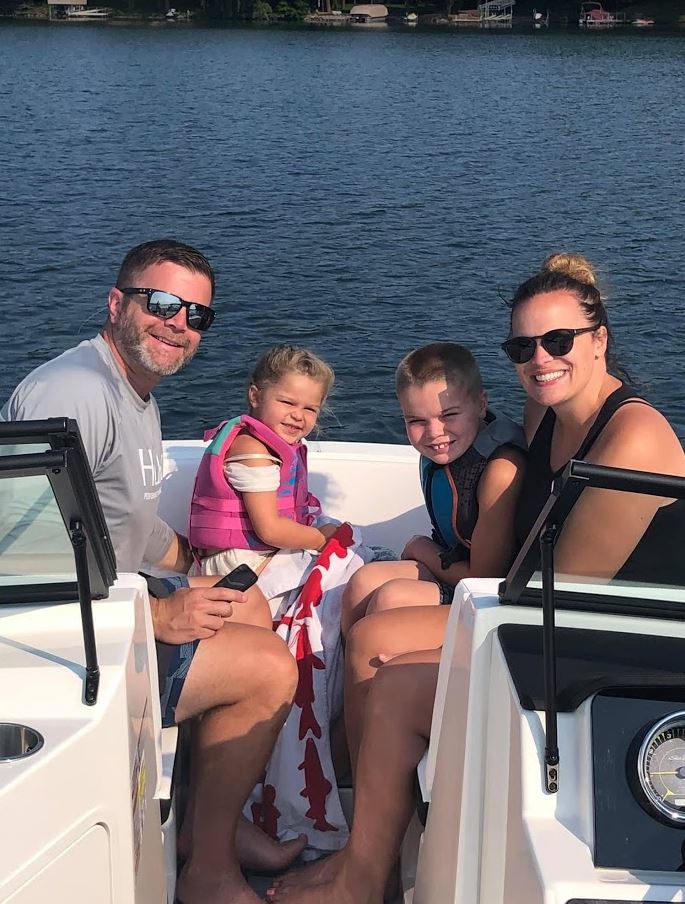 Mitch: My children are young, so it was a big decision for me to go back to school. I never want my job to take away from my family life. But since the program is 100% online, I can do coursework when I have the time. For me, that is usually early in the morning before the kids are up or later at night once they've gone to bed. Being able to pick up my phone or iPad and have the textbook and assignments readily available has been beneficial for me.
Zac: I take two classes per semester, and that comes out to roughly 20 to 30 hours a week to complete coursework. It is a lot, and it takes some time to figure out a schedule that you can maintain. I've found that blocking off specific times that are only used for coursework makes the most sense for me. For example, Monday and Tuesday nights I read all of the coursework so then the rest of the week I am prepared to knock out different assignments like discussion posts or group project meetings. Typically, nights and weekends are where I find the best time to get my work done.
Tell us about your unique experience of moving through the program at the same pace as your peer.
Mitch: Prior to this program, I had no experience with online courses. I thought I was going to be on my own island if I had a question. I wasn't sure what I was going to do if I hit a wall. But, I've been able to connect with classmates, especially Zac, and we've really meshed well. He's kind of in the same stage of life as me, and we have the same goal of becoming a CIO and continuing to grow professionally. By working with him on various projects, we've learned that his strengths are my weaknesses and vice versa. I'm glad that we have each other to progress through the program together, because being able to bounce ideas off each other and to motivate one another to keep going has helped us become good friends.
Zac: Mitch and I are moving through the program at the same speed, so we definitely push each other. There will be times when we email back and forth to see where we both are in an assignment. It's a fun competition that really motivates me to stay on track. I never expected gaining a friend like him through this program, and I definitely never had that kind of experience in undergrad. There have been times where I've thought of pulling back and only taking one course for a semester, and Mitch has been there to say, "I'm already signed up for two. You've got to take it!" And, I think, well if he is in, then I am in. That's been the driver for us—the goal that we're going to keep knocking out two classes every semester so we graduate together.
What is your advice for prospective students?
Mitch: When looking for a master's program, make sure the courses and curriculum fit with your goals. Also know that UW is reputable with respected programs, which I personally think means a lot. Earning your degree is a lot of work, but it is well worth it, and you will find the time to do it. The relationships that I've gained through this program so far are sure to grow stronger—that's what it is all about!
Zac: Through this program so far and the classmates I've worked with, I've gained so many new perspectives about the IT industry. Now, I feel like I could go into any industry and hit the ground running. My advice is that it's okay to feel uncomfortable or pushed out of your comfort zone. Learning about new subjects is a good thing, even if that means you won't understand or master everything right away. This program helps you break out of any silo you may have been placed in. Pushing yourself in this program will only help you in the long run.
Learn more about the 100% online University of Wisconsin Master of Science in IT Management by exploring the program's curriculum or contacting an enrollment adviser at 608-800-6762 or learn@uwex.edu.