Going back to school is a family affair for the Indiana-based Sipos family. Lori Sipos raised her twin son and daughter as a single, working parent and never felt like she had the time or energy to further her education.
"It's hard being a single parent," Lori said. "You don't have time for school, and, if you do, it takes a lot of time away from the kids."
Now that her twins are 28 years old, Lori is chasing a new educational ambition, and she's encouraging her children to do the same.
"I was trying to get them motivated to do something," Lori said. "Right now, my daughter's a stay-at-home mom, and my son is working an hourly job. I want them to do more."
Lori's efforts were successful and the three of them are now enrolled in the University of Wisconsin Associate of Arts and Sciences online degree program. 
An unexpected extra push to get a degree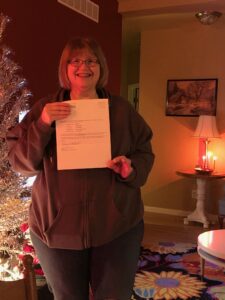 Lori was a bus driver for several years, initially starting as a school bus driver and then transitioning into other age groups. She stayed in the industry because she enjoyed meeting new people—including customers and her coworkers—but she felt her career goals starting to change.
"When I was driving up to Chicago from Valparaiso, I was taking professionals—they were going up there to work," Lori said. "And while talking with them and listening to them, I thought to myself, 'You know what, I think I can do more than just be a driver.'"
When the COVID-19 pandemic became prevalent in the U.S. in March 2020, Lori was furloughed from her job due to the limited route availability, and she moved into a dispatching role with the company. Although she enjoys dispatching, she always wanted to earn a degree. Now, with more free time and her children grown, she feels ready.
"I was sitting at home thinking that there has to be something I can do," Lori said. " I looked online, and that's when online courses were popping up."
Finding the best fit
Lori initially enrolled in a Colorado-based online program, but didn't enjoy the five-and-a-half week long semesters, especially after not being in an educational program for over 30 years.
"I didn't feel like I was getting much out of it," Lori said. "By the time you actually got into the class, it was over."
Through this program, her only option was a bachelor's degree, which Lori did not feel comfortable with. She wanted a degree that was more manageable.
In search of a program that better fit her schedule and interests, Lori came across the University of Wisconsin Associate of Arts and Sciences degree offered 100% online through UW-Parkside. She liked that the courses were semester-based, and she trusted the UW System after spending time in Wisconsin and rooting for its sports teams.
"I'm a Badgers and Packers fan—I grew up liking those teams," she said. "And when I met my now husband, he had friends up in Wisconsin. We would go up there and meet everybody, and hang out and campfire around one of the lakes."
Going back to school can be intimidating, but you'll be supported
Lori's trust in the program solidified further after speaking with her UW-Parkside advisor, Lisa Marie.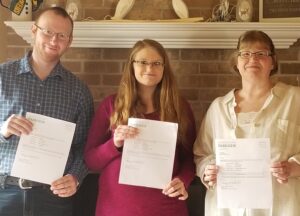 "When I talked to Lisa, she advised me to work on my associate degree," Lori said. "Then, that way, I have those two years to figure out what I wanted to do. I didn't have to make a choice right then and there."
Lori's plan is to complete her UW-Parkside associate degree first. Her next goal is to enroll in a human resources bachelor's degree program at one of the UW campuses, using the transferable general education credits from her associate degree to start as a junior.
Lori was able to navigate financial aid with help from UW-Parkside's Heather McGee. The support Lori received while registering—and continues to receive now while enrolled—has made going back to school a bit easier.
Though each course in the program is online, Lori also receives ample support from her instructor. When she was struggling to learn definitions in her psychology course, she contacted her instructor, who gave her advice on how to collaborate with other students for studying tips.
"They're [the instructors] all right there," Lori said. "If you email them, they email you back, as soon as they see it."
Offering an educational opportunity to her children
After a smooth transition back to school, Lori encouraged her children—who haven't earned degrees yet—to also enroll. 
Her daughter was initially worried about time management as a single mother, but Lori assured her that she would be able to fit the program into her schedule. 
"I encouraged her to do it after the kids go to bed," Lori said. "When they're all asleep, the house is nice and quiet, get your laptop out, and do your homework, read, or go through a test."
Lori offers the same advice to other prospective students as she did for her children: "Do it," she said. "It'll be well worth it in the end."
Ready to enroll in the 100% online UW Associate of Arts and Sciences (AAS) program? Contact an enrollment adviser Monday through Friday from 8:30 a.m. to 5 p.m. CT; or by appointment. Call 608-800-6762 (local) or 1-877-895-3276 (toll-free).