Editor's Note: Wil Limp was the program manager of the University of Wisconsin Health Information Management and Technology (HIMT) program from 2015-2019. 
After I became the new director for the UW Health Information Management and Technology (HIMT) degree program, I received an email from a student. Here's what it said:
"I know I want to earn an RHIA credential because it will boost me as a candidate when I apply for HIM jobs. But I wish I had more information about the credentialing process. What should I know and be doing right now to prepare for the RHIA certification exam?"
I've been there.
I remember exactly how I felt before taking the Registered Health Information Administrator (RHIA) certification exam, a test written and administered by the American Health Information Management Association (AHIMA). So, I thought I'd share my best advice to answer some of your pre-exam day questions. My first suggestion is to read AHIMA's Candidate Guide, if you haven't already.
Here is my own list of the top things you should know and be doing now to feel better prepared for the RHIA Exam.
1. Take advantage of early RHIA certification testing.
I suggest taking the RHIA exam during your final semester in a CAHIIM-accredited program. Taking it early means the information you've learned in your HIMT courses is fresh in your mind. You will need your program director's approval, but students who take advantage of early testing tend to do very well on the exam. In fact, the latest data on pass rates shows that early test takers and recent graduates consistently perform the best on the RHIA exam.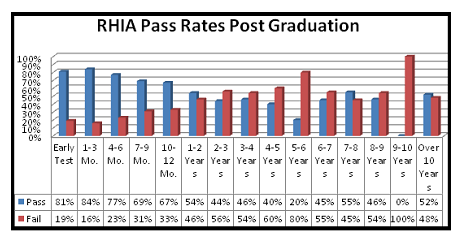 If you decide to take the exam early and pass, know that you will not receive the RHIA certificate until you complete your degree and send your transcripts to AHIMA. You may be wondering, what is the advantage of passing the RHIA exam ahead of graduation? If you do, you will be able to start applying for jobs sooner, which is huge.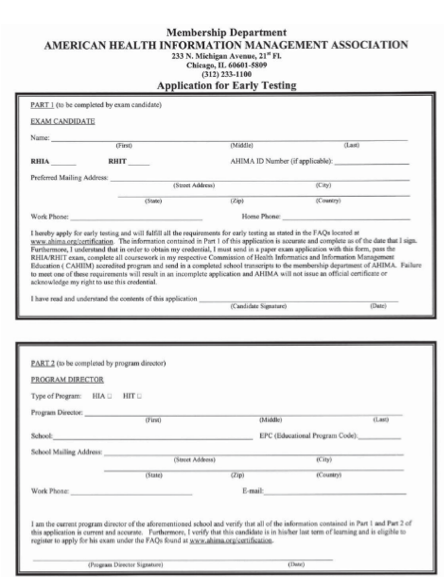 2. Study with distractions.
This may be counterintuitive, but I recommend studying where there are distractions. I studied for the RHIA exam with my two kids playing Wii in the same room—which helped me immensely.
On the day of the exam, I arrived at the testing center and was seated near other people taking their own tests—electricians, pipe fitters, and another RHIA test-taker. You are given your own cubicle and noise-cancelling headphones, but the others around you may be distracting. For instance, the man next to me had a nervous cough. A few sirens went off. The headphones helped, but it's best to be prepared for these kinds of situations.
3. Realize that you know more than you think you do.
If I had a nickel for every time I heard an HIM student say, "I have been taking the practice exams in the prep guide and can't get higher than a 60 percent on any module," I'd be a millionaire. Everyone thinks they won't pass, but, typically, students score higher on the actual RHIA certification exam than they do on practice exams. It might be because they're more distracted during practice exams or take more chances on answers. But you know more than you think you do, and if you have taken your courses seriously, you will be ready.
That being said, you should absolutely buy a prep guide. I recommend the Patricia Shaw study guide offered through AHIMA—that's the one I used. Take the practice exams as many times as you can.
4. Don't feel like you have to be an expert in all areas.
On the RHIA exam, you may score lower in one domain and higher in another, but as long as the final score is high enough, you'll pass. I did not realize this before I took the exam; I assumed I had to score high in all areas. So if you are weak in one particular area but strong in others, don't stress too much—you will most likely be fine.
Remember, all that matters in the end is that you pass. Employers are not going to see what you scored on individual domains. All they'll see is that you have RHIA certification.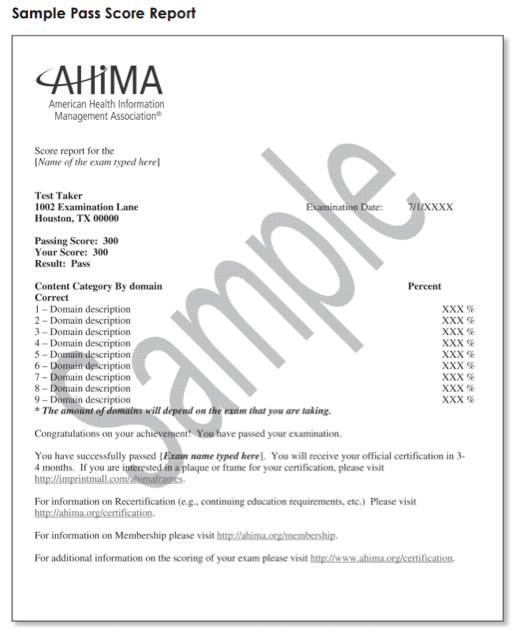 5. Expect questions and answers to be in random order.
The RHIA exam includes 180 multiple-choice questions. Below are two sample questions that might appear on the exam. I say "might" because no two exams are the same. You and I could be taking the test right next to each other, but the order of the questions and the answers would be completely different.
What is the mode of the data set below? (1, 4, 6, 6, 8, 9, 12, 15, 18)
a. 1
b. 6
c. 8
d. 9
Which of the following coding systems is used in skilled nursing facilities?
a. ICD-9-CM, vol. 3
b. HCPCS/CPT
c. HCFA I 500 billing form
d. UB-92 billing form
Also, some of the questions are "practice" questions, meaning they don't count toward your final score. These are included to help AHIMA identify questions for future RHIA exams. The bad part is you won't know which ones are practice. Don't feel too frustrated by this—everyone who took the exam before you had to answer and vet similar questions that are now part of the one you will be taking.
6. Pace yourself.
The exam is timed. You will have four hours to complete 180 questions. Most people try to go as fast as possible at the beginning and, before they know it, have gone through half the questions in the first 45 minutes. But, if you do this, you will probably end up having to go back and double-check your answers, which will take even more time.
Instead, I suggest pacing yourself from the beginning. Create a system, like I did. Answer the questions that you know—or are fairly certain of—without marking them for review. If you are struggling with a question, take a couple of minutes to think it through. After that, if you are still not sure, take a guess, mark it for review, and move on to the next question.
7. Review your answers at the very end.
You may have extra time at the end of the exam to go back and review your answers, but be careful. The RHIA exam is long, and near the end, your mind may be overtaxed.
Whenever possible, trust your first response. Many questions have a similar formula—two multiple-choice options that don't make sense and can be weeded out right away, one that is designed to trick you, and the right answer. When you review, overthinking and second-guessing may just confuse you. My advice: go with your gut.
8. Answer all questions.
Heed the same advice you were given before taking the ACT: If you are not sure of an answer, guess rather than leave it blank. And if you think you will run out of time, take the last five minutes to fill in answers to any remaining test questions, because any question you leave blank is marked wrong.
9. Know that your best guess is NOT always "C."
Because the questions and answers are in random order on every exam, you are better off answering the questions in a zig-zag pattern than you are only selecting letter "C" or filling in responses in a straight line down the bubble sheet.

Get Program Guide
Learn more about our 100% online degree and certificate programs.
10. Celebrate your success.
When you receive your RHIA certification exam score report and find out you passed, you will feel on top of the world. Earning the RHIA credential has been a large goal of yours for at least a couple of years, so share your accomplishment with your instructors, your classmates, your family and friends. Invite those who helped you to celebrate with you. Who knows, you might even be treated to a dinner or two!
For additional tips and information about the RHIA credentialing process, you may also want to check out our blog post, "13 Things You Need to Know About the RHIA Exam."
One last piece of advice. Make sure you become a member of AHIMA. With an AHIMA membership, you are automatically made a member of your state's health information management association, too. (Wisconsin's association is called WHIMA.) Joining these organizations is the best way you can network and begin the search for your first job as an RHIA-credentialed professional.
Good luck!

Wil Limp
Wil is the former program manager for University of Wisconsin Bachelor of Science in Health Information Management and Technology. He holds a master's degree in Health Information and Informatics Management—as well as RHIA and CHTS-tr credentials—and has extensive experience working in the HIM field.
More stories from our blog
Your Guide to Health Information Management and Health Information Technology Salaries
How Do You Become an In-Demand HIT Professional With Epic Certification? Learn From This UW Graduate's Career Path
Have questions? Contact an enrollment adviser at 608-800-6762 or learn@uwex.edu. Enrollment advisers are available Monday through Friday from 8:30 a.m. to 5:00 p.m. CST, or by appointment.