In 2018, the Wisconsin Health Information Management Association (WHIMA) awarded former UW Health Information Management and Technology program manager, Wil Limp, with its highest award. The "Distinguished Member Award" honors outstanding WHIMA members for their contribution to the health information management (HIM) profession and for their loyal service to the association.
"Leadership, innovation, and creativity" in HIM
Limp has been highly involved in the HIM field for more than a decade, first as an account manager for a private health record company, then as director of HIM for a healthcare system, and most recently as an educator and former HIMT degree program manager. He earned his master's degree in health information and informatics management and is a certified Registered Health Information Management Administrator (RHIA).
WHIMA also recognized Limp for being active at all levels within the WHIMA organization; contributing through publication, teaching, and educational presentations; and showing leadership, innovation, and creativity.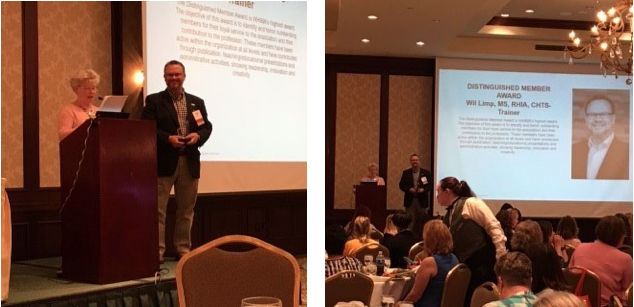 "I am very fortunate to work with so many passionate and talented people through WHIMA and the American Health Information Management Association (AHIMA),"  Limp said. "With these associations, I work on many projects—such as the Workshops and Webinar Team and RHIA Exam Item Writing—and take part in the Council for Excellence in Education (CEE). Collaborating with so many wonderful people makes this work an honor."
Limp received the award at WHIMA's 2018 annual conference, which was held in Elkhart Lake, Wisconsin. More than 500 people attended the three-day conference.

Get Program Guide
Learn more about our 100% online degree and certificate programs.
UW-Parkside HIMT Program Director Serves as WHIMA President
This isn't the first time UW staff has been recognized for its service to the HIM field. In 2016, Betty Rockendorf, the UW HIMT program director at UW-Parkside, received the WHIMA Distinguished Member Award. Now, she's going to serve one year as president of the association.
"It is an honor to be elected president of the WHIMA association," Rockendorf said. "Last year, I served as the president-elect, and this year, I step in as president."
RELATED: Award-winning HIMT Instructor Brings Real-World Experience to UW Program
Rockendorf has served on the WHIMA board since 2015, and in May 2018, worked with the board to develop the association's strategic plan for the next two years.
At UW-Parkside, Rockendorf advises students in the UW HIMT program. According to Rockendorf, professional networking is key to success in the HIM field, and she encourages students to take advantage of the industry expertise and wide-reaching HIM connections that she, Limp, and the rest of the HIMT faculty and advisors bring to the program.
Questions?
For specific questions about the University of Wisconsin Bachelor of Science in Health Information Management and Technology, contact an enrollment adviser at learn@uwex.edu or 608-800-6762.