Need to know which plants work best in your climate? Steve Brester has an answer. How do you keep a golf course in top condition? Brester can tell you. How do you calculate, and decrease, your C02  emissions? Brester can help. When it comes to landscaping and sustainable management, this University of Wisconsin Sustainable Management program student is at the top of his class. But after more than 25 years in the horticulture industry, Brester says he wants to know more.
"I want to prove to myself that I can do this [program]. I want to use more of my brains over my brawn," Brester says. "I want to know what I can do to change the industry for the better."
Brester, who is a supervisor at a large landscape firm in the Milwaukee area, started his career in high school working for a landscape contractor. After graduation, he attended UW-Oshkosh pursuing a sports management degree, but the fit wasn't right. Brester changed paths, enrolling in and completing Milwaukee Area Technical College's horticulture program. "The rest," Brester laughs, "is history."
Since college, Brester has done everything from supervising grounds keeping efforts at golf courses to most recently overseeing management of the grounds at Rockwell Automation's global headquarters in Milwaukee. His company was involved with parts of Rockwell's quest for LEED certification.
Brester says his career relies on cooperation from Mother Nature, but also a strong background in science. "Landscaping is often thought of as just mowing grass or planting flowers," Brester says. "The industry has broadened and it's more versatile than ever. But there's a growing concern about issues like water resources and fuel consumption. The technology and environmental standards have become more sophisticated."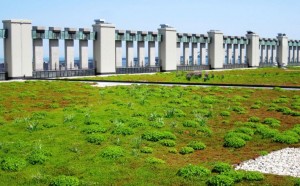 The advancements in the industry, and a desire to further his career, prompted Brester to return to school two years ago, enrolling in the UW Sustainable Management program. Brester says the experience has breathed new life into his ideas about sustainability.
"People may understand the concept of sustainability, but they don't necessarily grasp the depth of it. When you start discussing the triple bottom line and what it means, people start thinking differently," Brester says. "This program brings together students and instructors with a wealth of backgrounds. That opens up discussions that make you see the world's resources, and how we use them, in a whole new light."
Brester says the online mixture of environmental science-based classes, business classes, and even behavior classes in the Sustainable Management program has allowed him to not only bring his experience to the table, but gather ideas from other students with backgrounds and knowledge he wouldn't have otherwise discovered.
"I wasn't sure how I would handle the online program, but I find I have even more interaction with my classmates than I did back in the day," Brester says. "I get great feedback from others in my courses. The fact that you're interacting with professionals around the country lends itself to better understanding sustainability. You share ideas and realize how much we are all impacted."

Get Program Guide
Learn more about our 100% online degree and certificate programs.
Brester, who is certified to practice landscape maintenance and construction around the nation, says he has high hopes for how he will apply his newfound knowledge. He sits on a national landscape certification board for technicians and says one thing he would like to see is sustainability practices incorporated into certification tests.
"This industry has practices around the nation that differ by region. In the southern states, there is a new program being tried out for sustainable landscaping needs. Like the LEED certification, landscapes have to meet criteria set up through a program called SITES," Brester says. "It would be nice to encourage a similar set of criteria in our area. That idea gets back to the concept that understanding and practicing sustainability starts with changing the mentality surrounding it."
For now, Brester says he's focused on completing his degree and absorbing new ideas and concepts that he can apply to his career – now and in the future.
"I'm just focused on getting through the program, doing the best work I can and learning as much as possible," Brester says. "As I work through the program, I'll figure out what I want to do after graduation, but I know I'll continue working in horticulture, natural resources, or something that Mother Nature has provided us. It's what I love."
To learn more about the UW Sustainable Management program, contact a helpful enrollment adviser at 608-800-6762 or learn@uwex.wisconsin.edu.