Amy Ebling is working in her dream job. Her love for craft beer and the environment comes full circle as a tour supervisor for the Sierra Nevada Brewing Corporation, a company at the forefront of sustainable brewing.
"The companies that I wanted to get involved in needed to align with my values, and my values centered around sustainable initiatives," Amy said.
Her experience in the 100 percent online University of Wisconsin Bachelor of Science in Sustainable Management program made her the ideal candidate for the role.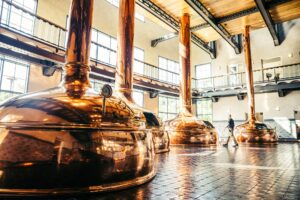 Amy grew up in northern Minnesota outside of Duluth. After graduating high school in 2002, she didn't have a clear path in mind. She was drawn to a lot of different topics that didn't fit together well. She decided to get her associate degree, and then worked in a succession of  different management positions.
Her husband, who is an engineer interested in renewable energy, introduced her to concepts of sustainability when they began dating.
"We started composting at home and making better choices with what we ate," she said.
When Amy decided to pursue her bachelor's degree, the UW Bachelor of Science in Sustainable Management program seemed like a great fit, combining her management experience and passion for sustainability.
"Looking into the different programs that were available, UW Sustainable Management really caught my eye because it was capitalizing on that management experience that I had already built up on my resume, but then creating something unique and different that maybe not everybody had or was aware of." 
She also knew that an online program would work best as a working mom because she could log in after work and in between family responsibilities to complete assignments.

Get Program Guide
Learn more about our 100% online degree and certificate programs.
A Passion for Sustainable Craft Brewing
Amy started learning about sustainable craft brewing around the same time that she started the UW Sustainable Management program. She had been homebrewing as a hobby for years and when she and her husband honeymooned in Bend, Oregon, they toured a brewery known for its favorable employment and sustainability practices. 
"That's really where I started to kind of fall in love with this idea of sustainability as it relates to craft brewing," she said. "I thought, how cool is it that these companies are focusing on how to make better beer for good people."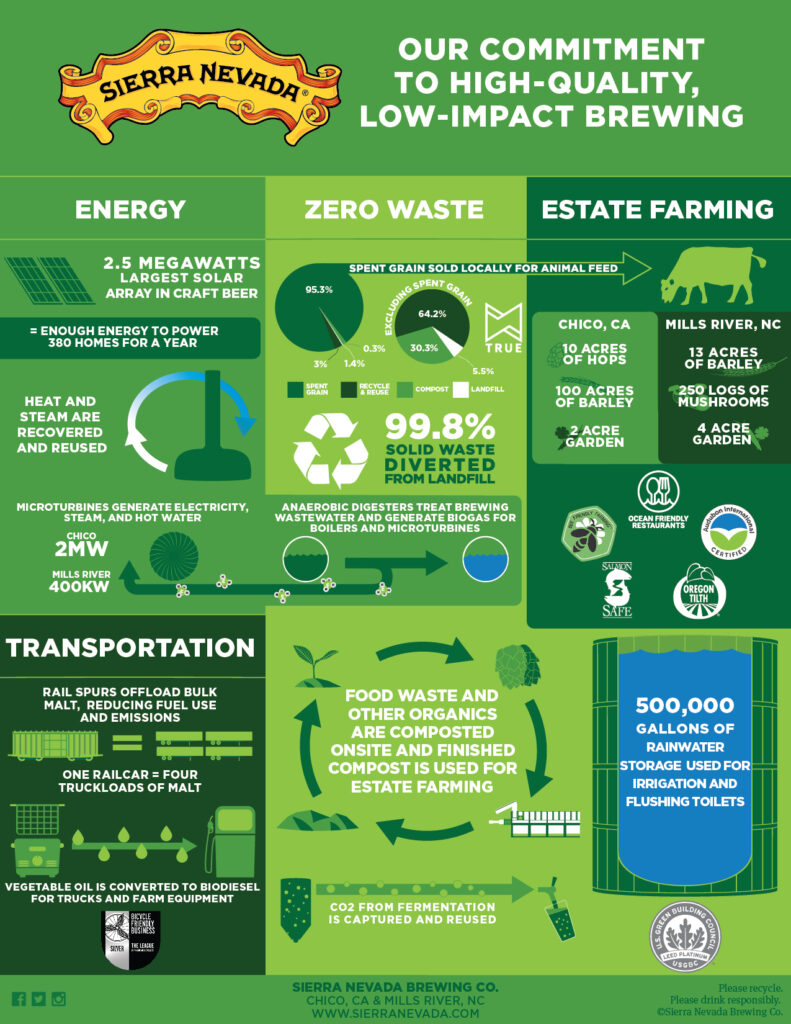 With the program's final semester capstone project in mind, Amy continued researching sustainable brewing as she progressed through the courses.
"In that [research] process, I learned about Sierra Nevada Brewing Company. I thought the company was as good as you can get when it comes to sustainability in craft beer," Amy said.
She landed her job there in 2019.
Assignments and Opportunities to Explore Interests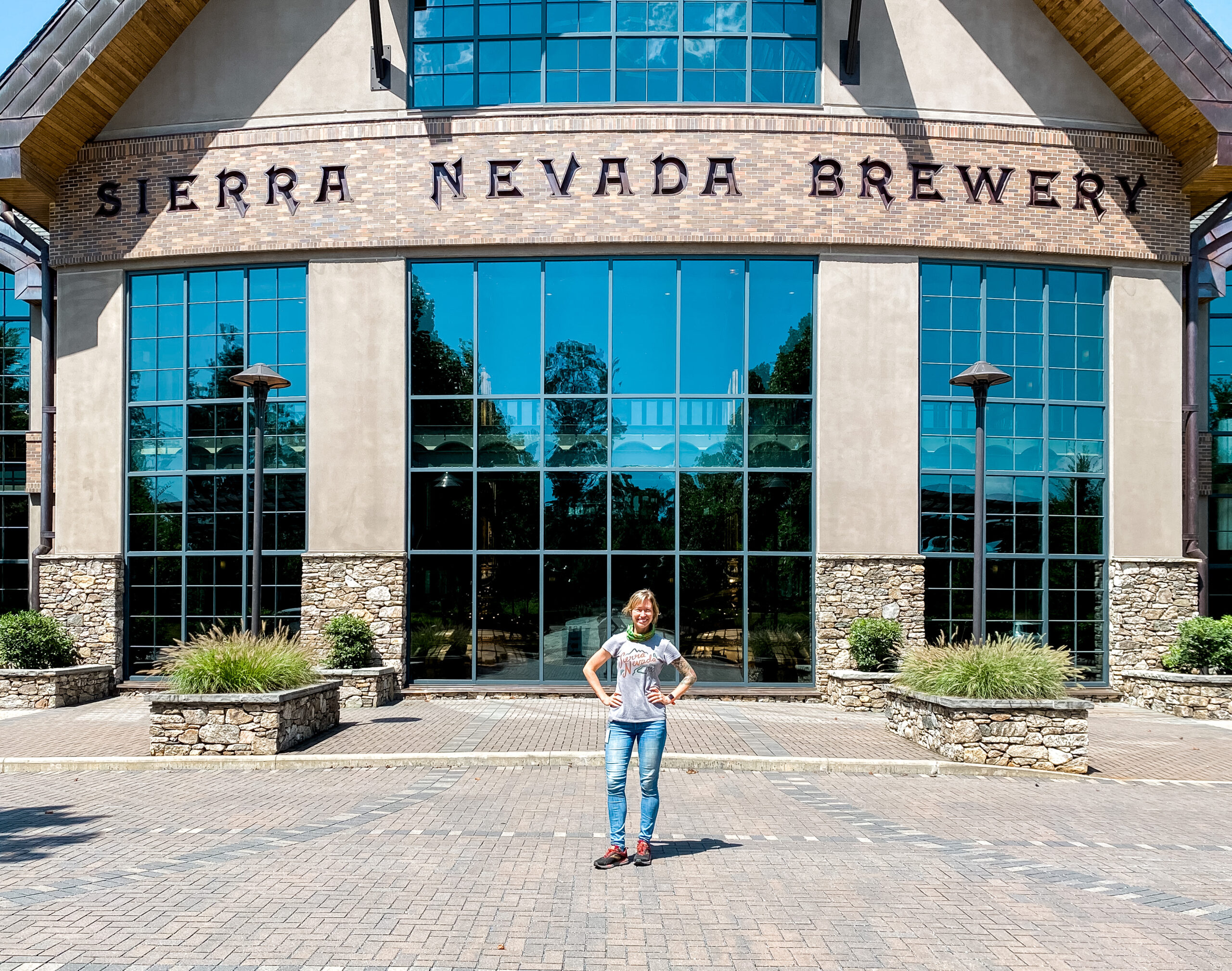 One of Amy's favorite parts about the UW Sustainable Management program were the written assignments, which allowed her to explore a variety of topics she was interested in, such as plastic pollution and the Great Pacific Garbage Patch.
Amy also enjoyed the UW Sustainable Management program's trip to Chile with UW-Green Bay professor Dr. John Katers. During the two-week trip, she met with many UW Sustainable Management students from around the country. While there, she learned about water resource management and renewable energy, along with sustainability in the wine export economy and copper mining.
"That trip was a game changer in pursuing my career here with craft beer," Amy said. "I learned a lot from the wineries and vineyards in Chile."
When the Going Gets Tough… Keep Going
With over a decade of management experience but no further opportunity for growth without a bachelor's degree, the UW Sustainable Management program's curriculum allowed Amy to learn about and narrow her interests, eventually landing her in a job she loves.
Amy acknowledged that it can be difficult to be an online student, especially when project deadlines are approaching. However, she received a lot of support both from her family and her advisor, Dr. Sakib Mahmud. An academic director for the UW Sustainable Management program, Dr. Mahmud went above and beyond to help Amy, and even offered to write a letter of recommendation for a job she was interested in.
When coursework became overwhelming, Amy coupled the support she received with the same mindset she uses when running marathons.
"When the going gets tough, a few tears don't hurt, and sometimes they help, but you do have to persevere and keep going," Amy said. "I'd be 100 percent a liar if I didn't say it was really hard, but it was absolutely worth it."
What's Next?
Explore the possibilities of a career in Sustainable Management. Contact an enrollment adviser at 608-800-6762 or via email at learn@uwex.wisconsin.edu.
UW Sustainable Management is a collaboration of UW System campuses. Amy earned her degree from UW-Superior.