A career in IT management is a smart move as the demand for information technology managers is growing fast. According to the U.S. Bureau of Labor Statistics (BLS), this demand will grow by 10 percent over the next decade, from 2019 to 2029. A career in IT Management not only has great growth potential, but it also comes with financial benefits.
While the career outlook is strong, you might be wondering, "What exactly is IT management and what do IT managers do?" To help determine if information technology management is the right career path for you, the following is a deep dive into the profession, including job responsibilities, top industries that employ IT managers, and skills required to succeed in IT management positions.
What Is Information Technology Management?
Merriam-Webster defines information technology as "the technology involving the development, maintenance, and use of computer systems, software, and networks for the processing and distribution of data."
But what about the role of IT management? Techopedia states, "the central aim of IT management is to generate value through the use of technology. To achieve this, business strategies and technology must be aligned."
So, who ensures that business and technology strategies are in sync?  IT managers. These individuals may have job titles such as CTO, CIO, IT director, information systems director, IT project manager, database manager, among others.
IT managers help guide the technological direction of their organizations by constructing business plans, overseeing network security, and directing online operations. IT managers may plan and coordinate larger projects, such as installing and upgrading hardware and software, programming and systems design, and implementation of websites.
A large part of their daily responsibilities includes directing the work of other IT employees, such as systems analysts, software developers, and support specialists.
Another extremely important IT manager task? Helping the organization stay up to date.
A CIO magazine article states: "This is, in essence, the top responsibility of today's technology leaders—navigating the waters of change, separating reality from hype, and understanding not only what digital technologies their organizations should use, but how to implement multiple disruptive technologies holistically and get the most out of them."

Get Program Guide
Learn more about our 100% online degree and certificate programs.
Where Do Information Technology Manager's Work?
According to 2018 labor market data from Emsi, the top industries employing IT managers in the U.S. include:
Computer system design services: Companies such as Cerner Corporation and Sapient Corporation are employers in this industry.  

Custom computer programming services: Companies such as Hewlett Packard Enterprise Co., Unisys Corporation, Oracle and Fiserv are employers in this industry.

Data processing, hosting and related services: Companies such as Google, Amazon, Facebook and Intuit are employers in this industry.

Government, state and local, excluding education and hospitals: Organizations such as police departments, correctional facilities, and courthouses are employers in this industry.

Wired Telecommunications Carriers: Companies like AT&T, Windstream Services, and Telephone & Data Systems, Inc.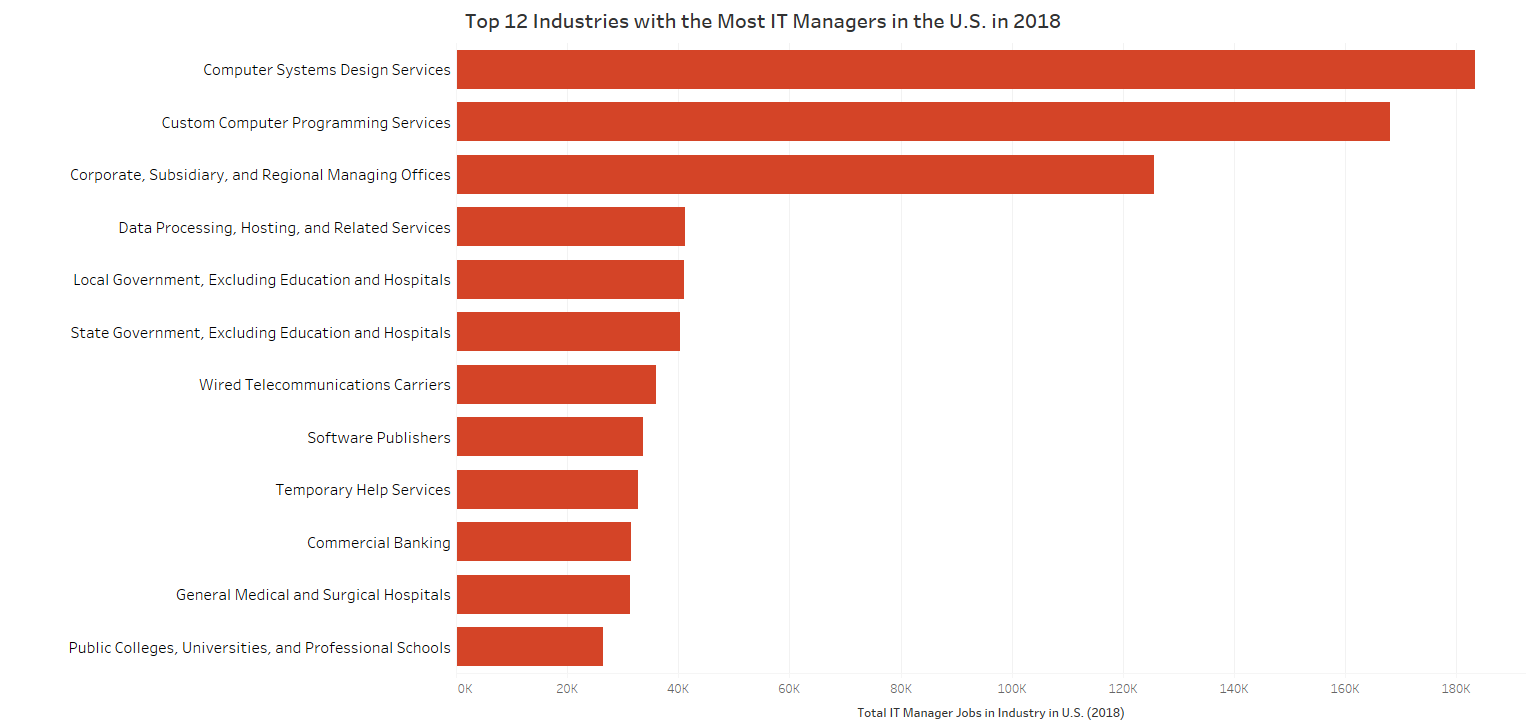 Would You Make a Good IT Manager?
It's recommended to have at least five years of experience in a related job, such as information systems analyst, business analyst, or network administrator, before becoming an IT manager. You should also have at least a bachelor's degree. According to SalaryExpert, most IT managers hold a master's degree (55 percent).
To be an IT manager, you need specific skills or abilities, including:
Experience and knowledge in information systems

Strategic planning skills

Operating system knowledge

An advanced understanding of business processes

Budgeting skills

Decision-making and leadership ability

Interpersonal and communication skills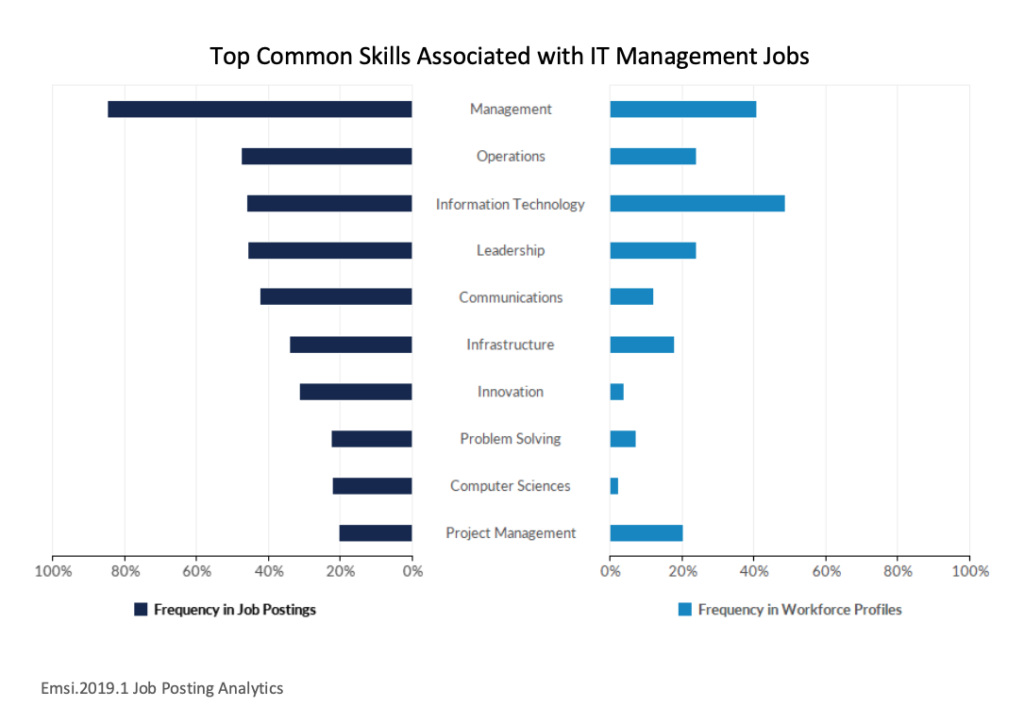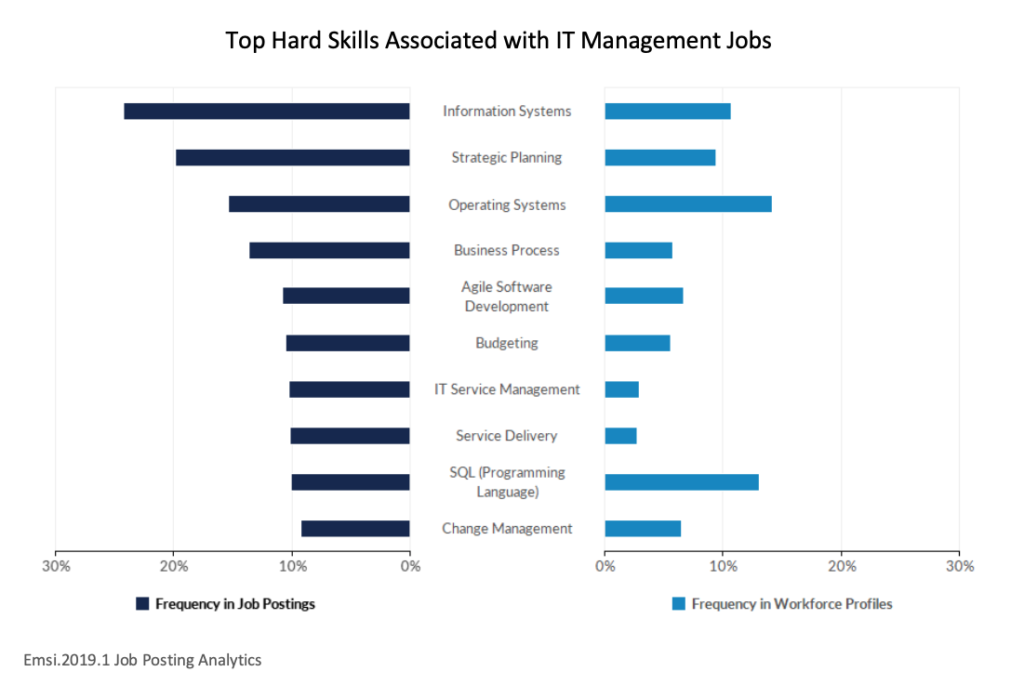 Overall, IT managers should be analytical, detail-oriented, and decisive professionals with strong people management skills. Their fast-paced and process-driven work demands it. The best candidates have both a technical and business background, because they need to understand their organization's goals on a deep level. This understanding allows them to problem solve quickly and implement strategic plans for the team they oversee. Also, it's crucial that IT managers can translate business lingo and software-speak between technical and non-technical groups and give clear instructions to the employees they manage. That means strong communication skills are a must.
"Every company today, even those that aren't specifically IT companies, has initiatives to integrate IT into every aspect of the business, " said Laurie Emerson in CIO magazine. Emerson is the vice president of consulting for Planview, a global enterprise software company. "And that's why IT project managers are so critical, because they have both the technical savvy to understand the business drivers along with the soft skills to persuade stakeholders, get executive buy in and execute on those plans."
Get the Skills You Need for IT Management in One Online Degree
Get the Skills You Need for IT Management in One Online Degree
If IT manager is the job path for you, consider the online Master of Science in Information Technology Management from University of Wisconsin. The multidisciplinary curriculum combines business fundamentals with technical IT topics, setting students up for success as versatile IT leaders. You can see the complete IT Management master's curriculum here.
For questions about the UW master's in IT Management degree, contact an enrollment adviser who can answer program questions, provide information about what it's like to be a UW online student, and speak with you about your career goals.