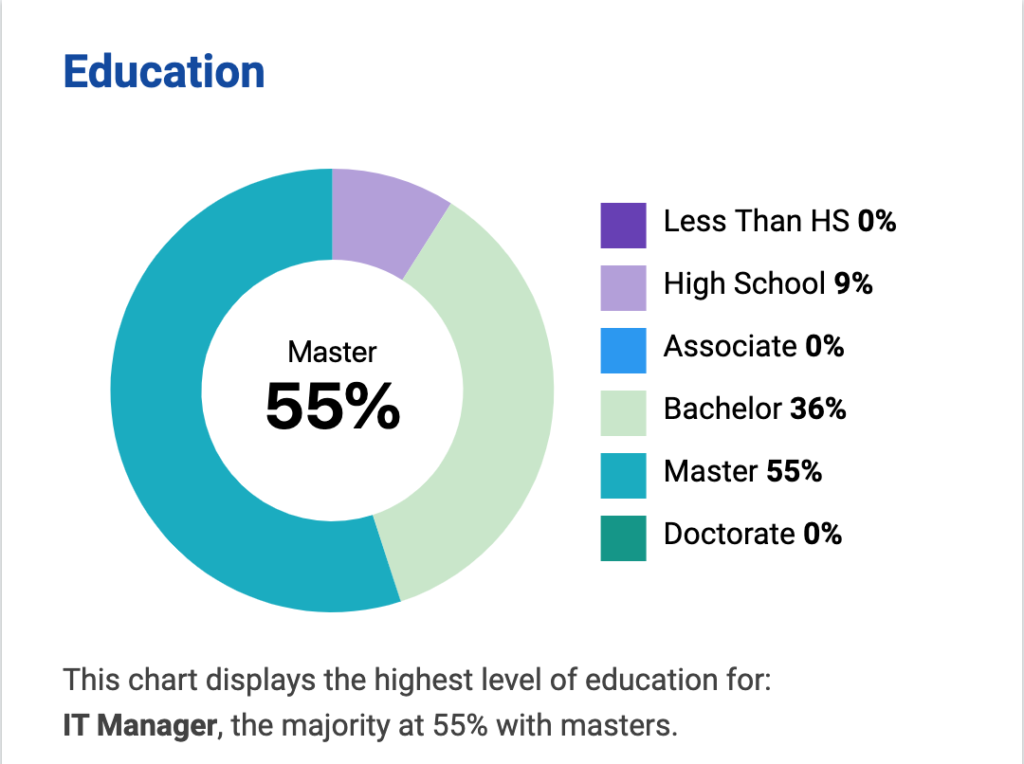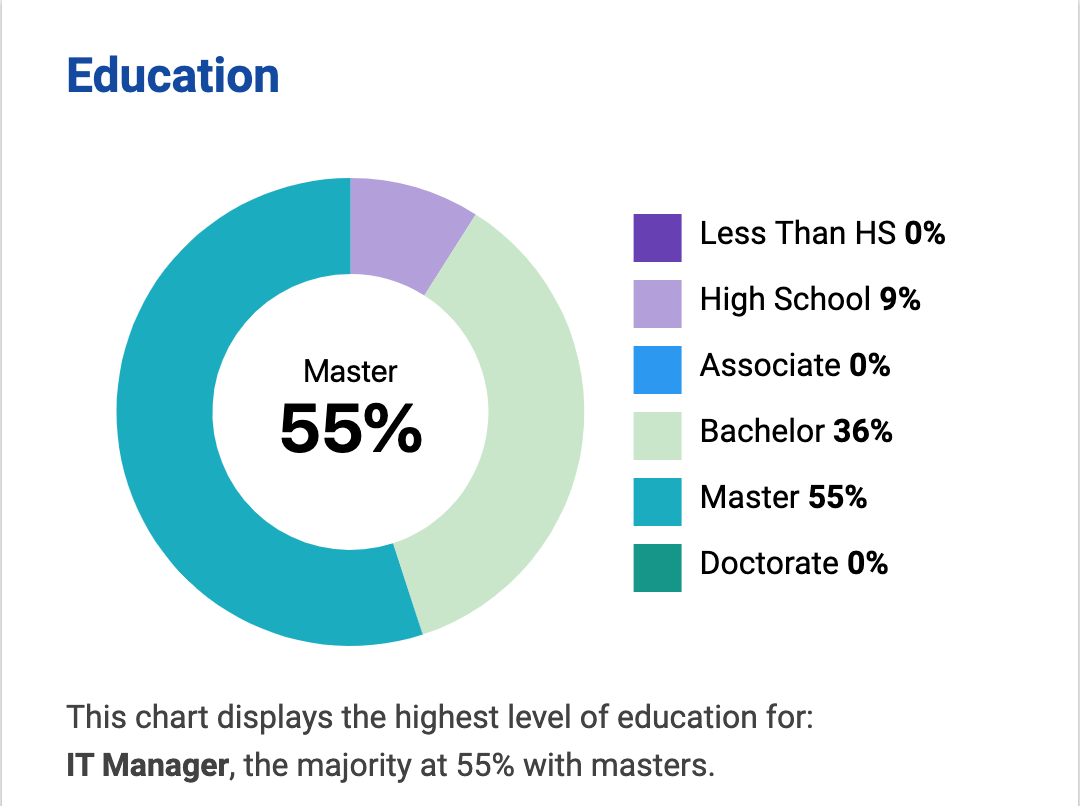 In the United States, a typical information technology manager salary ranges from $65,304 to $114,872 a year, according to SalaryExpert. However, salary estimates are dependent on experience, education,  job title, industry, and location. 
Experience and education appear to be two major factors that lead to a higher IT manager salary. According to U.S. News & World Report, most IT managers have a bachelor's degree in computer or information science, and organizations are likely to require graduate degrees for IT career advancement. In fact, SalaryExpert.com reports that the majority of IT managers (55 percent) have earned a master's degree.
Before receiving an IT manager promotion, most professionals work 5 to 10 years in an IT occupation (U.S.News & World Report). Opportunities in IT manager career advancement pathways include senior roles such as IT directors, chief technology officers, and even chief information officers.
Location also influences an IT manager salary. The 2019 Robert Half Technology Salary Guide found that IT professionals have higher salaries if they work in larger cities where more recognized tech companies usually break ground. U.S. News & World Report notes locations with the highest mean salaries for IT manager roles include New York ($190,310), California ($180,250), New Jersey, ($176,690), Virginia ($173,290), and Delaware ($169,720).
When compared to other 2018 "best jobs" in information technology, IT managers came out on top with a higher average salary than software developers, computer systems analysts, database administrators, and computer systems administrators.

IT manager responsibilities can include designing, developing, and managing organizational IT infrastructure, along with overseeing IT procedures, standards, and policies. As a result, salary can fluctuate based on differing role titles and duties. Some other IT manager jobs might be called:
Information Technology Administrator—U.S. average of $90,143 a year
Information Technology Director—U.S. average of

$92,630

a year

IT Project Manager—U.S. average of

$120,373 a year
Looking ahead, salary growth potential for IT manager jobs is bright. By 2025, the IT manager salary will increase by an estimated 10 percent, jumping up to $102,221 over the next five years.
Thanks to high pay and low unemployment, IT manager jobs rank #3 in "Best Technology Jobs", #12 in "Best STEM Jobs," and #13 in "Best Paying Jobs," making it an exciting and promising field to jump into.

Get Program Guide
Learn more about our 100% online degree and certificate programs.
What's Next?
University of Wisconsin offers an online 37-credit Master of Science in Information Technology Management degree to help you earn the credentials you need to move up in the IT management field. Curious about what you'll learn in the UW IT Management courses and how it will apply to your current and future roles in the IT field? See the curriculum.