When you work in healthcare, you understand that providing high-quality patient care requires not only leadership, but compassion as well. In addition, you know that patients want doctors and nurses who really care about them as a person. But, you also need to use management skills to ensure you're performing the right procedure in the best way possible for each patient. This balance isn't always easy for clinicians or nurses, given their varied work hours. Some medical professionals have found transitioning from working as a clinician or nurse to a healthcare administration role an excellent option that aids in a more balanced lifestyle and allows for opportunities to impact patient care at a higher level.
As a healthcare administrator, you focus on improving the efficiency of the healthcare facility you manage. Effective management skills, combined with your medical knowledge and patient-facing expertise gained as a clinician or nurse, gives you a leg up in the healthcare administration field. Common tasks as a healthcare administrator include developing and managing goals for departments, financial management, staying up-to-date with quality assurance and patient-care quality initiatives, recruiting staff, and maintaining compliance with healthcare regulations. Ultimately, as a healthcare leader, you'll help build cohesive teams that will benefit your community for years to come. 
Here are four reasons why transitioning from a clinician or nursing role to healthcare administration could be the right move for you:
1. Your Direct Patient Care Experience Gives You a Leg Up
Coming from a clinician or nursing background, it can be challenging to figure out if transitioning from practicing medicine to an administrative role is the right decision for you. It's important to remember that moving into management means shifting your focus from individual patients to the organization as a whole. In fact, most clinicians and nurses come to this decision due to a motivation for making change within their everyday work. Moving into a healthcare administration role means you can draw from your leadership skills as a clinician or nurse and continue to help not only patients, but also provide quality care from an organizational level. Although this change might decrease your time working directly with patients, your work will have a positive impact on even more people.
Take Peter D. Wallace, MD, MS, as an example. He transitioned into a healthcare administration role after 25 years as a pediatrician. In a blog post for the American Academy of Pediatrics website, Dr. Wallace writes: "I'm challenged on a different plane, and can see my work as affecting far more people than I ever could in my private practice."
Having a medical practice background—like Dr. Wallace—means you know problems that administrators don't always understand, so you might be able to solve them in a more effective way, or at least offer a new perspective. It's important, however, to remember that you'll have to take multiple perspectives into consideration when making such decisions, because healthcare administration is a collaborative field. Undoubtedly, it's hard to please everyone in this position, but having a medical background is a great starting point as you know day-to-day life at a hospital or healthcare facility.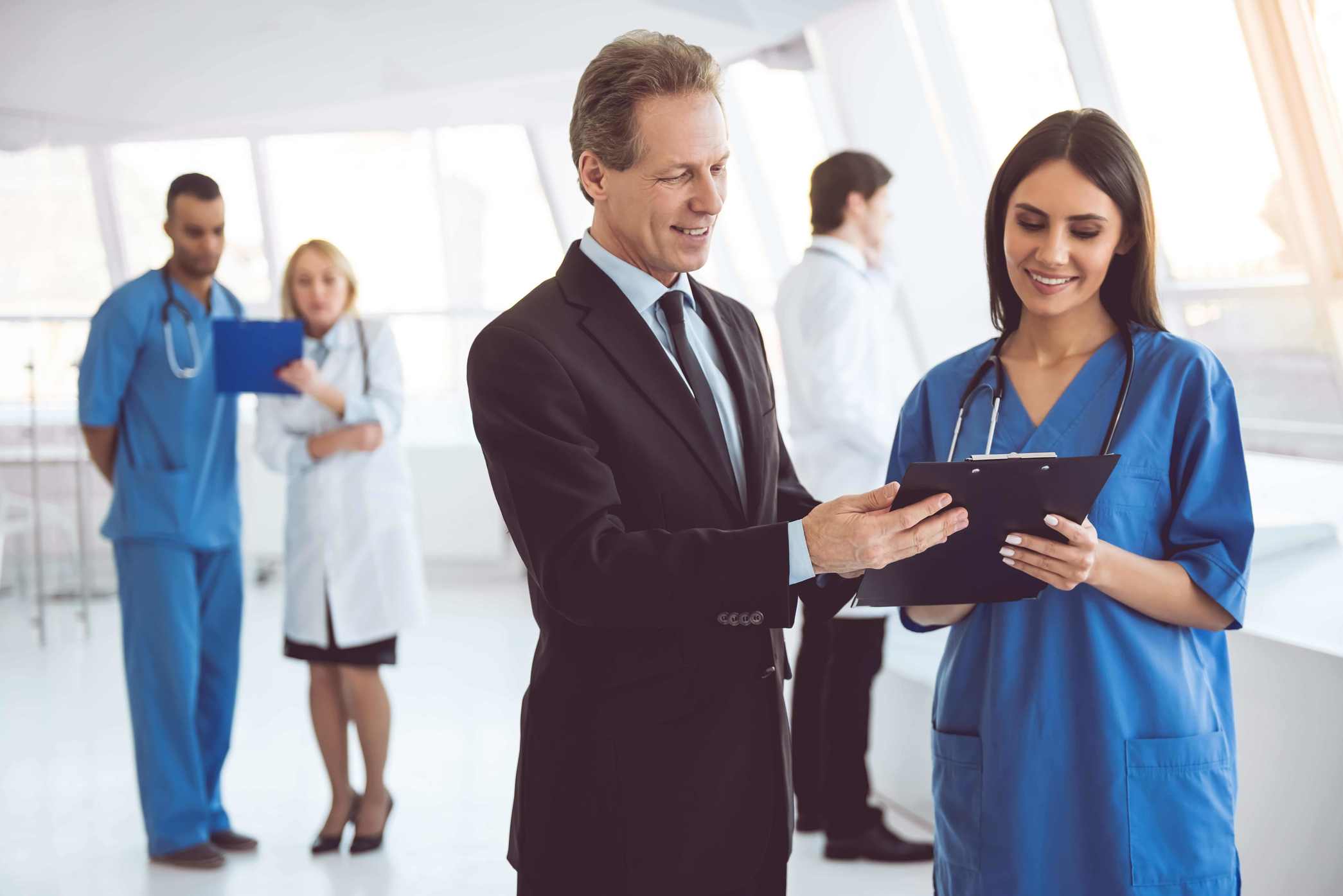 2. Consistent Work Schedule
Working at a practice can be an incredibly rewarding job and requires a lot of interaction with patients. Consequently, your work hours can be long and inconsistent. According to the American Medical Association, physicians report working an average of 53 hours per week, and for nurses, it's not uncommon to work three 12-hour shifts a week. For some, work-life balance is hard to manage with this schedule. A transition from working at a practice to working in a healthcare administration role should not be made solely on this factor. But, a benefit of a management-level role is having a more consistent schedule, with most healthcare managers working 40 hours a week. Some healthcare managers may be required to work evenings or weekends, but this is usually for those still working in a hospital setting. 
Healthcare is a dynamic field that requires strong, compassionate leadership. You have the hands-on experience needed to improve hospital processes and patient care. With the online University of Wisconsin Master of Science in Healthcare Administration, you'll enhance your skills with the knowledge required to become a healthcare leader.

Get Program Guide
Learn more about our 100% online degree and certificate programs.
3. Growth in the Field
Healthcare occupations are expected to grow by 15 percent from 2019 to 2029. The healthcare management field is no exception, with faster than average growth expected. This growth is due, in large part, to the aging baby boomer population. Making up almost one-third of the U.S. population, nearly 3 million boomers reach retirement age every year. And despite remaining more active in retirement age than past generations, the American Hospital Association estimates that nearly 37 million baby boomers will be managing a chronic disease by 2030. This means healthcare administration roles have to adapt to fit the rising need for long-term care facilities.
A greater need for healthcare administrators can also be attributed to medical practices and healthcare systems becoming larger and more complex with new technologies advancing at a rapid rate. In the past, it was more common for nurses and clinicians to be self-employed or to work at small practices. However, a 2014 survey by the Physicians Foundation found that 53 percent of U.S. physicians work in the group practice setting. As a result, medical practices need more managers to help their organizations not only grow, but run smoothly and provide high-quality care—making today a prime time to consider transitioning into a healthcare administration role.
4. Variety of Positions
Healthcare is experiencing much faster than average growth, which means there are a variety of roles to fit your career goals and lifestyle. As a clinician or nurse, you likely specialized in a certain discipline of medicine, and it might not be something you want to move away from. But, if transitioning to a healthcare administration role with the promise of more leadership opportunities keeps coming up in the back of your mind, you don't necessarily have to choose one profession over the other. One option is working part time in your role as a clinician or nurse at a practice and part time in a healthcare administration role. In this situation, you'll be able to pursue a specific area of management in healthcare, while continuing to be plugged into the issues that fellow clinicians, nurses, and your patients are facing. Some clinicians and nurses have achieved this situation in a variety of different ways, including a common option called job sharing—where two doctors or nurses share a single full-time position, including on-call rotations. 
Alternatively, transitioning to full-time work as a healthcare administrator is the other option. Whether it's because you want to make a company-wide impact at your current workplace, or because you want to move into a different area of healthcare, there are many new opportunities that arise when taking on this new role. Managing an ambulatory health facility is the most common practice, but other healthcare administration roles are needed at:
Government agencies

Consulting firms

Healthcare associations

Health insurance companies 
Instead of specializing in an area of medicine, healthcare administrators can work for a variety of unique organizations. Find out about more possible healthcare administration career paths, along with their salaries on our website.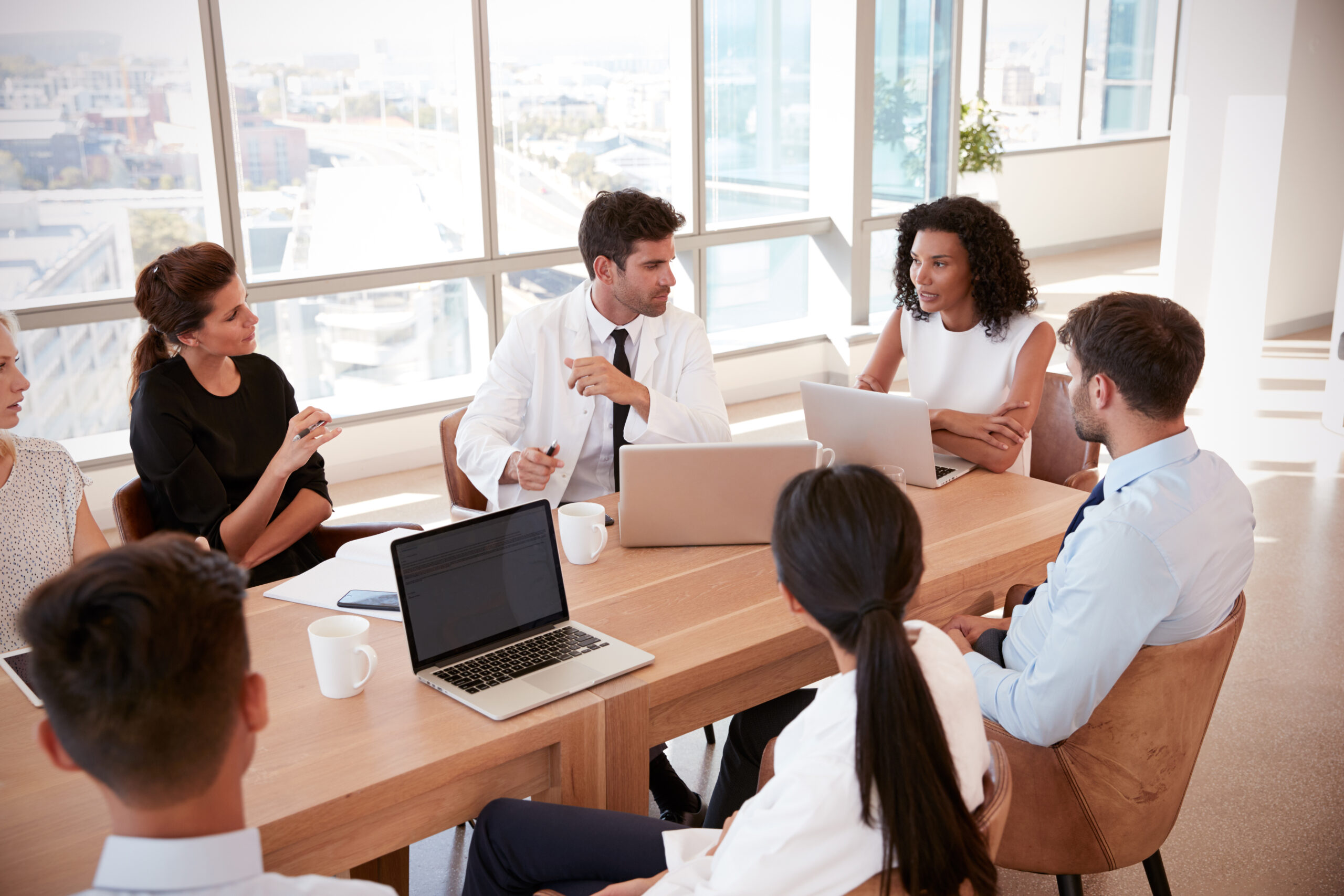 How a Healthcare Administration Master's Degree Prepares You for a Career Transition
Preparing to transition from a clinical or nursing role to an administration role is crucial. Many healthcare professionals considering this route have found it beneficial to talk with physician executives about their jobs, what made them make the switch, and their satisfaction in their new roles. Other resources like seminars and conferences can also help in making this decision.
If you're ready to pursue a career in healthcare administration, enrolling in a master's degree program, such as the online University of Wisconsin Master of Science in Healthcare Administration degree, could be an excellent next step for you. As a 100% online program, UW Healthcare Administration is an ideal choice for busy clinicians and nurses who need flexibility when it comes to balancing work, life, and course assignments. It is especially great for those with a medical background, because you will enter the program with public health knowledge and hands-on experience that you can apply to projects and coursework. However, you also have much to learn from this program, such as the business aspects of various healthcare organizations you may end up working for, including recruitment, and financial management skills.
A great example of what the UW Healthcare Administration curriculum offers is found in HCA 770: Organization Development and Strategic Leadership in Healthcare. This course blends theory and application, and builds on your existing leadership skills, preparing you to identify where change is needed at an organizational level.
At the end of the program, you'll complete a capstone, where you'll apply the knowledge gained from your courses in a real-world, healthcare setting. Coming from a medical practice background gives you a great chance to use your clinician and nursing skills in a project that demonstrates what you can bring to the healthcare administration field.
Interested in learning more about how the online University of Wisconsin Healthcare Administration program can help you advance your healthcare career? Reach out to an enrollment adviser by emailing learn@uwex.edu or calling 1-877-895-3276.