According to a 2020 National Center for Women and Information Technology (NCWIT) report, women make up 57 percent of the overall workforce, but only 26 percent of computing and math occupations. This is the first post in a new series from the University of Wisconsin Master of Science in Data Science to highlight the importance and need for women in the data science industry. The Women in Data Science series will feature the crucial roles women take on within the computing field. Additionally, the series will highlight students, faculty, and program leaders of the UW Master of Science in Data Science program who share their experiences as women in the data science industry, and offer advice for breaking into the male-dominated profession. 
Though there is a lot of work yet to be done for women's inclusivity in data science, there are a few statistics that are worth celebrating. In this first blog post, we take a look at hiring trends, strengths women bring to data science roles, and how women can stay competitive in the industry.
Positive job growth for women in data science
First, let's break down the percentage of women in computing occupations. A 2022 Burtch Works study found that the number of women in data scientist roles has reached 24 percent, an increase from 2018 where just 15 percent of data scientists were women. The same study also found that the largest percentage of women in data science roles are in the entry-level individual contributor category.
These numbers indicate a possible increased presence of women in the field, along with the beginning of women-led leadership. However, there is still a great need for growth in the computing field for women and other minority groups, especially in the mid-to-senior level leadership roles historically held by men.
Diversity reduces bias and improves work quality in organizations
The 2020 NCWIT report also found that women in the computing workforce are more racially and ethnically diverse than men in the field. As shown in the graphic below, there is a higher percentage of women with African American, Black, and Asian descent who hold computing roles than men.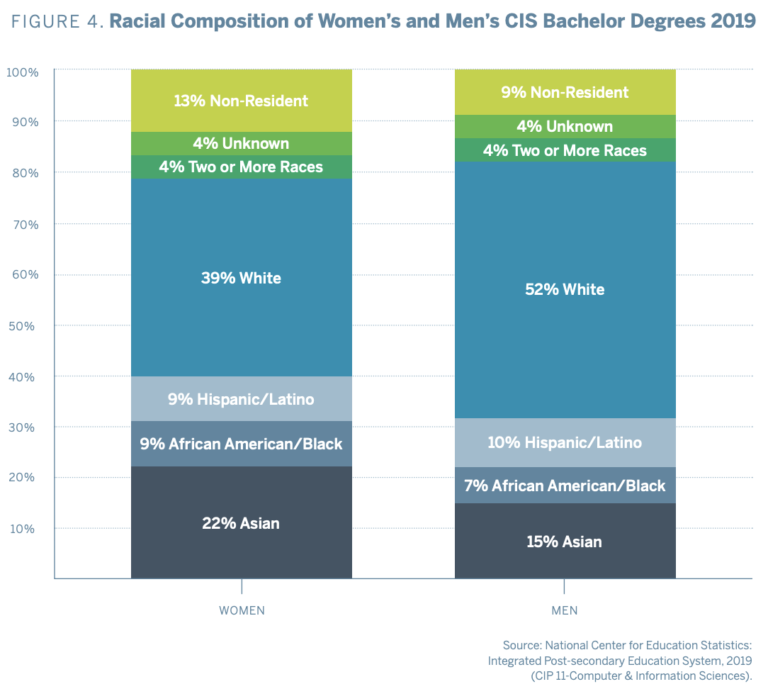 Workplace diversity plays a large role in reducing bias, which is especially critical in the computing field. According to a Boston Consulting Group (BCG) study, "Interpreting causal relationships and correlations in large data sets requires subtlety, and both humans and machine learning algorithms can occasionally 'see' patterns that lead to spurious, biased, or even downright dangerous conclusions." A diverse team—whether by gender, race, ethnicity, sexuality, age, disability, and more—allows for various opinions and experiences to be considered when tackling projects.
Workplace diversity also improves the quality of work. A study done by Columbia University researchers Bo Cowgill and Fabrizio Dell'Acqua found that prediction errors were correlated within demographic groups, especially by gender and ethnicity. More diverse teams will reduce the chance for compounding biases, resulting in fewer errors.
While diversity reduces bias, it also leads to higher innovation revenue. Because people with different backgrounds and experiences often work through problems in different ways to come up with a variety of solutions, the odds that one of the solutions will be a financial success increases.
A chance to make a difference in the world
There are a number of ways that data science impacts the world, and according to the BCG study, this is important to women. The study found that 73 percent of women entering the data science and machine learning field prioritize tangible impact in their career choice, compared to 50 percent of men.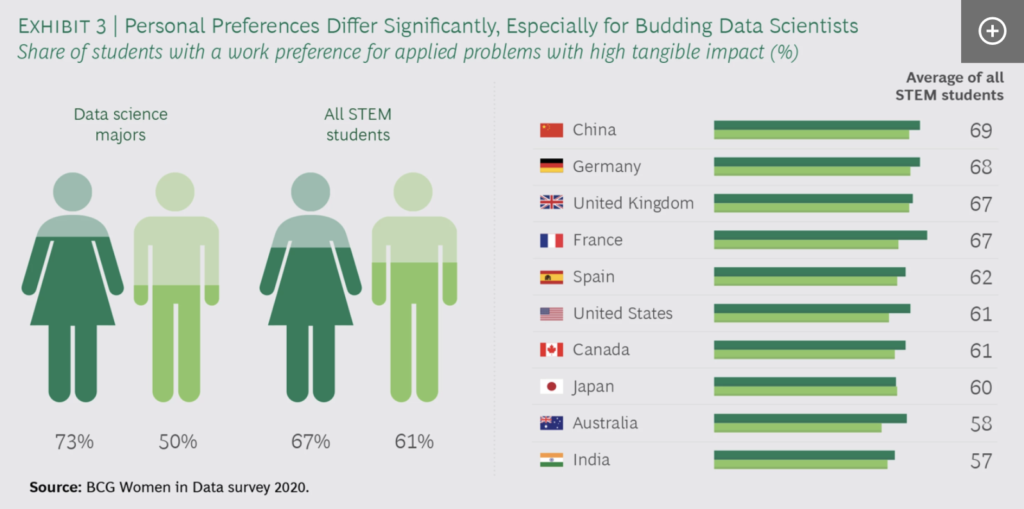 However, many women do not see data science roles as fulfilling their career goals. According to the same study, half of women instead see the data science field as "theoretical and abstract, focused on manipulating code and data with low impact and, by implication, low purpose." Although there are probably many factors that contribute to this negative perception, the study cites the largest is the companies themselves. It is argued that companies are not communicating the important and meaningful role that data scientists play within their business, deterring applicants.
Data science is utilized in all industries, ranging from renewable energy, to healthcare, to public safety. Within these industries, the work of data scientists often has a tangible impact on the technology that will shape our future. In order to recruit women to data science roles, companies should showcase how data science is at the heart of effective decision making by highlighting the specific problems that data scientists solve in their organization. Bottom line, all industries stand to benefit from the experiences, perspectives, and skills that women in the field have to offer, and they must work toward better communicating with women in data science.

Get Program Guide
Learn more about our 100% online degree and certificate programs.
How to stand out in a competitive industry
If you have an interest in data science and want to stay competitive, enrolling in a data science master's degree program may be the right next move for your career. You can start by asking yourself a few important questions before taking the leap, including which program is the right fit. Diversity in faculty expertise and perspectives is a critical component to consider before applying to a program. It's important that you can relate to and feel supported by program faculty and staff.
UW Data Science strives to be inclusive
The gender gap within data science roles and leadership positions continues to be a pressing issue. Every organization can benefit from prioritizing diversity, equity, and inclusion initiatives within their internal culture and hiring processes. This requires conversations at all employment levels, from institutions granting degrees to CEOs discussing promotions to leadership positions. 
The UW Master of Science in Data Science program aims to create an inclusive environment for all. If you'd like to learn about graduates of the program, read about Venmathi Shanmugam, a modeling and simulations engineer working at the Veterans Affairs office, and Halee Mason, who is a lead data scientist at Cloud9 Esports, Inc. You can also learn about our diverse faculty members.
Have questions about the courses, tuition, or how to apply? Talk with an enrollment adviser by emailing learn@uwex.wisconsin.edu or calling 608-800-6762.