Workplace wellness and well-being programs have become standard in employee benefit packages, especially for large employers. As the global COVID-19 pandemic lingers into the second half of 2021, employers and employees in organizations of all sizes find they need to focus on well-being to stay healthy and engaged.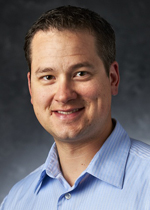 According to Wellable's 2021 Employee Wellness Industry Trends Report, workplace wellness programs—specifically those centered on mental health—have grown rapidly over the past year. Eighty-eight percent of employers have increased their investment in mental health initiatives, along with stress management and resilience (81 percent) and mindfulness and meditation (69 percent) programs.
These workplace wellness programs do not just appear overnight. They require research, data-backed planning, collaboration, and passionate professionals who want to make a positive change within their workplaces and strengthen their health and wellness skills. One of those determined health and wellness leaders is Eric Ziarek, the Wellness Program Manager at Children's Wisconsin, and an Advisory Board member in the 100% online UW Health and Wellness Management program. With more than 20 years of experience in the health and wellness field where he has built workplace wellness programs from the ground up, Eric shares the top five skills and knowledge that help workplace wellness leaders thrive:
1. Communication
"A lot of what we do in a wellness role is effectively communicating with another human being," Eric said. "Whether written, verbal, or interpersonal, having experience in understanding others' needs, explaining the process of your wellness program, and frankly, just finding enjoyment in connecting with others, is crucial." 
Communication courses like HWM 715: Persuasion Skills for Wellness Managers, strengthen and refine UW Health and Wellness Management students' communication skills to help them lead workplace wellness discussions within their current or future roles. 
2. Community Health
"Understanding community health can often be overlooked at a workplace wellness level, but it is critical if you want to have a hand in real changes," Eric said. "You are a member of your work community and also the greater community of where you live. The efforts that you're starting at your workplace need to be informed by what the greater community struggles with."
Community health is an evolving topic and its importance has been front and center during the COVID-19 pandemic. Courses like HWM 740: Health Systems and Policy for Wellness Managers, help students understand their workplace's part in the community at large.
RELATED: In the Wake of COVID-19, Resilient UW Health and Wellness Management Graduate Focused on Improving Community Health through Fieldwork
3. Workplace Wellness Best Practices
"A workplace wellness program is dependent on various factors, such as workplace size, location, resources, and needs." Eric said. "Having a foundational education of how workplace wellness programs work and having basic knowledge of all the players that make an effective program not only run, but create real change for employees, cannot be overlooked."
UW Health and Wellness Management students take courses that dive into the inner workings of workplace wellness programs, examining all elements that need to be considered in order for success. These courses include HWM 700: Contemporary Health and Wellness Perspectives and HWM 760: Wellness Law.

Get Program Guide
Learn more about our 100% online degree and certificate programs.
4. Research & Data Analysis
"People often wonder what you need to build a strong workplace wellness program, and the simple answer is data," Eric said. "Knowing how and where to collect useful data that reflects the population you want to serve is an important skill. Data can help you answer questions like: 'What are the health challenges that people are facing in your work or greater community?' Also, getting senior-level support for wellness programs can be a make or break situation, and you know what leadership members want before making a decision? Data!"
Courses like HWM 710: Research Methods for Wellness Managers examine and apply best practices of gathering data that help wellness managers identify program opportunities.

5. Management
"One of our core values here at Children's Wisconsin is collaboration," Eric said. "In my role, there are other team members that I tap to help me with my work. From a collaboration perspective, being able to understand how diversity in perspectives and backgrounds help you create a wellness program that is inclusive to all is an important skill to have and sharpen."
Given the complexity of health and well-being across a population, managing and collaborating with an open-minded approach is crucial when building and maintaining a workplace wellness program. UW Health and Wellness Management students take a variety of management and planning courses like HWM 705: Strategic Management for Wellness Managers.
---
While more employers continue to prioritize all facets of employee wellness, hiring managers are looking for wellness professionals who are ready to step in with current knowledge and skills to develop workplace wellness programs. Professionals with strong communication, community health, workplace wellness, research and data analysis, and management skills are most likely to lead this next chapter in work life post-pandemic. Make sure you are one of them.
UW Health and Wellness Management offers a 100% online master's degree specifically designed for students to gain a well-rounded education within the health and wellness field. With Advisory Board members like Eric Ziarek, UW Health and Wellness Management students can connect with industry experts who are just as eager to learn from them as they are to impart advice. 
Learn more about the UW Master's in Health and Wellness Management and how the curriculum helps you stand out to hiring managers. Questions? Our helpful enrollment advisers are here to help. Call 1-822-895-3276 or email learn@uwex.edu.