A University of Wisconsin Associate of Arts and Sciences (UW AAS) degree builds the foundation in the liberal arts, and graduates gain a deeper understanding of the world around us. The 100 percent online program also provides the flexibility to begin on a path that fits your schedule.
UWX RE101: Introduction to Religion offers several ways of studying the world's major religious traditions and how they have influenced aspects of society. The course is also a great option for fulfilling part of the Knowledge of Human Cultures credit requirement within the UW AAS program.
Whether you'd like to know more about the types of assignments to expect in the course or the overall lesson structure, this inside look will cover everything you need to know about UWX RE101: Introduction to Religion.  
What will I learn in the course?
As an introduction to the academic field of religious studies, UWX RE101: Introduction to Religion examines how religion has been practiced throughout history and in the modern world. The course takes an interdisciplinary approach to religion—rather than highlighting a specific religion each week, lessons are dedicated to how themes and topics fit within different methodologies.
This three-credit General Education course covers four major facets of religion:
Traditions

Texts

Lived and practiced

Modern religions
Topics covered range from the birth stories of the Hindu god Krishna, the Buddha, and Jesus to dating apps targeted to specific religious groups. Instead of assigning a value judgement or critically evaluating religions to determine whether something is correct or incorrect, the course is designed to view religion and its practices for what they are from an objective perspective.
You will be able to do the following by the end of the course:
Recognize the various theories scholars use to define and discuss religion in the academic field of religious studies 

Discuss the ways religion has been debated in the public sphere

Compare the changing ways that different religious traditions emphasize the role of texts

Compare creation stories across different religious traditions

Examine the ways that ritual performances structure, and are structured by, issues related to gender, politics, and violence 
What will the lectures be like?
UWX RE101: Introduction to Religion consists of 15 lessons across 15 weeks. The course features a mix of written commentary and narrated presentations with images. You will also read the works of theorists and watch short films to further develop your understanding on topics such as the use of religion in American classrooms and how modern religious groups account for environmental sustainability. Since the course does not have lectures at specific times, you will be able to decide where and when to complete the coursework.

Get Program Guide
Learn more about our 100% online degree and certificate programs.
What types of assignments will I complete?
There will be four unit papers throughout the semester, with each paper covering topics for that respective unit. As such, the final unit paper will only focus on the last few lessons instead of comprehensively covering the entire course. There are also lessons centered around weekly discussions with others in the class where you will share your thoughts on the readings and think critically as a group. 
Do students in the course interact?
Yes. While there are no group projects, you will interact in the weekly discussion sections in Canvas, the online learning management system for the UW AAS program. After submitting an essay on that week's material, you will be tasked with responding to two other students' essays.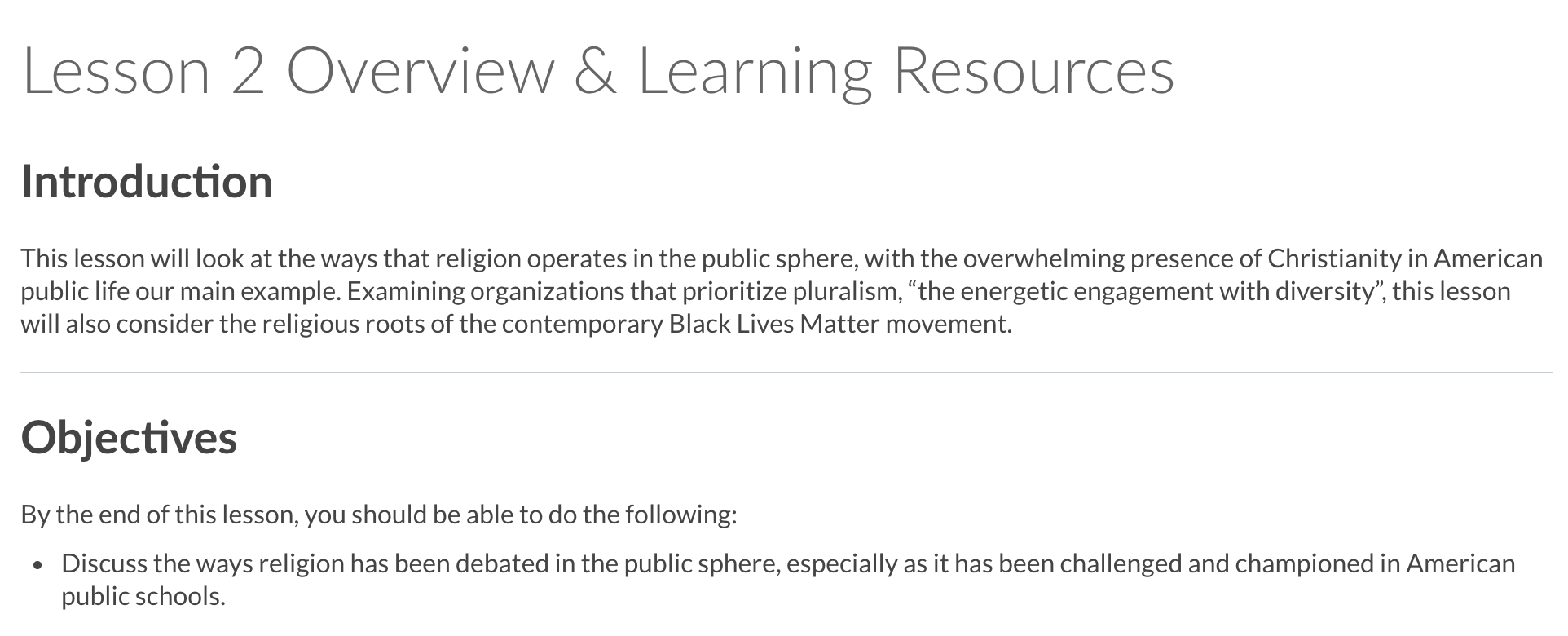 How much coursework will I do in one week?
When there isn't a unit paper, most weeks are structured around one discussion essay, two responses, and one reflection. Assignments, assignment prompts, and their due dates are all listed in Canvas, which makes it easy for you to plan ahead and keep track of your progress.
Will I receive support in the course?
Students who have any questions on course material or the assignments can contact the instructor directly during their office hours. The UW Extended Campus Student Services team also has Success Coaches who are able to help guide you through the UW AAS program.
Interested in learning more about UWX RE101: Introduction to Religion or the 100 percent online UW Associate of Arts and Sciences program? Take a look at the program curriculum page or reach out to an enrollment adviser with any questions about the program. For more information, call 608-800-6762 or email learn@uwex.wisconsin.edu.