Applied Biotechnology Careers and Salaries
Although biotechnology is a relatively young industry—the earliest companies formed in the 1970s and 1980s—its impact has been considerable. The science behind biotechnology has transformed our understanding of biological life through discoveries such as DNA, and scientists have applied this knowledge to develop innovative products that have improved our lives. Recent innovations include cancer immunotherapies, smart sensors for disease detection, and COVID-19 tests and vaccines. Applied biotechnology is biotechnology with an industry focus and emphasis on practical skills that allow graduates to pursue jobs in a variety of settings, such as industrial, food, agriculture, environmental, and healthcare.
The following practical skills and knowledge are used by professionals in biotechnology, frequently:
Research design and data analysis
Critical thinking, problem solving, and troubleshooting
Business strategy and entrepreneurship
Scientific project management
Legal and regulatory affairs
Written and verbal technical communication
Leadership and teamwork
Professional and ethical behavior
According to the 2020 BIO (Biotechnology Innovation Organization) report, bioscience industry employment has grown by around 7 percent since 2016. Wage growth consistently exceeds other occupations–the average annual salary for the bioscience worker was reported as $107,000, nearly double the average salary in the U.S. The value biotechnology offers to the world through its continual development of useful products continues to support growth.
Careers in Biotechnology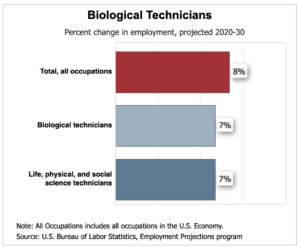 Biotechnology is a dynamic field offering a broad range of careers. Because biotechnology is a diverse field spanning a variety of workplace scenarios, salaries will vary by job, location, company size, and required education.
Entry-level positions typically require a bachelor's degree in biological or chemical science, microbiology, biomedical engineering, or similar. Career advancement may require additional education, such as a master's degree or PhD, plus professional experience. Employers will be interested in hiring employees with the knowledge and experience to successfully execute job responsibilities and navigate the often complex regulations in biotechnology. Positions can be found at established or startup companies, medical laboratories, or at research facilities within a university, government, or healthcare system.
The Master of Science in Applied Biotechnology was designed to help those working in biotechnology and related settings develop the skills and knowledge required for career advancement, through a core curriculum that provides a foundation in biotechnology principles and techniques, and then allowing students to complete one or more specialization tracks aligned with their chosen career pathway.
Related: Which Applied Biotechnology Track is Right for You?

Get Program Guide
Learn more about our 100% online degree and certificate programs.
Scientists
---
Research Scientist
Research scientists appear in healthcare, agriculture, or industrial bioscience settings, among others. Their responsibilities are similar to those of other researchers—forming a hypothesis, conducting research, and analyzing the results—with the ultimate goal of developing a product that will solve a problem. They may work with scientists from partner laboratories, and with their organization's regulatory, legal, and research and development (R&D) functions.
In healthcare, medical scientists research biological methods for treating disease in humans or animals, conduct clinical trials to prove the efficacy of new pharmaceutical products, or develop standards for dosage and production methods as new drugs and medicinal compounds are brought to market. They may also work with public health agencies to manage outbreaks of disease. According to the BLS, the median pay for medical scientists is $95,310 per year.
An agricultural research scientist investigates animal pathogens and methods to treat disease, and genetics to improve breeding programs and the quality of livestock for food. They may focus on plant food production, exploring methods to improve crop yield or develop uses for biological agents to remediate environmental concerns. They may also explore food use for alternative fuels, such as ethanol produced from sugar or corn. According to the BLS, the median pay for agricultural and food scientists is $74,160 per year.
A molecular biologist is concerned with the chemical processes and interactions of molecules that occur within cells. They may conduct basic research to expand scientific understanding or applied research to develop a new product. They can work in healthcare, researching new treatments for cancer and other diseases, or in agriculture, developing disease-resistant crops, or other areas. According to the BLS, the median pay for molecular biologists is $102,270 per year.
Bioinformatics Scientists and Technicians
Bioinformatics developed during the 1960s alongside biotechnology, although the power of modern computational tools, such as machine learning, data visualization, programming, and other techniques, are needed to process large-scale genomics and other molecular and biological datasets that have emerged with "Big Data". A bioinformatics scientist is a research scientist that identifies a problem that can be solved using software tools and algorithms. They are a data wrangler, and rely upon a range of statistical and computational methods to process and analyze large-scale datasets, such as public health databases and other sequencing projects. Usually part of a multi-disciplinary team, opportunities exist in areas such as pharmaceuticals, public health, and medicine.
According to the BLS, the median pay for bioinformatics technicians is $62,460 per year, and for bioinformatics scientists is $82,530 per year.
Managers
---
Regulatory Affairs Manager
The regulatory affairs manager oversees a firm's compliance with legal and regulatory protocols established by individual state departments of health, the FDA, and international agencies. They often interact with these agencies on behalf of their company, for example, by preparing reports and hosting regulatory reviews. They must stay current with changes to regulations and develop a strategy to minimize disruption to product lifecycle planning. Extensive knowledge of FDA regulations and similar protocols is required. Advanced positions, such as a regulatory affairs director, may supervise a team of regulatory affairs managers and the quality assurance function in their organization.
According to O*Net Online, the median pay for regulatory affairs managers is $124,650 per year.
Quality Assurance Manager
Similar to other industries, biotechnology employs trained professionals who oversee manufacturing operations to ensure products meet quality standards. However, biotechnology operates within a highly-regulated environment where product integrity is critical because the end products—drugs and pharmaceuticals, medical devices, or agricultural feedstock—are consumed by humans or animals. A quality assurance manager develops company standards and best practices, known as Standard Operating Procedures (SOPs), that ensure compliance with regulatory requirements. They manage quality systems, data, and reports, and support activities related to validation of equipment and processes, and may supervise and train employees. They may partner with product development, procurement, regulatory affairs, clinical research, and facilities, and host regulatory audits with external agencies. Certifications may be required for certain roles.
According to O*Net Online, the median pay for quality control systems managers is $103,150 per year.
Research and Development Manager
Research and development, or R&D, is the arm of biotechnology that explores ideas and identifies innovative products. R&D has a dual purpose—first, to explore an idea using methods similar to the research scientist, and second, to identify products that can be successfully brought to market. They devise and run experiments, evaluate results, and assess product valuation, feasibility of production, and scalability, and identify intellectual property and patent requirements. Often, market research to assess potential product demand is conducted during the research and development phase. They may oversee lab personnel and will likely interact with colleagues in clinical research, quality assurance, and business development.
According to SalaryExpert.com, the median pay for an R&D manager is $146,207 per year.
Marketing or Business Development Manager
Similar to a marketing manager in other fields, they devise strategic plans to bring biotechnology products to market. Activities may include market research, competitive analysis, pricing, brand strategy and promotional tactics to ensure maximum revenue and profitability, budgeting, and financial forecasting. As biotechnology operates within a highly-regulated environment and bringing a product to market faces unique challenges not typically found in other industries, an understanding of the product lifecycle from scientific discovery to intellectual property and patents to production is crucial.
According to SalaryExpert.com, the median pay for a marketing or business development manager is $137,786 per year.
What's Next?
Do you want to learn more about UW Applied Biotechnology? The Master of Science in Applied Biotechnology offers a choice of three tracks—Quality Assurance and Compliance, Business Management, and Research and Development. The Graduate Certificate in Applied Bioinformatics teaches you the data science skills required to process and analyze large-scale biological data sets in a flexible, online format. Contact a knowledgeable enrollment adviser at 608-800-6762 or learn@uwex.wisconsin.edu.