For more than 20 years, Shelley Nevins worked at Wisco Alloys—her father-in-law's metals distributor—where she was heavily involved in managing the day-to-day operations and sales. With her father-in-law preparing to retire and close the business, she began to consider the next phase of her career. 
Shelley earned her bachelor's degree in biology from UW-Oshkosh and was previously a project coordinator at EnChem, Inc. in Madison, Wisconsin. Shelley wanted to return to the sciences, but she wasn't sure how to make the transition.
"If I was going back to school, it needed to be something that was actually going to get me a job, not just something I wanted to do," she said.
With the University of Wisconsin Master of Science in Applied Biotechnology, Shelley found she was able to combine her business experience and science education as well as learn marketable skills for a new biotechnology career. Not only was she one of the first students to complete the online degree program—she landed her first biotechnology job before receiving her diploma. 
Feeling at Home With Online Learning
Shelley eased into her first semester by enrolling in one course, the introductory, ABT 700: Principles of Biotechnology. Doing so allowed her to return to a student mentality after years away from academia.

"I never thought I would be an online student," she said. "I like person-to-person learning, but it worked out really well for me with my schedule."
When she added courses in later semesters, the flexibility of the 100 percent online program allowed Shelley to make time for her family and volunteer responsibilities while continuing to work full-time.
The UW Applied Biotechnology program offers three specialization tracks for students: quality assurance and compliance, business management, and research and development. Shelley selected the business management track to take advantage of her previous business and supply chain experience. 
The program's core curriculum also refreshed her science knowledge. Shelley praised the exercises in ABT 720: Experimental Design and Analysis in Biotechnology, which helped her get accustomed to new technological advances in the lab. 
"When I was in my undergrad, the Human Genome Project wasn't finished," Shelley said. "Now it's old hat: we can sequence things in a matter of hours. So a lot of the technologies have really changed, and that course allowed me to get up to speed on those." 
While Shelley enjoyed the entire program, one of her favorite courses was ABT 705: Ethics, Safety, and Regulatory Environments in Biotechnology. The ethics course featured engaging discussions, made even better by a diverse group of students from around the country who brought unique perspectives and varying levels of work experience. Thanks to the online learning format, Shelley also felt more confident when contributing to each discussion section.
"It was nice to get different points of view and experiences," she said. "When you're online, there's a different level of communication because you're able to really think through your responses before you post them." 
RELATED: UW Applied Biotechnology Course Wins ADEIL Distinguished Course Award

Get Program Guide
Learn more about our 100% online degree and certificate programs.
Independent, But Not Alone
Shelley believes students in the UW Applied Biotechnology program shouldn't be afraid to ask for support. 
"You have to be flexible with your expectations, and you have to be willing to reach out to your fellow classmates and the professors and get that extra help," she said.
For Shelley, the final capstone project was one of the program's challenges. The capstone often involves a semester-long project in a workplace setting, which was challenging since she was working outside of biotechnology at the time. With the help of her Success Coach, Shelley brainstormed alternative ideas for the capstone and was able to successfully complete her project by writing a review paper and grant proposal on the use of probiotics in dairy cattle and alternative delivery mechanisms.
Shelley's coach also helped recommend local biotechnology companies for her to apply to as she approached graduation, which is how she secured her current role as a project manager at Genus IntelliGen Technologies in Waunakee, Wisconsin. 
Support came from family as well: Shelley went back to school around the same time as her husband, who was in a hybrid Master of Business Administration program through Marquette University. The timing worked out perfectly, as the two provided emotional support for their shared experience. 
"We understood each other and what we were going through, so it was nice having both of us do it together," Shelley said. 
There was friendly competition between Shelley and her husband to complete their programs in the same semester, along with a memorable photo opportunity when all was said and done.
"[My husband's] graduation was two weeks before mine, and he was going to have to turn in his gown right away at the end, so I took mine to his and got up on the Marquette stage with my UW-Madison gown," she said. "It was pretty funny!"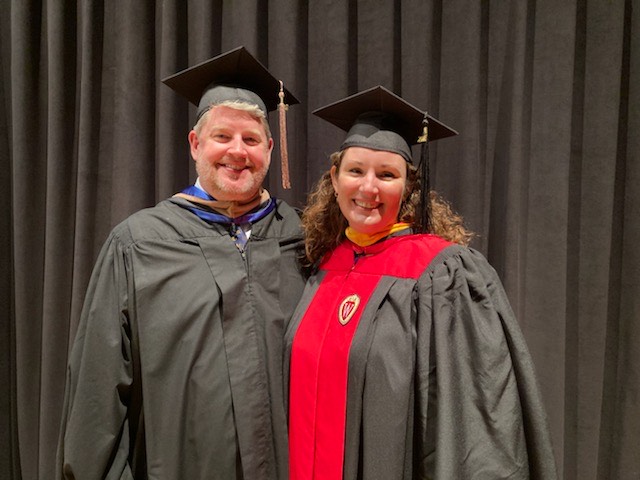 Excelling in an Exciting New Career
Shelley began working for Genus IntelliGen Technologies in November 2021, one month before she graduated from the UW Applied Biotechnology program. A subset of the biotechnology company, IntelliGen provides artificial insemination for cattle in the form of sexed semen straws, which are used to reduce excessive animal breeding and provide more sustainable agriculture. 
As a project manager, Shelley's team specializes in commercialization across the Genus company, which also has labs in Germany, India, New Zealand, and the United Kingdom. With the formal project management training she received from the program, Shelley felt comfortable entering her new role and has helped to effect change on a global level.
"It's fun being in this newer section of the company," she said. "We're growing fast and we're learning as we go."
RELATED: Biotechnology Around the World
Whether you're currently working in biotechnology or want to pursue a new opportunity, Shelley offers key advice for prospective students: 
"Make those connections and have discussions, especially if you're looking to change careers—you never know where those connections are going to lead you," she said. "And pull every nugget you can from each course, because they will all come into play eventually." 
---
Want to learn more about the 100 percent online University of Wisconsin Master of Science in Applied Biotechnology? Check out the program curriculum page or contact an enrollment adviser with any questions about the program. For more information, call 608-800-6762 or email learn@uwex.wisconsin.edu.
UW Master of Science in Applied Biotechnology is a collaboration of several UW System campuses. Shelley earned her degree from UW-Madison.