In the 100 percent online University of Wisconsin Bachelor of Science in Health Information Management and Technology, students learn how to manage electronic health records and build software to improve patient care in technology-focused healthcare environments. The program features HIMT 435: Data Communications and Networks in Healthcare, a course where students research EHR interoperability—the networking techniques and information technology strategies that ensure effective communication within and between health organizations.
Enrolling in a bachelor's degree program is a big decision, especially if you are working full-time and have life obligations. You may be wondering what a typical course in the online program looks like, which can come with its own set of questions such as: 
How are lectures presented?

What assignments will I work on?

How do I interact with others in the course?
We'll answer these questions and more as part of our course inside look at HIMT 435: Data Communications and Networks in Healthcare.
What will I learn in the course?
HIMT 435: Data Communications and Networks in Healthcare covers the technologies, protocols, and standards which support EHR interoperability in healthcare information systems. The course has been designed to emphasize practical use for students by taking a hands-on approach with data technologies. Lessons provide key knowledge for other courses in the Health Information Technology track, along with preparing students for healthcare technology courses at the master's degree level. 
The course is available for those who have completed HIMT 301: Digital Literacy in Healthcare and requires students to have some prior microcomputer software skills.
By the end of the course, you will be able to:
Understand hardware and software components of telecommunications systems and how they are organized to provide required services

Present architecture, topologies, and protocols of telecommunications and computer networks

Describe Health Level Seven (HL7) standards

Understand HIE and major healthcare network standards

Research and discuss issues pertinent to the emerging technologies and network applications in healthcare
RELATED: Students Without Prior Healthcare Experience Can Thrive in the UW HIMT Program
What will the lectures be like?
The three-credit course is offered in the spring semester for students in the HIT track and consists of sixteen lessons, each lesson starting with a narrated presentation. The instructor also includes demonstration videos and screencasts to show students how to install and use course-related open source software such as Wireshark and Lucidchart. 

Get Program Guide
Learn more about our 100% online degree and certificate programs.
What types of assignments will I complete?
Students will complete eight assignments and eight discussion sections throughout the course. Assignments focus on specific lessons and offer a variety of hands-on applications and engaging opportunities for students. Examples include assessing the evolution of technology as it relates to healthcare, running a daily speed test on your personal internet connection and analyzing the results, and designing a local area network (LAN) for a fictional organization.
For discussions, students will reply to their classmates' posts in the Canvas learning management system. Discussion topics will have students reviewing industry trends and interviewing an IT professional in the healthcare field. In addition to assignments and discussion sections, there are sixteen multiple choice quizzes in the course, or one per lesson.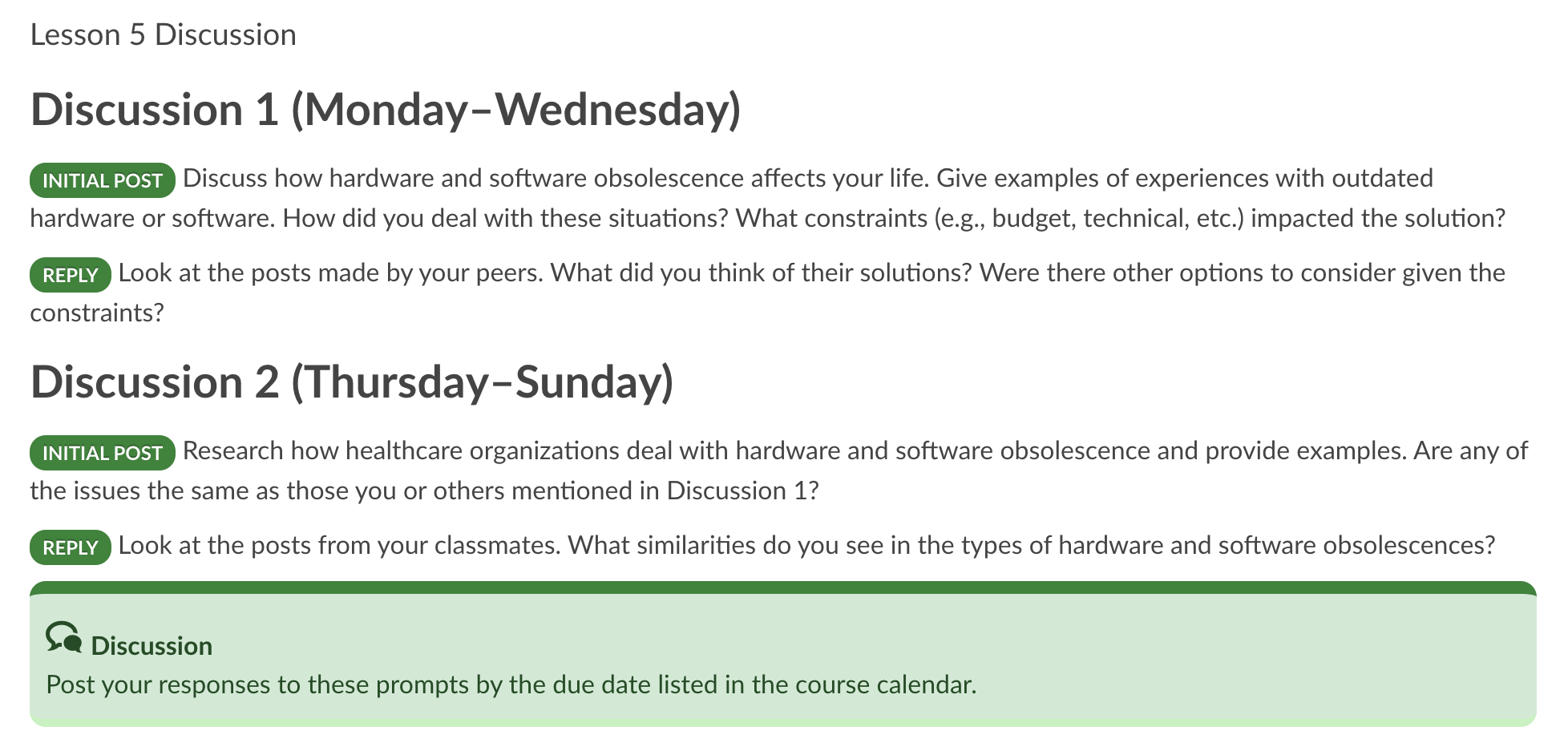 What else will I do in the course?
There is a semester-long research project where students examine an issue in healthcare or IT. To help students get immersed into the tech industry, you will work on the project from the perspective of a health-tech expert who presents their findings to an audience with a variety of backgrounds and experiences in the field. 
The project is divided into several tasks, from choosing a topic and developing a project proposal to creating a Google site and blog. Possible research topics include cybercrime, virtual reality, and online privacy.
RELATED: Health Information Technology Careers Outlook, Job Title, and Salaries
Do students in the course interact?
Yes. You will have conversations with other students in discussion forums and during the research project's peer review process. Through these conversations, students will share feedback while learning from one another.
How much coursework will I do in one week?
Students are expected to spend about nine hours per week on the course. Since there are no set meeting times for lectures, you have the flexibility to complete coursework on a schedule that fits alongside your career and other commitments.
Will I receive support in the course?
Yes! The instructor responds daily to student inquiries and gives feedback on all assignments. Students can also make an appointment during the instructor's scheduled office hours. The course features built-in tech support and a QuickStart guide to help students through the online learning experience, and Success Coaches are available to help guide you through the HIMT program. 
Interested in learning more about HIMT 435: Data Communications and Networks in Healthcare or the 100 percent online UW Bachelor of Science in Health Information Management and Technology? Take a look at the program curriculum page or reach out to an enrollment adviser with any questions about the program. For more information, call 608-800-6762 or email learn@uwex.wisconsin.edu.