The sustainability profession is at a pivotal point in its evolution. Traditional "green jobs" are well established in industries such as renewable energy, energy efficiency, natural resource conservation, and waste management, and now opportunities seeking "green" skills are increasingly found in roles that are not typically considered when one thinks of sustainability careers, like technical sales rep or facilities manager. 
What's driving this growth? Increasing awareness of the climate crisis, employee and customer demand for change, and diversity, equity, and inclusion goals. All are driving companies to expand and embrace Environmental, Social, and Governance (ESG) reporting and the United Nations Sustainable Development Goals (SDGs).
While there is no universal definition of what qualifies as a sustainability job, professional organizations, like GreenBiz and Sustainable Brands, offer insight on job trends and growth, especially within business and industry. According to GreenBiz, we're at that decisive moment when job opportunities are increasing as sustainability goals expand. With a growing number of industries recognizing the need to integrate sustainability goals like corporate social responsibility into their business practices, every job has the potential to be a "green job."
"This is indeed an unprecedented moment for the profession … reflective of a mounting climate crisis that requires increasingly bold action. CEOs are more engaged, more companies are expanding their sustainability efforts and the size of their teams, and more commitments are being made to reduce GHG emissions." —GreenBiz State of the Profession 2022
What is Sustainable Management?
Sustainable management is a formalized position that integrates and manages a sustainability strategy that is material and beneficial to the organization. This can take many forms, including investing in fair trade products, reducing packaging materials, or ensuring humane working conditions at supplier factories. Sustainable management supports an organization's long-term success and resilience through minimized risk, cost savings, increasing competitive advantage, and avoiding unseen costs. The triple bottom line framework and corporate social responsibility principles have become standard within strategic sustainability implementation and offer organizations a comprehensive approach to measure the impact and success of their goals.
Organizations, small to large, incorporate sustainability goals into their business practices. Larger organizations may approach sustainability through a core team of professionals dedicated to overall strategy, however, the responsibility is increasingly dispersed across departments and roles. Some professionals tasked with leading sustainable business initiatives take on this responsibility in addition to other duties.
"These insights indicate greater demand for roles dedicated to sustainability within an organization, but do not quite paint the full picture. We know responsibilities of sustainability spread across multiple functions in a company, rather than falling solely on the dedicated sustainability role. Hence, in coming years, we may see a rising demand for sustainability-related skills embedded in the job descriptions of a wider array of roles." —John Davies, VP and Senior Analyst, GreenBiz State of the Profession 2020
What Skills Does a Sustainability Manager Need?
While certain concepts are central to sustainability, the specific tools and skills a sustainability manager may use in their job vary depending on the industry and their responsibilities. They must understand basic principles of finance and economics, marketing and communications, as well as how to assess and interpret social, ecological, and business-related information. They must also be able to solve complex business problems by practicing systems thinking, which involves analyzing whole systems by understanding how component parts interact and impact one another. Diplomatic communication and leadership skills are critical for the sustainability manager because they are typically in a position that requires leading teams, proposing initiatives, building awareness and generating buy-in and enthusiasm within the company.
Sustainability Manager, a traditional green job, was one of the fastest-growing green jobs between 2016 and 2021, according to the LinkedIn Global Green Skills 2022 report.
Sustainability roles within an organization may include entry-level positions, such as sustainability associate, specialist, or coordinator, to more senior-level roles, such as chief sustainability officer and others, depending on the structure and size of the organization. As sustainability is increasingly integrated within organizations, its responsibility is becoming dispersed and shared across positions, and job titles may depend more on whether you are part of the core sustainability team, or in a role that takes this on in addition to other duties.
Since sustainability professionals draw on knowledge and skills across many areas, including business, economics, and environmental science, they may have experience and education from a diverse range of fields and industries.
As a sustainability specialist or manager, you may be responsible for:
Leading project management and implementation of initiatives
Setting strategic and material sustainability performance goals
Measuring, reporting, and optimizing the effectiveness of sustainability initiatives
Sustainable supply chain, waste management, and minimization
Marketing and communication
Sustainable product innovation and development
Environmental, social, and governance (ESG) investing
Employee engagement and diversity, equity, and inclusion
According to the LinkedIn Global Green Skills 2022 report, the fastest-growing green skills are in ecosystem management, environmental policy, and sustainable procurement or supply chain. In fact, demand for sustainable procurement skills has experienced near triple-digit growth over the last three years, largely due to companies "taking action to reduce their environmental footprint throughout their supply chain (LinkedIn)." Pollution prevention, environmental finance, and circular economy were also noted as increasing across roles that are not traditionally green.

Get Program Guide
Learn more about our 100% online degree and certificate programs.
Preparing for the Sustainability Skills Gap on the Horizon
With the rise in companies and organizations integrating sustainability goals into their business practice, LinkedIn predicts employer demand for sustainability skills will outpace availability of workers with those skills in five years. Notably, most jobs now requiring green skills are not traditional green jobs, a trend LinkedIn refers to as "green-skilling." Sectors that are increasingly hiring talent with green skills include retail, consumer goods, design, recreation and travel, healthcare, and manufacturing. For example, "sustainable fashion was the fastest-growing green skill … with an average growth rate of 90.6 percent (LinkedIn)."
Sustainability salaries vary and can be influenced by a number of factors including: industry, job responsibilities, work experience and education, location, and the size of the organization. For example, according to the GreenBiz State of the Profession 2022 report, base salary for managers can vary by as much as $30k.
"One positive change over the past 12 years has been an increase in gender diversity in the profession. The number of women in sustainability leadership roles has expanded by close to 20 percentage points in every category since our first survey in 2010." —GreenBiz State of the Profession 2022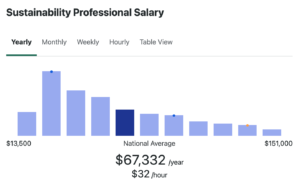 As of December 2022, ZipRecruiter reports that the average annual salary for a "sustainability professional" in the U.S. is $67,332. According to Glassdoor, an entry-level "sustainability specialist" will start around $60k. With 4-6 years of experience, salaries rise to $70k.
As one progresses in their sustainability career from an entry-level specialist/associate to manager, director, and CSO positions, salary ranges increase. Senior-level leadership positions, such as chief sustainability executives, general and operations managers, environmental engineers, among others, can expect higher salaries. These positions may require several years of work experience and a master's degree. According to the GreenBiz State of the Profession 2022 report, the average total compensation (base salary plus additional compensation such as bonus, exercised options, etc.) for managers is $146,900; for directors, it's $227,158; and for vice presidents, $404,972.
What can I do with a Sustainability Degree?
Graduates of the University of Wisconsin Sustainable Management bachelor's and master's degrees have pursued sustainability careers in a variety of industries.
With a Bachelor of Science in Sustainable Management, a graduate could pursue positions such as:
Sustainability specialist
Solar operations surveyor
Sustainability consultant
Energy and LEED analyst
Social compliance analyst
Zero-waste program manager
Renewable energy analyst
Sustainable design coordinator
Environmental analyst
With a Master of Science in Sustainable Management, a graduate could pursue positions such as:
Chief sustainability officer
Director of sustainability
Sustainability project manager
Senior environmental programs specialist
Supply chain manager, sustainability and energy
Director of sustainable manufacturing innovation
Sustainability coordinator
Vice president of corporate social responsibility and sustainability
Director of global environmental affairs
Find Your Future in Sustainable Management
Interested in upskilling in sustainability? In the University of Wisconsin bachelor's, master's, and certificate programs in sustainability, you'll learn solve complex business problems by practicing systems thinking and more. The flexible, online format is an ideal choice for students balancing work and personal responsibilities, and offers easy access to academic advising and student support services.
For more information, contact a helpful enrollment adviser at 1-877-895-3276 or learn@uwex.wisconsin.edu.