The 100 percent online University of Wisconsin Bachelor of Science in Applied Computing gives you the tools to become a business-focused information technology (IT) professional. Through hands-on experience, you will develop a proficiency in computer science that can be directly put to use.
With the field of computing showing promising growth and a strong career outlook for employees, our graduates have found success in several industries.
Where do Applied Computing Graduates Work?
An applied computing degree provides you with practical skills and an all-encompassing education to stay competitive and open the door to a number of different jobs. 
Our students have gone on to hold positions such as: 
Software Developer

Web Developer

Software Engineer

Android Engineer
Our graduates have worked for companies including:
Northwestern Mutual

Inspire Brands

JJ Keller & Associates

Badger Meter

Genesis10

Ki Mobility

Optimal Blue

Milk Can Dev and Design
Companies with the most computing jobs nationwide include Deloitte, Amazon, and Humana.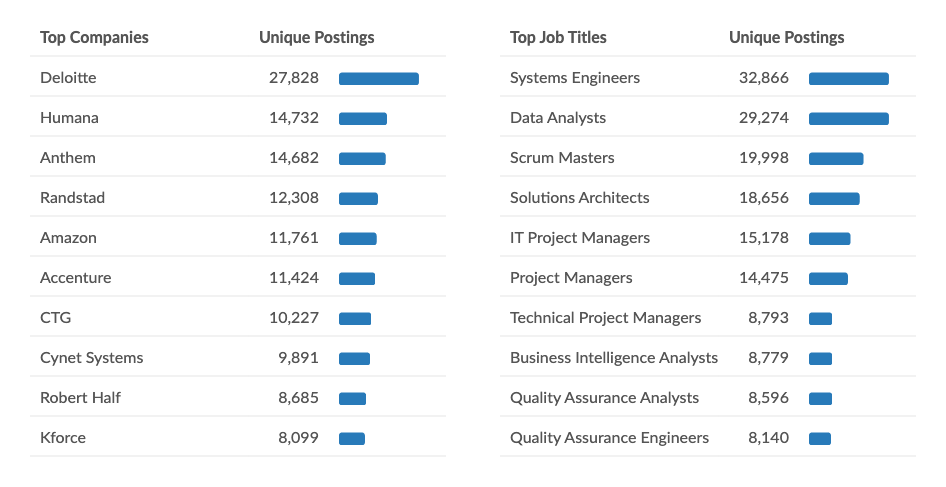 Noah Borkowski, a graduate of the UW Applied Computing program, had a job lined up long before earning his degree. 
Prior to the program, Noah was an IT intern for management consultancy Outbound Assist. His education at UW helped him become a software engineer at Inspire Brands, a company that collaborates with DoorDash, Grubhub, and other food delivery services. 
"The UW Applied Computing program has, and I know will, continue to help my career goals," he said.
More information about our graduates is available here. 
RELATED: Determined Senior Tech Support Specialist Aims to Advance Career with UW Applied Computing Degree

Get Program Guide
Learn more about our 100% online degree and certificate programs.
Applied Computing Jobs and Career Paths
Earning an applied computing degree leads to a multitude of career options. With a solid foundation in core computer science and well-rounded understanding of IT, you'll be able to work in a range of roles, including web development, cybersecurity, and project management.
More than 43 percent of employers require a bachelor's-level degree, making the UW Applied Computing program the perfect choice for those looking to break into the tech industry or advance your career at your current employer.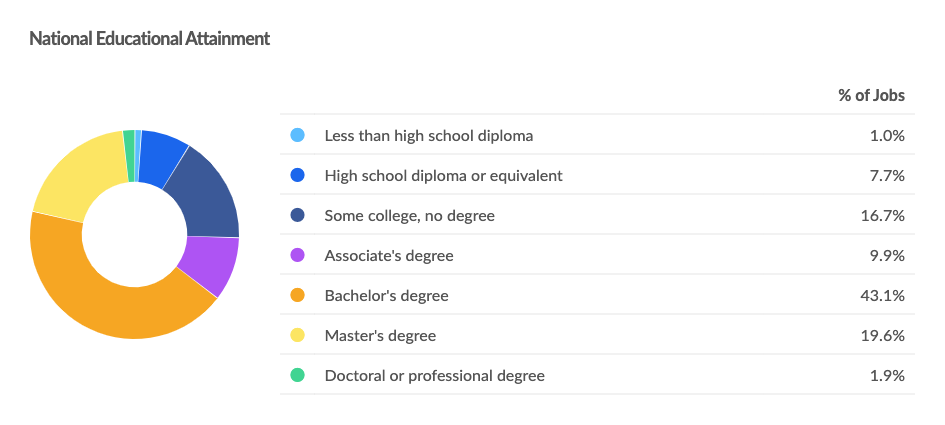 RELATED: 5 Reasons to Pursue a Bachelor's Degree in Computing
Applied Computing Careers Outlook
Job opportunities in the field are continuing to grow due to the rise in cloud computing and collection of big data. There were nearly one million unique job postings in 2021, but only one out of every seven positions was filled. This means the demand for applied computing professionals far exceeds the supply.
According to the U.S. Bureau of Labor Statistics, employment of computer and information technology occupations will climb 13 percent from 2020 to 2030, which is notably higher than the average for all occupations.
This growth is even greater for certain jobs within the field: employment for software developers is predicted to increase 22 percent over the next decade.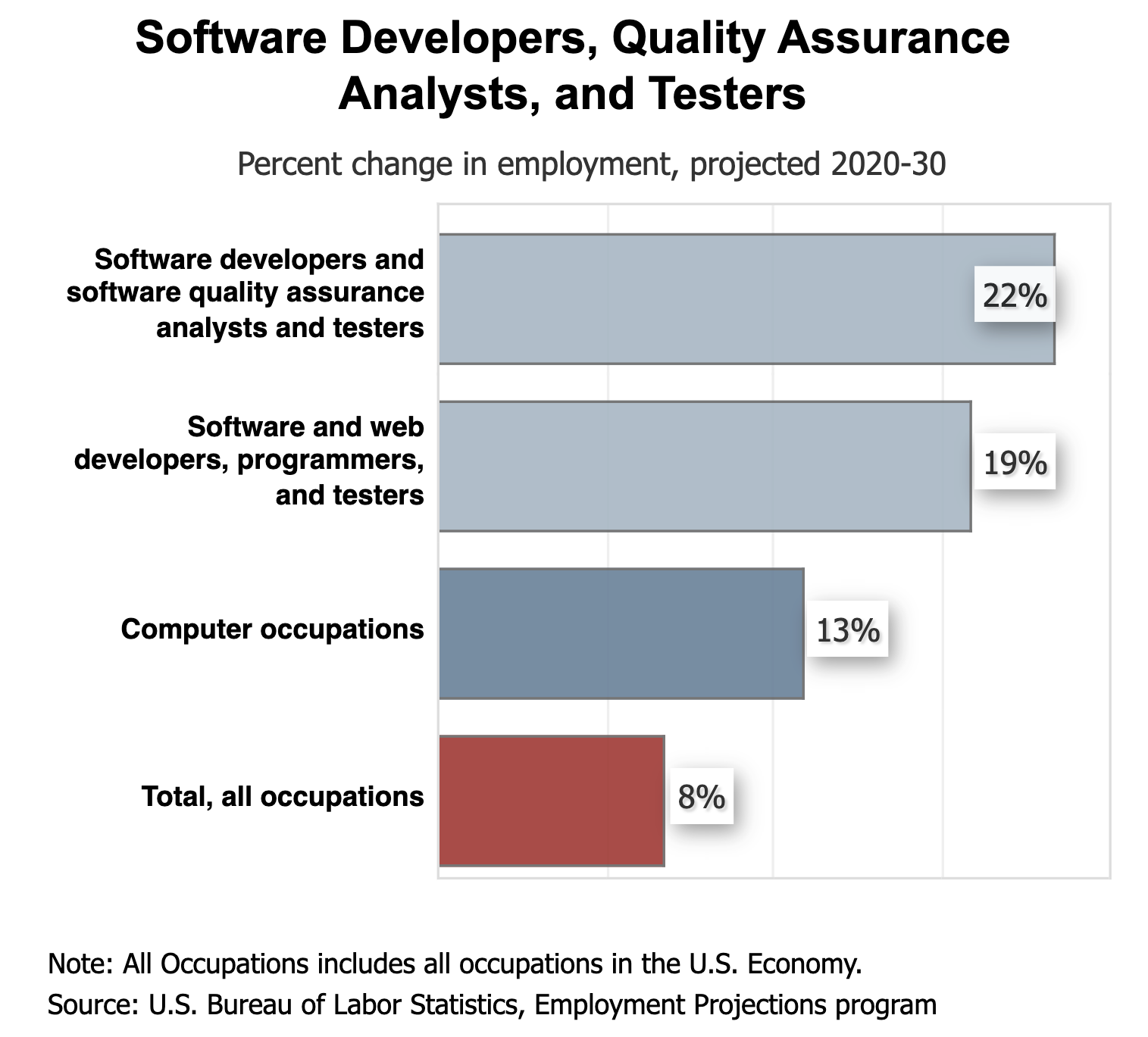 Whether you want to become a video game developer or IT manager, a UW Applied Computing bachelor's degree can help you get there. 
RELATED: UW Applied Computing Advisory Board Member Shares IT Career Advice
Top Skills in an Applied Computing Career
The intersection of technology and business, applied computing combines elements of computer science and IT to drive business success.
Companies are seeking candidates who can bring their technical expertise to the forefront while also being able to clearly explain projects to other departments. Strong communication accounts for nearly half of all job postings for computing roles, though only 12 percent of applicants listed the skill on their profile.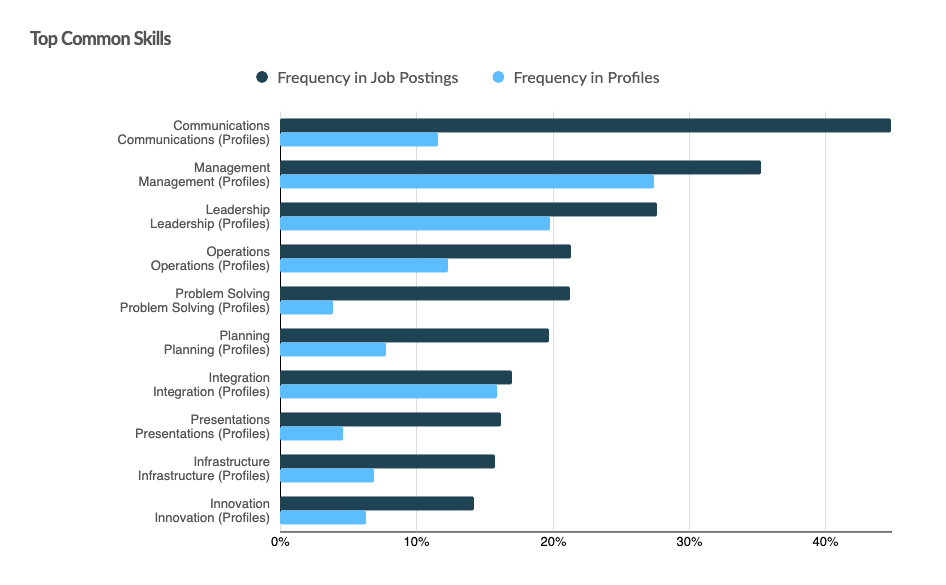 When it comes to hard skills, agile methodology, SQL programming language, and automation ranked the highest among employers.
A bachelor's degree in applied computing ensures your business knowledge will be just as strong as your coding and technical skills. 
Take the Next Step
With courses designed to fit into your busy schedule, the UW Applied Computing program offers flexibility and a cutting-edge curriculum. Graduates are equipped with valuable skills that can help create new technologies to solve tomorrow's problems.  
Achieve your goals and elevate your career today with a degree from the University of Wisconsin.
Interested in learning more about the online UW Bachelor of Science in Applied Computing? Contact an enrollment adviser at 608-800-6762 or learn@uwex.wisconsin.edu.