Applied computing is the study of both theoretical and applied computer science. Considered the intersection of information technology, computer science, and business, applied computing focuses on technical computing concepts and the development of skills in organizational leadership and business strategy. As a result, applied computing graduates are well-rounded with the hands-on technical skills needed to do a variety of IT jobs.
Applied computing skills and knowledge include:
Current programming languages and technology
Software engineering
IT security
Mobile technology
Networking
Operating system management
Graphic applications
Data integration
Distributed systems
Communication
Critical thinking, analysis, and problem-solving
Project management
Perhaps the most defining characteristic of those who have studied applied computing is the ability to think critically about how to best use their technical skills to problem solve and make a positive impact on the organization as a whole.
Applied Computing Careers Outlook
The future is very bright for applied computing graduates. Why?
1. Technology is everywhere.
We live in a world where everyone and everything is connected by information technology. Virtually every organization in the public and private sector relies on the internet and the "Internet of Things" for daily operations. With a greater emphasis on cloud computing, big data, and mobile computing in business, technology will continue to expand into every field and industry. Such organizations need skilled, multifaceted IT professionals to keep operations running smoothly.
2. Good IT applicants are hard to find.
IT evolves quickly. Computer science professionals who have the expertise to develop and maintain cutting edge technology are in high demand. The U.S. Bureau of Labor Statistics reports that computer and information technology is one of the fastest-growing fields in the country. From 2020 to 2030, jobs such as database administrators, software developers, and computer programmers, are projected to grow 13 percent, much faster compared to the average of all occupations.
However, employers say they have a hard time finding qualified IT job applicants. Here's why: According to Computer Science Education Week, 58 percent of all new jobs in STEM are in computing, while only 10 percent of STEM graduates are in a computer science degree program. That's a huge gap. To put it simply: The demand for applied computing roles is huge and not enough professionals are entering the field with the needed set of skills and experience.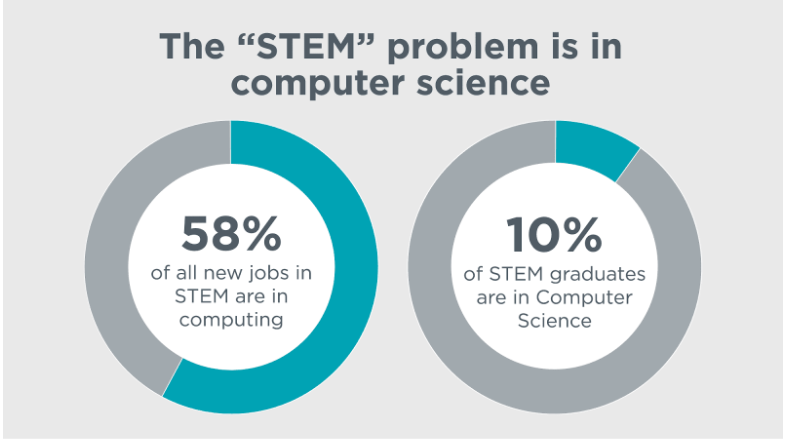 Source: Computer Science Education Week
What's the Difference Between Computer Science and Applied Computing?
"An applied computing degree tells me as an employer that you have the practical, hands-on skills to become an effective member of my team from day one. The nature of an applied computing degree signifies productive employees."
—Jeff Thomas, Chief Technology Officer, Forward Health Group
Computer science students usually graduate with very specific technical skills in an area of IT. By contrast, applied computing programs teach students the wide range of technical skills that apply to almost any IT job. Additionally, applied computing curricula emphasize skills, such as project management, professional communication, and business leadership.
Applied computing graduates are trained to solve pressing business problems with the application of technology. What does this look like in a real job setting? Applied computing graduates could take on leadership roles, explain their projects in non-technical language, think critically about how their work interacts with other departments, and ask business-focused questions.
Applied Computing Jobs
Gone are the days of IT departments stashed in the basement.
Today, goal-oriented applied computing majors become leaders and key assets in the workplace, and that's reflected in the IT job titles of bachelor's degree holders.
Typical jobs held by applied computing graduates include:
Application/Full-stack Developer
Database Administrator
IT Business Analyst
Network/Systems Administrator
Software Engineer
Computer Programmer
Software Architect
Video Game Developer
Average Salary for Applied Computing Professionals
2021 data from the U.S. Bureau of Labor Statistics states the median salary for computer and information technology occupations as $97,430. Computer science majors are consistently listed as one of the highest-paying bachelor's degrees. For example, Business Insider listed computer science in the ranking of the 25 highest-paying majors right out of college.
Computer science
Median early career pay: $72,600
Median mid-career pay: $120,100
Why Get an Applied Computing Degree?
Because of the technical expertise and professional skills required of today's IT professionals, more and more employers are looking for IT candidates with bachelor's degrees.
"Candidates with an applied computing degree are especially valuable because they're skilled IT generalists. They've got a solid foundation in all disciplines of IT."
—Mike Fox, Director of Project Services, SafeNet Consulting
An applied computing bachelor's degree provides a solid foundation for someone who wants to specialize in an area of IT by:
Helping you move from an entry or mid-level IT position to a higher-level role, such as a database or computer developer, or a management role.
Proving to employers that you're skilled in both the theory behind computer science and its direct application.
Providing a solid foundation in business, leadership, and communication skills.
Teaching you how to develop new technologies and participate in future tech innovation.
Wondering if an applied computing degree is a good fit? Here are six signs that it's the right path for you.
Have a question about the online bachelor's degree completion program? Our enrollment advisers would be happy to help. Email learn@uwex.wisconsin.edu or call 608-800-6762.