The concepts of leadership and management are tightly correlated with specific business functions. It's common for many of us to think that leaders are those that hold executive roles and that managers are largely in charge of people. While this is certainly true in many businesses, it's important to keep in mind that there are leadership and management opportunities that expand beyond these preconceived notions. Specifically in the IT space, many professionals are successful IT leaders and IT managers without ever becoming executives or managing personnel.

In his Harvard Business Review article, John P. Kotter, the Konosuke Matsushita Professor of Leadership, Emeritus at Harvard Business School, dissects what it means to be a leader versus a manager. He writes that management focuses on ensuring an organization or business carries out what it already does well. This means prioritizing a process mindset, focused on measuring performance, problem-solving, budgeting, and planning. Notice that many of these functions can occur without the direct oversight of people and could be contained to the management of projects.

When it comes to leadership, Kotter explains that this role is more future driven. Centered around a vision, leaders zero in on behavior that produces useful change. With this definition, it's clear that anyone is capable of being a leader in their job despite their seniority.

There are few functional areas in an organization that change as rapidly and drastically as technology. As a result, IT professionals are challenged with carrying out what a business already does well in addition to setting a vision for the future. These management and leadership demands require all IT professionals to be equally strategic and tactical. At the end of the day, employers are looking for professionals who can solve problems and create possibilities.

Unparalleled IT Leadership Opportunities
Today, there are roles for IT professionals—leaders, managers, and both—that didn't exist 20 years ago. According to the Wall Street Journal, Bain & Co, a management consulting firm, estimates that "by 2030, up to 9% of the labor market will consist of new or emerging job titles within areas such as IT development, hardware manufacturing, app creation, and IT systems management." This outlook shows that IT roles might be one of the most in demand areas for work.

No matter your IT career goals, in order to be prepared for the needs of today and the future, you must recognize the nuanced IT scenarios and opportunities you will need to be prepared to take on:
You may learn of a need, want, or frustration in a specific functional area and will need to devise a technical solution to resolve the issue.
You may learn or be aware of projects in functional areas outside of IT. You may need to create a system or application to serve functional areas outside of IT. To do so, you must avoid duplicating systems, efforts, and costs.
You may be in a crucial position to negotiate across various functional areas regarding IT initiatives that are necessary, reasonable, affordable, doable, and logical.
In all three scenarios, you are viewed as the "solutions architect" within your organization, and colleagues seek out your advice and troubleshooting strengths. This involves well-rounded technical and communications skills (see chart below) to help you understand the problem, flesh out a solution, and clearly express to other, non-IT team members what needs to happen.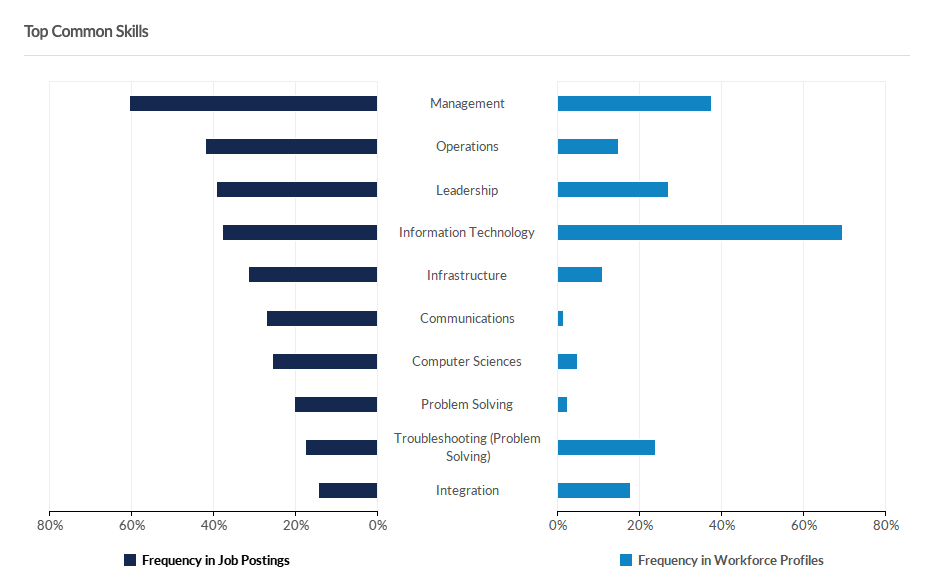 Get Program Guide
Learn more about our 100% online degree and certificate programs.
How to Stand Out in the IT World
A master's degree in IT Management can help you show future employers that you are serious about your leadership and/or management goals, and that you have the experience to back you up. The University of Wisconsin Master of Science in Information Technology Management, prepares motivated IT professionals for the next step in their career.
The 100% online program addresses skills across various IT management areas, such as:
Leadership and communication

Security, governance, ethics, and regulatory compliance

IT operations, finance, and project management

Data science and business analysis

Cloud computing

Emerging technologies
Although there are many unique aspects of an IT career, perhaps the most critical is the pace and scope of change. This opens paths for new efficiencies and opportunities not yet realized, which means to be successful, you must stay on top of it all. However, you are not alone in this endeavor.
Reach out to a knowledgeable enrollment adviser, who can help answer your questions regarding the University of Wisconsin IT Management program and learn how earning your master's degree can help you reach your career goals. Call 1-877-895-3278 or email learn@uwex.edu.