Cybercrime and threats continue to inundate nearly every facet of personal and professional life. Whether it comes in the most common form of hacking (think social media accounts or email passwords) or more coordinated efforts like phishing scams and unpatched vulnerability manipulations, dealing with cybersecurity concerns is a frequent human experience in the digital age. 
Global cybercrime costs are estimated to grow by 15 percent year over year, reaching a total of $10.5 trillion per year by 2025, according to Cybercrime Magazine. The publication predicts that new attacks on consumers and businesses will take place every two seconds by 2031. 
In March 2023, the White House released its National Cybersecurity Strategy, which includes a five-pronged approach: defend critical infrastructure, disrupt and dismantle threat actors, shape market forces to drive security and resilience, invest in a resilient future, and forge international partnerships to pursue shared goals. According to Forbes, these changes will put the onus on businesses to share more data about their breaches so that law enforcement and other agencies can identify attackers. In addition, software companies may now be held liable if their products make customers less secure, meaning that organizations and businesses will have to do more homework on their own supply chain to ensure that the products and services they are using don't undermine their offerings. 
To combat cyberattacks and mitigate their effects, organizations and businesses across industries will have to up their game and do more to seek out cybersecurity professionals who know how to stay ahead of threats and keep private information out of the wrong hands. Demand for information security analysts—a top cybersecurity-related job—is expected to grow 35 percent from 2021 to 2031, according to the US Bureau of Labor Statistics. This growth equates to 56,500 job openings per year for the next decade.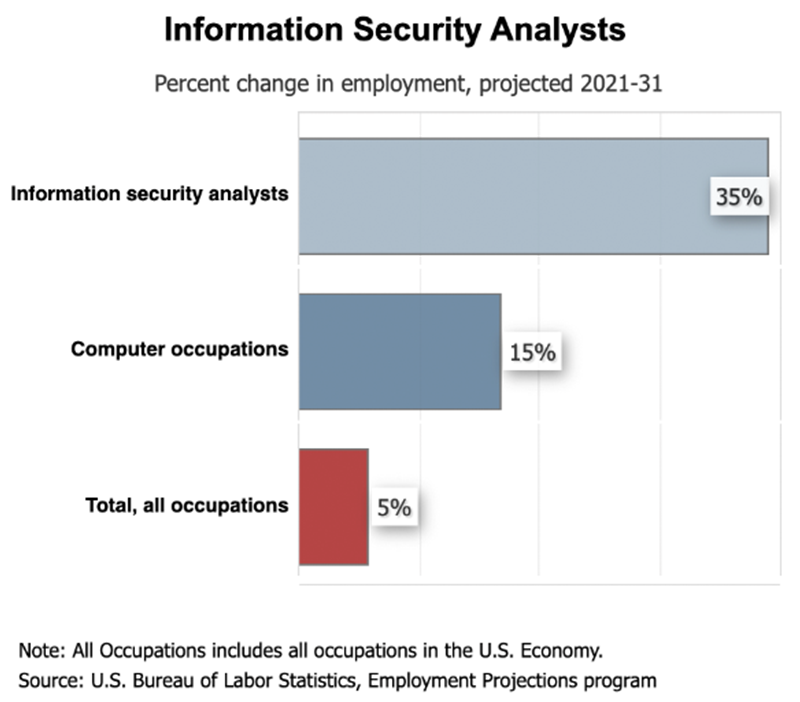 Nationally, US News and World Report ranks information security analyst as #2 in Best Technology Jobs, #5 in Best STEM Jobs, and #5 in Best Jobs overall. The rush to hire cybersecurity professionals is seen at a local level, too. The chart below shows job growth in the US and Wisconsin for cybersecurity-related occupations, including: Computer and Information Systems Managers, Computer Systems Analysts, Information Security Analysts, Computer Network Architects, and Network and Computer Systems Administrators.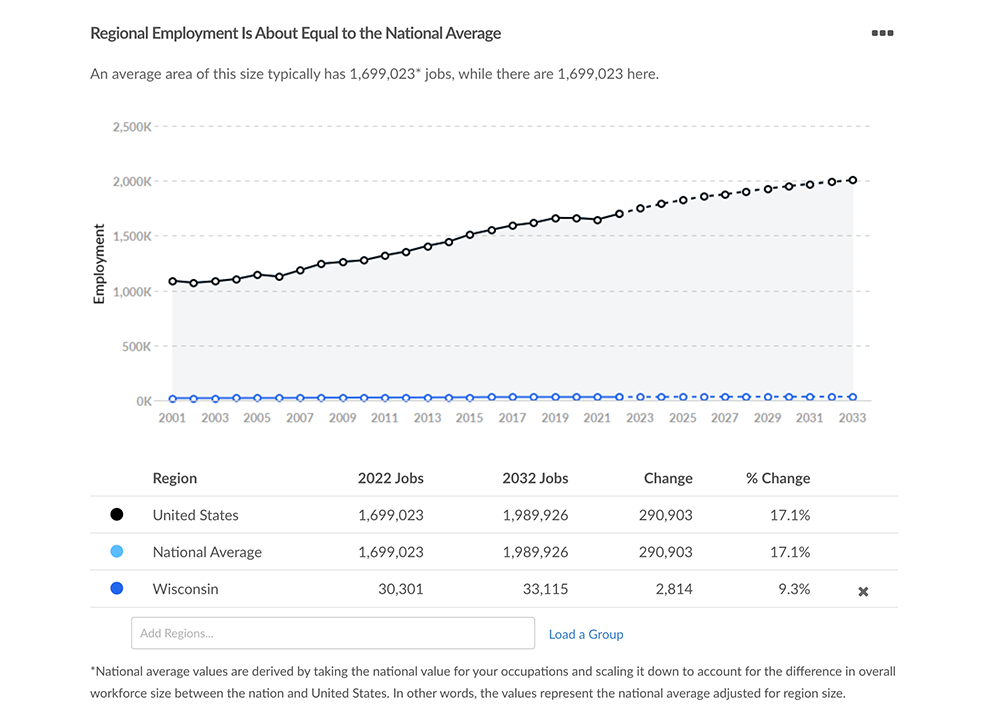 Industries with the Largest Demand for Cybersecurity
The cybersecurity career outlook is heavily influenced by industries experiencing increased, high demand for professionals. The top industry adding the most cybersecurity jobs in the US from 2021 to 2031 is computer systems design and related services, followed by the management of companies and enterprises industry. According to 2022 Lightcast data, top employers include Randstad, which offers staffing agency services; KPMG, who specializes in audit, tax and advisory services; and General Dynamics, an aerospace and defense company.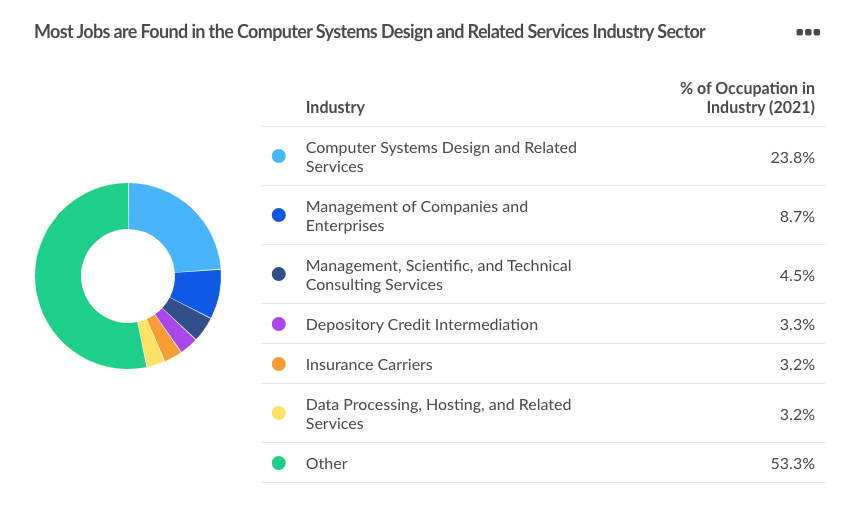 Additionally, cybersecurity job opportunities are brimming in various industry sectors, including: financial/risk management (Deloitte), engineering (Leidos Holdings, Inc.), IT consulting (Accenture), E-commerce (Amazon), health insurance (Humana), and banking (Wells Fargo).
RELATED: 4 Industries that Need Cybersecurity Talent
Cybersecurity is not industry specific. In fact, any industry that deals with securely processing and storing information is in need of cybersecurity professionals to keep their proprietary software, products, customers, stakeholders, and employee information safe.
If you're looking to earn top dollar in a cybersecurity role, consider working in one of these cities:
San Jose, California, average salary $148,000; 

San Francisco, $137,000; 

New York, $135,000; 

Austin, $134,000; 

Seattle, $130,000.



Source: KimKomando.com
What Employers Want in a Cybersecurity Professional
There's an obvious, growing demand for cybersecurity talent, but what exactly are hiring managers looking for? Here's a glimpse at how cybersecurity professionals make a positive impact in their role:
Analyze and resolve security issues in networks and computer systems to secure an IT infrastructure

Design, develop, test, and evaluate secure software

Develop policies and procedures to manage enterprise security risks

Evaluate and communicate the human role in security systems with an emphasis on ethics, social engineering, vulnerabilities, and training

Interpret and forensically investigate security incidents
RELATED: When it Comes to Cybersecurity, Being Human Can Be Your Biggest Strength or Weakness
Along with hard skills like computer science, operating systems, auditing, and agile methodology, hiring managers also want a cybersecurity leader who understands the human implications behind cyber threats. According to Security Magazine, human error poses cybersecurity challenges for 80 percent of businesses. Hard skills alone cannot mitigate these challenges—successful cybersecurity professionals must also be equipped with non-technical skills that allow them to approach situations from both a tactical and human angle.
Some of these non-technical skills include management, communications, troubleshooting, planning, and innovation: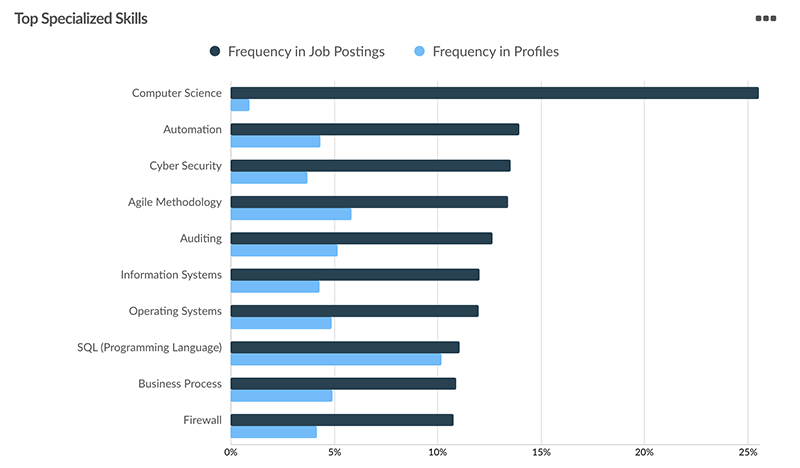 Earning Your Master's in Cybersecurity
If you're ready to prioritize your future career goals and to protect businesses from ever-increasing cyber threats, the University of Wisconsin offers an online, 34-credit Master of Science in Cybersecurity degree designed specifically for working professionals.
The curriculum was developed with input from industry leaders and serves to fill the skill gap identified by today's cybersecurity employers. With a focus on core cybersecurity topics, such as network security, cryptography, managing security risk, and more, graduates of the program will gain competencies that set them up for success as information security analysts, cybersecurity architects, chief information security officers (CISO), and systems administrators.
Students of the master's program must choose at least one of four tracks of study to personalize their learning: Digital Forensics, Cyber Response, Governance & Leadership, and Security Architecture. Each track consists of three to four courses specifically designed to build skill sets. For example, in the Digital Forensics track, students take the Computer Forensics and Investigations, Computer Criminology, and Network Forensics courses.
RELATED: Which Cybersecurity Track is Right for You?
What's Next?
The cybersecurity career outlook is bright—and so is your future in the UW Cybersecurity program! Curious about what you'll learn in the courses and how it will apply to your current and future roles in the cybersecurity field? See the program's curriculum or reach out to a helpful enrollment adviser at 608-800-6762 or learn@uwex.wisconsin.edu.