As a K-12 math teacher in northeastern Wisconsin, Sierra Erdmann has enjoyed helping students learn how to problem solve and overcome challenges in the classroom. 
After earning her bachelor's degree in secondary education mathematics from the University of Wisconsin-Madison, she has spent more than 13 years teaching. Her interest in data science and how to use it in her lessons grew over time, and what started as a hobby turned into career aspirations after she researched data science master's degree programs. Now a student in the UW Master of Science in Data Science with UW-Green Bay as her home campus, Sierra has transitioned into a new data analyst role that combines her love of data science with education.
"My goal in pursuing this degree has always been, from the beginning, two different things," she said. "First, to make sure that we're using quality data science practices in education to improve teaching and learning. But then also, on another very important side, make sure that we are teaching these in-demand career skills to our students, not just in math or computer science classes but K-12 and across the curriculum."
Adapting to Change While Changing Careers
In preparation to begin the program, Sierra completed prerequisite courses through UW and learned computer science skills. This required stepping out of her comfort zone while embracing the many changes that were happening around the world at the time. 

Sierra was accepted into the UW Data Science program in March 2020, which aligned with the emergence of the COVID-19 pandemic in the US. The news was quickly followed by Sierra's last day teaching her group of middle school students face-to-face due to statewide lockdowns, a period in her life she remembers vividly:
"It was shortly after that I stopped getting asked the question of, 'What are you going to do with a data science master's degree?' Suddenly, with the onset of the pandemic, everyone knew what data science was."
With her school district turning to virtual instruction, Sierra learned a lot about online education as both a teacher and graduate student. She's enjoyed taking what she's gained from courses and finding ways to integrate them into her own teaching.
Sierra has also benefited from the flexibility offered in the UW Data Science program. For her, attending courses in-person as a full-time teacher wasn't realistic. Sierra says a huge benefit of the program is being able to adjust her schedule and take semesters off when necessary.
"Finding this program that I could work on in the evenings, on the weekends around teaching, that I could do at my own pace and not have to go full-time—that was awesome," she said.
Sierra has also appreciated having opportunities to collaborate with classmates in the 100 percent online setting. With her math and statistics background, some of her favorite courses so far have been DS 705: Statistical Methods and DS 740: Data Mining. 
RELATED: Take a Look at a UW Data Science Course: Foundations of Data Science
Overcoming Obstacles With Support From Others 
As someone relatively new to the data science field, Sierra has embraced the challenge of other courses in the program. With less than one year of experience using the Python programming language, she had initially doubted herself when she first started taking DS 710: Programming for Data Science. 
"This is a graduate-level programming class that's full of computer scientists, computer engineers, data analysts, and I'm like, 'Hi everyone, I teach seventh grade math,'" she said. "The imposter syndrome was real."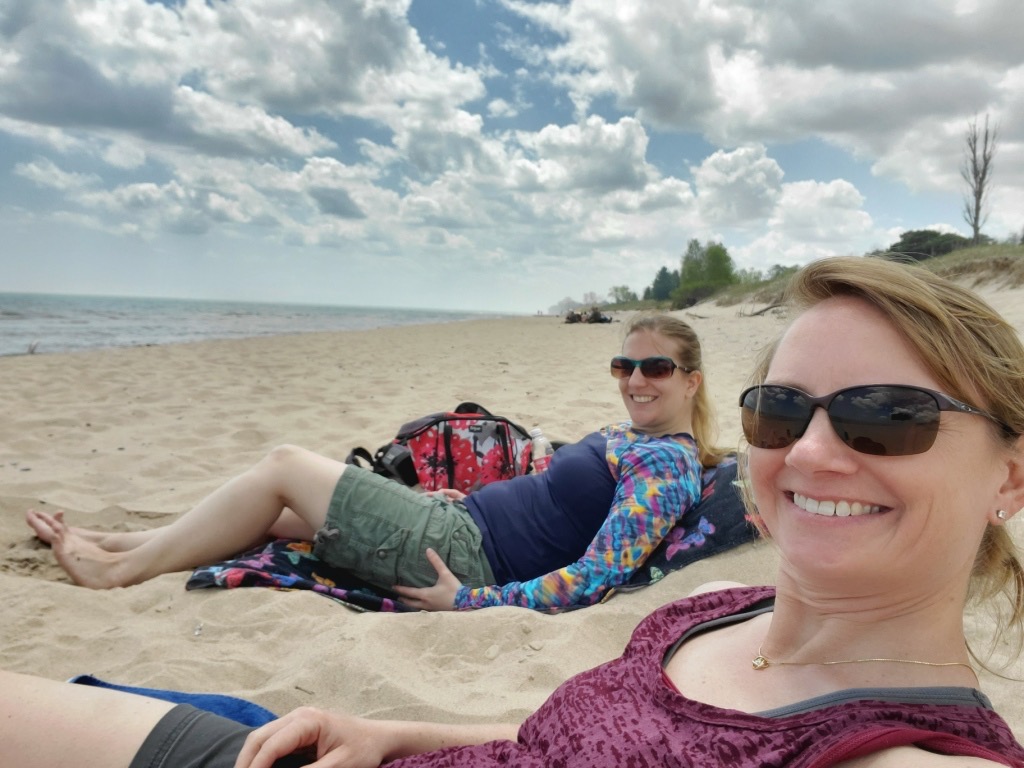 Sierra's classmates and instructors were more than welcoming and helpful, which allowed her to overcome the feeling of being overwhelmed. She completed her first graduate-level project in the program, which focused on a sentiment analysis on virtual education.
"The fact that I could, as a fairly new programmer, even be able to pull that entire project off was all because I was supported by my professors and classmates," she said.
Sierra's confidence continued to grow after meeting Dr. Lauren Mauel, an instructor for DS 745: Visualization and Unstructured Data Analysis who, like Sierra, taught math before moving into data science. She was excited to see someone with similar goals and passions representing the program.
Whether it's been instructors or other classmates, Sierra has never felt like she's been going through courses alone. She credits Senior Success Coach Michael Paul for guiding her through the program, especially during the unexpected. 
After contracting COVID-19 late last year and experiencing long-COVID symptoms, Sierra needed to change her course schedule to prioritize her health. By working with her Success Coach, Sierra reconfigured her schedule and found the best path forward in the program.
"Having that flexibility to pivot to a different class, but really to have Michael, as an awesome Success Coach, sit with you and talk you through all of your options, including ones you didn't think of yourself is helpful," she said.
RELATED: Women in Data Science: Meet Jennifer Cox, UW Data Science's Program Manager

Get Program Guide
Learn more about our 100% online degree and certificate programs.
Navigating a New Career in Data Science
Sierra originally thought she would need to complete the UW Data Science program before new career opportunities would open up, but fortunately this wasn't the case. She landed a temporary summer position as a data assistant with CESA 6, a nonprofit and member-driven agency that serves public school districts in Wisconsin and multiple other states. This allowed her to gain professional data experience while making extra money to support her tuition. 
Less than a year later, Sierra's temporary role turned into a part-time position after helping her employer create a spreadsheet that automated ACT scores and analyzed data from different school districts. The timing worked out perfectly, as Sierra was able to finish her final school year teaching while working at CESA 6. 

During this time, Sierra looked at benchmark data to determine what sections her students were ready for, along with "figuring out ways to take them to the next level." She now helps schools and teachers do the same by analyzing school assessment data while ensuring safeguards are put in place to protect the data being collected. 
Sierra accepted a full-time offer with CESA 6 in January 2022 and started later that year in July as a data analyst in the Department of Learning & Assessment. She's learning new things every day in her current role and is constantly looking for ways to incorporate her data science skills into her new profession.
"Data science is applicable and needed in every field, and there really is something to be said about domain knowledge, too," she said. "I have a K-12 math education background, and in my current work, that is huge and that is necessary." 
RELATED: Data Science Webinar Highlights the Current Job Market and Future of the Field
If you're considering the UW Data Science program, Sierra recommends coming up with a realistic timeline to account for other life commitments. Doing so was crucial for Sierra, since there was one point in the program where she was teaching full-time and working part-time at CESA 6 in addition to taking courses. 
"In online education, you need to really have motivation, be a self-starter, and have a plan," she said. "That includes time management and making sure things are prioritized correctly."
She also says it's important to reach out to your support system and ask for help when you need it. Sierra has continued to complete courses and advance her new career with the help she's received from her own support system, and she aims to earn her master's degree in Spring 2025. 
"I would like to thank my family, friends, teachers, colleagues, Success Coach, and classmates for their support in this education and career journey of mine," she said. "I truly couldn't do it without the amazing people in my life and a lot of faith!"
Want to learn more about the University of Wisconsin Master of Science in Data Science? Talk with an enrollment adviser by calling 608-800-6762 or emailing learn@uwex.wisconsin.edu.