Chris Jones loves to stay active and help others do the same. As an associate lecturer of kinesiology at the University of Wisconsin-Eau Claire – Barron County and instructor in the 100 percent online UW Associate of Arts and Sciences degree program, he's able to exercise his passion for health and wellness to teach students both in and outside of the classroom.
Chris became interested in strength and conditioning while taking physical education classes and playing on sports teams in high school. Wanting to turn his interest into a career, Chris earned his BS in exercise and sport science from UW-La Crosse. This led to strength and conditioning roles at Division 1 colleges around the country, including an internship working with the Wisconsin Badgers football team.
When the team's head coach left UW-Madison, Chris decided to enroll in graduate school at UW-La Crosse and earn his MS in sport science with an emphasis on adventure education and outdoor pursuits. He credits his time at La Crosse for learning more about team cohesion and gaining the skills to become a health and exercise science (HES) lecturer at UW-Eau Claire — Barron County.
As a lecturer, Chris likes to provide opportunities for students to get involved and make an impact outside of the classroom. He previously led a two-week immersion program where volunteers offered emotional support to refugees who were forced to flee Afghanistan after the Taliban took control of the country in 2021. The program was part of Operation Allies Welcome and took place at Fort McCoy, a US Army installation in western Wisconsin where temporary housing was provided to the refugees.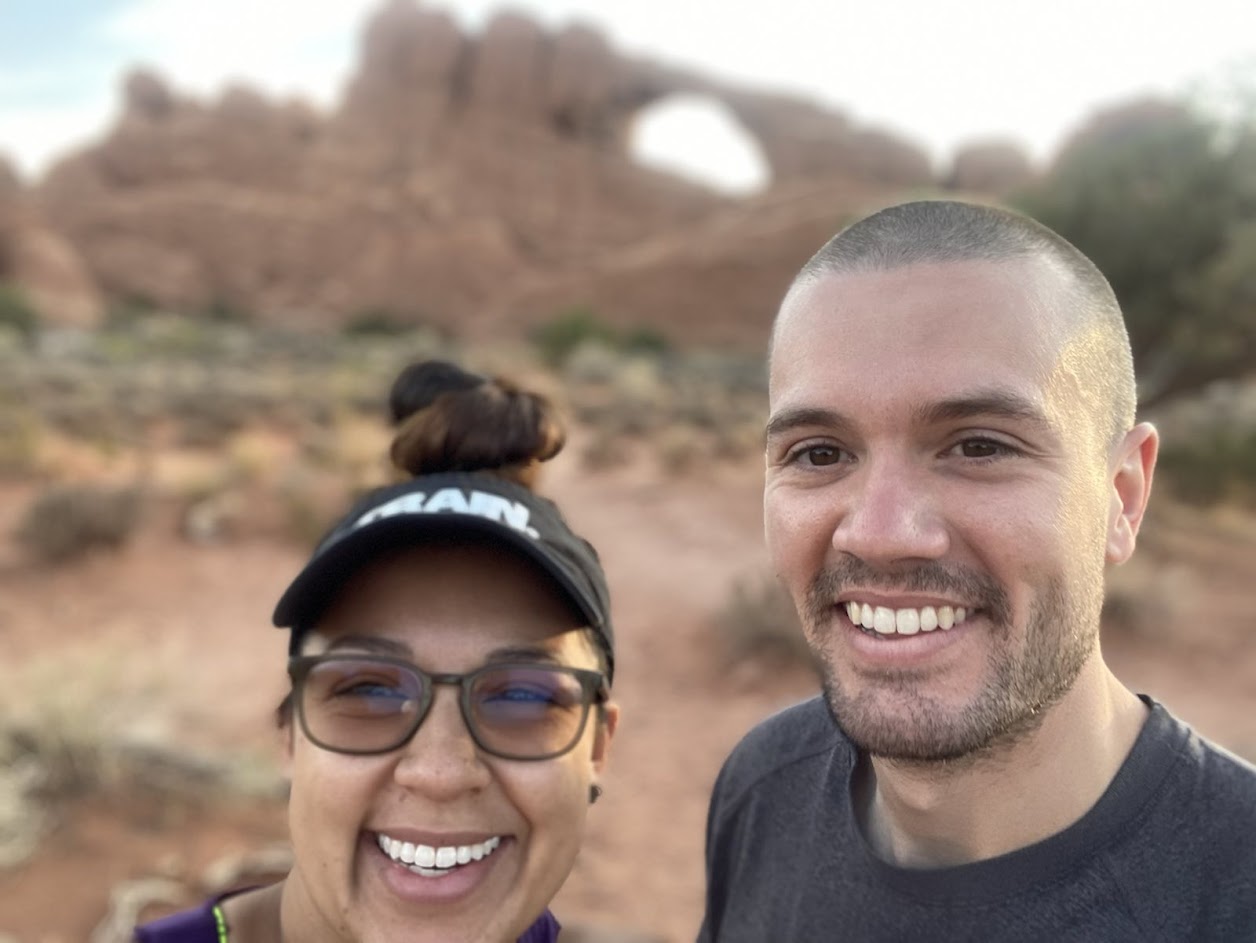 UW-Eau Claire students and faculty spent time with the refugees, sharing stories about one another's cultures, as well as playing sports and creating artwork with the children. The program concluded with a presentation from Chris, who summarized the refugee experience and how the immersion program furthered students' understanding of other cultures.
Chris carries this focus on experiential learning into UWX HE106: Lifetime Wellness and Self-Growth, one of the courses in the online UW Associate of Arts and Sciences program. The course follows a holistic curriculum where students learn about fitness concepts and practice self-improvement strategies to strive for a healthier lifestyle. Topics range from stress management and planning a healthy diet to developing positive relationships with yourself and others. 
For Chris, being able to teach an online course has been an exciting opportunity:
"I don't like to let any grass [grow] underneath my feet. I like to be active, moving around in the role. So having an opportunity to find these new challenges, everything from coaching to athletics administration and teaching, and now in this unique modality of teaching online, has been a unique piece for me, and it's been a lot of fun."
In the following Q&A, we spoke with Chris to learn more about his course and the overall benefits of online learning:
What can students expect from your course?
The big thing students can really draw from this class is a more pragmatic approach to health and wellness. We're also going through much more interactive pieces. We're doing virtual gym walkthroughs. We're having them get out and explore their space around them. We even have a podcast where they put in earphones and can listen to me narrate as they go for a walk and what's going on in the cells of their body as they're metabolizing the stored energy to create kinetic energy.
What can students expect from you as an instructor in an online degree program?
When you think about geographical location, you're restricted by the classroom itself, and oftentimes that means you're also restricted in time. You may only have a 50-minute lecture for me to go ahead and convey all the things that need to be happening, and then I give you readings. It's not going to be that. We're going to have brief pieces in which I'm going to go ahead and describe the essentials, what you need to know, and allow you to self-explore.
RELATED: UW Diversity Instructor Returns to Alma Mater and Reinvents Online Courses
What is your favorite part about teaching UWX HE106: Lifetime Wellness and Self-Growth? 
I remember taking my very first online class as an undergrad student, and it was very, very dry. I had no idea who the instructor was, some PDFs randomly popped up, and then there was a quiz. Just kind of read through it, did the best you could, roll the dice. Absorption of information really wasn't there.
Let's go back to what I love about this class—I feel like I have a better connection to the students in this particular class than some of my face-to-face courses. I've had a chance to have really good candor with the students, and it's been an absolute blast to talk to them about their goals and aspirations.
RELATED: UW AAS Program Offers Pathways to Fulfill Your Education Goals

Get Program Guide
Learn more about our 100% online degree and certificate programs.
What keeps you motivated with your work in this field?
What gets me really motivated to continue for it is, these students are here because they want to be here and they want to pull something from this. The big thing is all of this stuff is applicable: at the end of the day you have to know what groceries you need to buy. It's practical, pragmatic information. What resources are available to you from an environmental health standpoint? Occupational health? All these kinds of pieces, and it addresses real life concepts that any student that rolls into class can immediately connect with. 
I want to make sure the information we have is the most up-to-date and that the students can connect with it. If I go in and say, "Eat your vegetables and brush your teeth." Well all right, great—thanks for that. But making sure it's actually applicable to a student in 2023, that's going to be a big piece for me. Because as a student, when I was in undergrad, I wish I had a class that was like this. I really do.
Why should prospective students consider the UW AAS program?
If students are thinking about [the program] and are on the edge, I look at this: the transferability is big. The flexibility is another big thing where, again, to emphasize this, when I was in school, I wish I had this. To be able to go ahead and have that availability of taking these classes online and having the flexibility. The accessibility to instructors of being able to send a message and get that connection, you're not going to have that at any institution where you're able to create that level of both flexibility and connection with instructors. 
Interested in learning more about the 100 percent online UW Associate of Arts and Sciences program? Take a look at the curriculum page or reach out to an enrollment adviser with any questions about the program. For more information, call 608-800-6762 or email learn@uwex.wisconsin.edu.