Whether you're currently working in healthcare or have experience in business administration and want to make a career transition, the University of Wisconsin Master of Science in Healthcare Administration will help you acquire the skills required to be a successful healthcare leader.
Since there isn't a "one-size-fits-all" job description in healthcare administration, the program benefits students looking to acquire a range of skills. Graduates of the program will be qualified for leadership positions in a variety of healthcare workplace settings all throughout the field.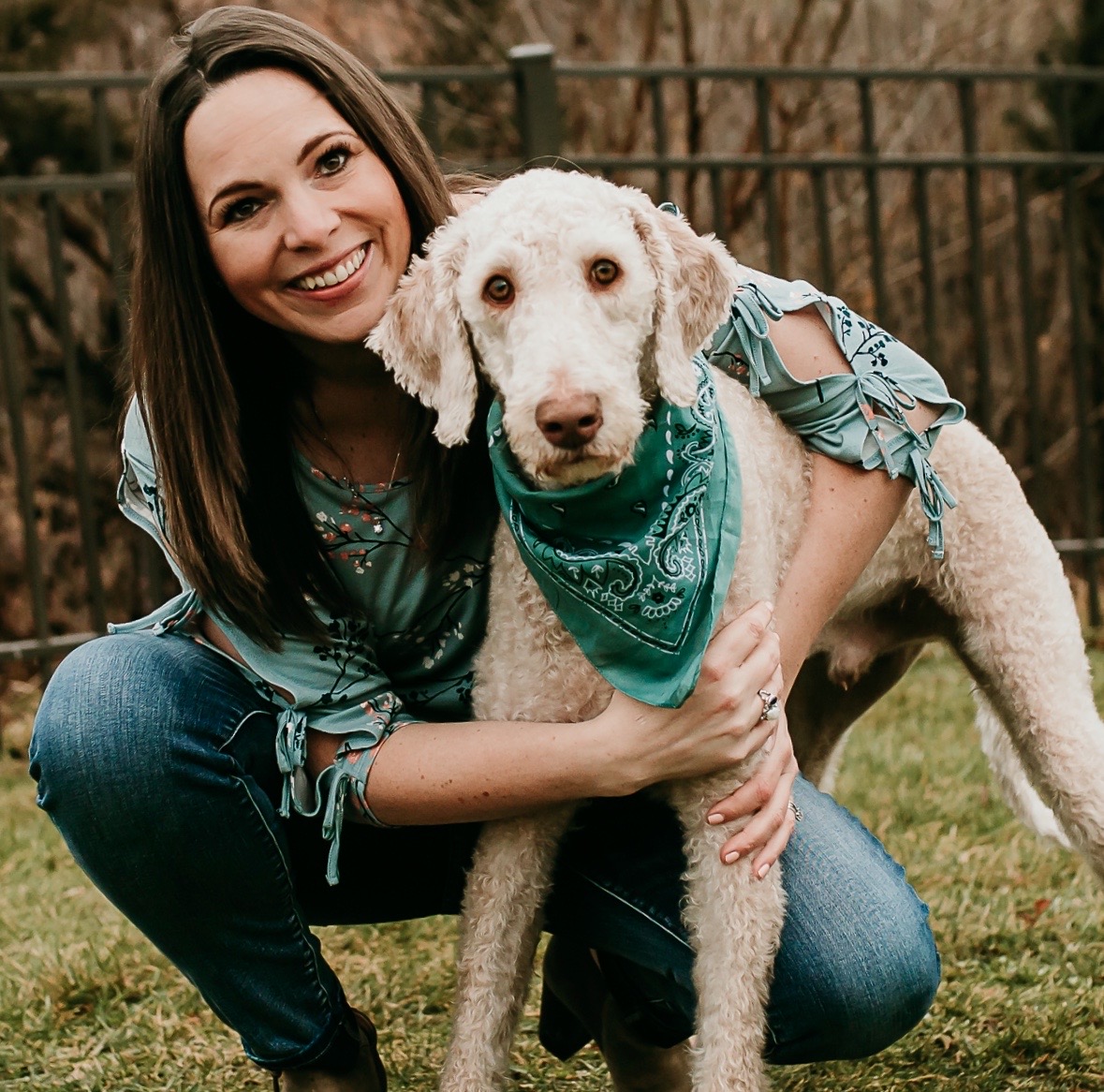 Taking the Next Step in Your Healthcare Career
For those who already work in healthcare and want to advance their career, the program provides the skills and knowledge in healthcare management that will open the door to leadership roles.
Katy Johnson, one of the first graduates of the UW Healthcare Administration program, became the Social Service Director at Bethany St. Joseph's Care Center in La Crosse, Wisconsin after assisting nursing homes as a social worker.
"The courses reignited my passion for advocating for my residents, and reaffirmed that I'm doing the right thing with my career," she said.
Like Katy, students with a background in healthcare and related fields can draw on their knowledge of healthcare systems and hands-on experience to complete projects and other coursework. You will also learn the business side of healthcare to fill the management knowledge gap, giving you the ability to oversee facilities and make structural changes.
The following courses will help you gain business insight from the healthcare perspective: 
With the recent surge in new COVID-19 cases and hospitalizations due to the Omicron variant putting a strain on healthcare systems, there is a need for leaders in these facilities to create policies and procedures that will positively impact staff and their patients. While healthcare administrators might not have as much direct contact with patients compared to other roles, you will have the opportunity to transform entire organizations for the better.
From Clinical Work to Administrative Roles
Clinical healthcare workers with a desire to move up to an executive role can make the transition with a master's degree, regardless if you're working at a rural or urban clinic. 
Healthcare administrators manage the inner workings of a health system, the facility's finances, and patient records. By drawing from your leadership skills as a clinician or nurse, you can establish policies to provide quality care at an organizational level. Your medical background and experience with direct patient care will also help when making important decisions that affect patients on a much larger scale.
With a wide array of courses offered in the program curriculum, students coming from a specific health facility will learn and understand concepts for the rest of the healthcare system. There are many career possibilities within healthcare administration, including strategic leadership, human resources, and information governance. A growing segment within healthcare is senior care, as an aging baby boomer population has led to many searching for different care models. 
The UW Healthcare Administration program features the Senior Living and Services Leadership Certificate, which serves as an add-on option for master's students that can also be completed as a standalone certificate. Whether you're new to the field or already have a leadership role in senior care, the certificate is a great way to enhance your understanding of the rules and regulations that come with providing adequate care for the elderly. 
RELATED: 4 Reasons Why Transitioning from a Clinician Role to a Health Administration Role Could be Right for You

Get Program Guide
Learn more about our 100% online degree and certificate programs.
Leveraging Your Management Experience in Healthcare
Students with previous management or business experience will start the UW Healthcare Administration program with a deep understanding of business operations to boot.
Your experience with managing teams will allow you to excel at handling conflict resolution and having a collaborative work ethic across multiple healthcare disciplines. Strong communication  and other soft skills are key, as possessing leadership qualities will strengthen your relationships with doctors, nurses, and department heads to ensure the organization's success.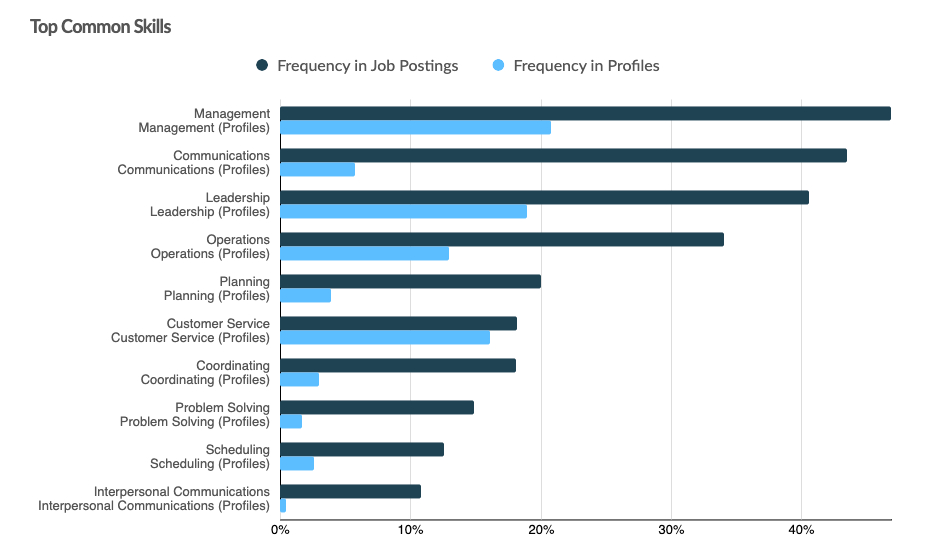 Emsi 2022.2
Management experience proves beneficial when overseeing staff recruitment and retention efforts. Those with business backgrounds can also thrive in certain healthcare areas such as financial management, human resource policy, and public relations.
To round out your healthcare-focused knowledge, students will take courses such as: 
The program's capstone course gives you the chance to work in a real-world setting, which is especially beneficial for those with no prior healthcare experience. Members of the UW Healthcare Administration advisory board also host students working on capstone projects to create smooth school-to-work transitions. Upon completing the capstone, students develop professional connections that can lead to job opportunities. 
RELATED: Take a Look at a UW Healthcare Administration Course: Population Health and Epidemiology
What's Next?
The UW Healthcare Administration program is a solid option for professionals seeking career advancement or entrance to the rapidly expanding field. The U.S. Bureau of Labor Statistics predicts employment of healthcare administrators will grow 32 percent over the next decade, which is significantly faster than other occupations.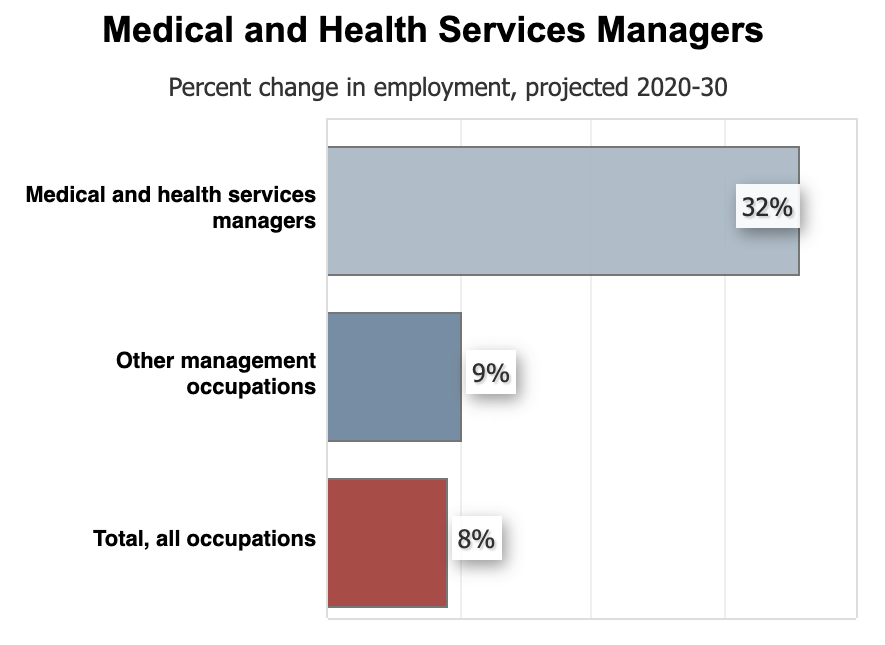 U.S. Bureau of Labor Statistics
The median annual salary of medical and health services managers is $104,280. Other healthcare administration jobs and their median annual salaries include:
RELATED: Healthcare Administration Salaries
Students with a bachelor's degree—in any discipline—can apply to the UW program and learn the skills needed to become a healthcare administrator. With a comprehensive curriculum which develops the strategic management skills and healthcare insight in an online format that fits your schedule, the program is ideal for those working in a rural healthcare system.
No matter your healthcare or management experience, the UW Master of Science in Healthcare Administration will help you achieve your goals and become a compassionate leader for your organization.
Interested in learning more about how the online University of Wisconsin Healthcare Administration program can help you advance your healthcare career? Reach out to an enrollment adviser by calling 1-877-895-3276 or emailing learn@uwex.edu.