While some industries have been faced with mass layoffs this year, healthcare opportunities have grown over the past few years and are expected to continue growing. 
According to the US Bureau of Labor Statistics, employment in healthcare is projected to grow much faster than other occupations from 2022 to 2032, with roughly 1.8 million job openings expected each year. An increased use of electronic health records, expanded healthcare coverage, and aging baby boomer population have all led to the need for more professionals in the field. 
Do you want to make an impact in healthcare but prefer jobs not involving direct patient care? Consider non-clinical roles, which are plentiful and offer many possibilities for you to improve health systems from within.
Health Information Management Careers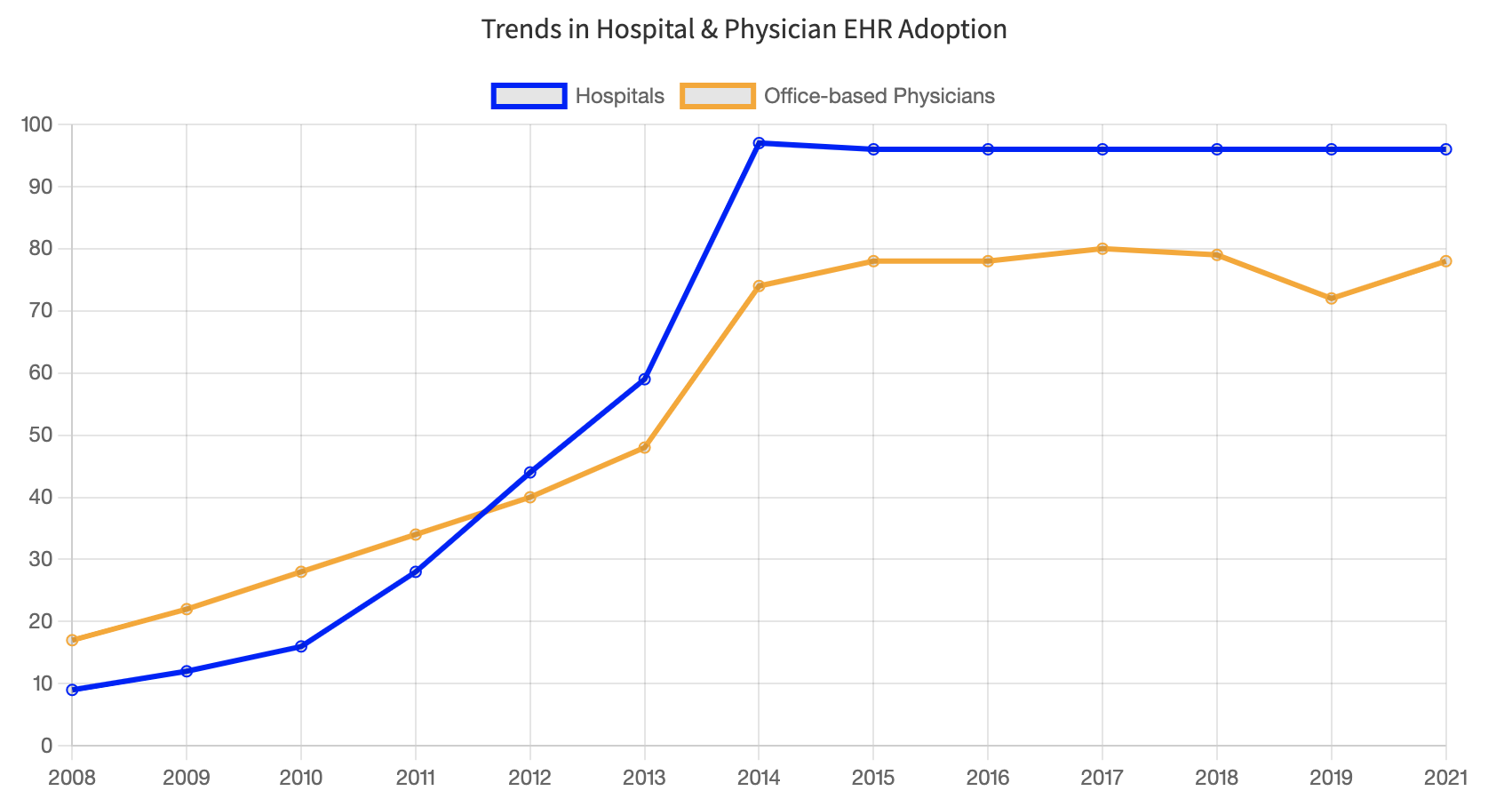 Positions in health information management are in high demand and allow you to work in teams or more independently in office and remote-based settings. Below are some examples of health information management and health information technology careers:
Health Information Manager
Health information managers organize and protect patients' confidential medical records to ensure accuracy and privacy. This can include a patient's symptoms, medical histories, and test results. They help bridge various departments within a health system by connecting clinical functions with administrative ones. Patient information is entered into medical databases which physicians, nurses, and other healthcare professionals access. As of 2021, the vast majority of office-based physicians and non-federal acute care hospitals have adopted electronic health record systems. Unlike clinical professions, health information managers do not work directly with patients. Positions are also available at insurance companies, consulting firms, and pharmaceutical firms. Health information managers must be detail-oriented and able to adapt to new technological changes.
Average base salary: $97,042 (Source)
Medical Coder/Manager
Medical coders are responsible for taking patient medical documents and turning them into universal medical codes to maintain accurate records. The codes are used by the World Health Organization, healthcare providers, and insurance companies for billing statements, record-keeping for medical claims, and obtaining data analytics for decision-making and research. Medical coding differs from billing in that medical coders pull information from patients' records and translate them into standardized medical codes. The medical coding system is universally used around the world. Medical coders work in physicians' offices, hospitals, clinics, and anywhere patient information may be found. Some positions have the option of working remotely. An attention to detail, knowledge of software systems, and time management are all important skills for the position. 
As a manager of a medical coding department, you would be working with trained medical coders to provide information which is crucial to the revenue cycle of an organization, along with important data which may be used to make overall healthcare facility decisions and research.
Average base salary: $86,359 (Source)
Healthcare Data Analyst 
Healthcare data analysts are at the intersection of the technology and healthcare industries. They examine insights related to healthcare which can be used to reduce healthcare costs, streamline healthcare processes, and create better care overall. Data collected comes from medical records, health insurance claims, and public health data. The position allows for those with tech experience to transition into healthcare, while those already working in healthcare in a clinical role can switch to data analysis with extra training. In addition to healthcare facilities, data analysts can be found at consulting companies and government organizations. Proficiency in mathematics and statistics, programming languages like Python and SQL, and data visualization tools are all crucial skills for the role. 
Average base salary: $72,286 (Source)
Additional non-clinical health careers within HIMT include: 
Coding Compliance Officer

Clinical Documentation Improvement Specialist

Medical Research Analyst

HIM Consultant

Health Data Informatics Specialist

Revenue Cycle Manager/Director

Compliance Officer

Quality Control Manager/Director

Data Quality Manager
If you're a healthcare associate looking to complete a bachelor's degree program or are new to healthcare and want to gain the skills needed for a career in the field, consider the University of Wisconsin Bachelor of Science in Health Information Management and Technology. The HIMT degree is a bachelor's completion program where students transfer previous credits, meaning you can leverage your associate degree to work toward the program. 
The HIMT degree is accredited by the Commission on Accreditation for Health Informatics and Information Management Education (CAHIIM). Upon completing the program, you will be qualified to sit for the Registered Health Information Administrator (RHIA) certification and other credentialing exams. 
"I recently accomplished a major milestone by earning my bachelor's degree in HIMT. The program boasted a wide-ranging yet easily digestible curriculum, guided by incredibly knowledgeable and encouraging professors. My expertise in health informatics, data analysis, and project management grew considerably, as did my hands-on experience through internships and practice-oriented coursework. If you're looking to skyrocket your career in health information technology, I wholeheartedly endorse this program!" —Hugo Santiago, UW HIMT graduate
RELATED: Students Without Prior Healthcare Experience Can Thrive in the UW HIMT Program
Healthcare Administration Careers

Healthcare administration provides various opportunities for career pathing. This leadership-focused field will see significant growth over the next decade, with employment expected to increase 28 percent through 2032. In addition to working at hospitals, you can explore other opportunities at provider offices, outpatient service sites, extended/long term care facilities, and small private practices. Below are some examples of healthcare administration careers:
Healthcare Administrator
Considered one of the top jobs in the US, healthcare administrators work with physicians, nurses, and surgeons to lead the operation of health systems. They make key decisions to support the policies that run a healthcare facility. Healthcare administrators ensure the safety of patients and work to give them the best healthcare experience possible. Rather than work with patients directly, healthcare administrators oversee facilities at a higher level and are skilled in the regulatory framework of patient care. They also manage a facility's finances and work to ensure their organization complies with HIPAA laws and regulations. Healthcare administrators must have business administration skills, effective communication, and an understanding of patient care and health systems. 
Average base salary: $104,830 (Source)
RELATED: What is Healthcare Administration?
Human Resources Manager
Human resources managers serve as a link between a health facility's management and its employees. They play a key role in an organization's administrative functions, such as hiring and training new staff, addressing employee concerns, and ensuring the facility complies with both state and federal regulations. In addition to working with employee benefits, hiring, and compensation, HR managers oversee and ensure employee well-being. Having adequate decision-making skills, an understanding of compensation and benefits plans, human resources software, and federal, state, and local employment laws are all important for the role. 
Average base salary: $117,134 (Source)
Hospice Administrator
Hospice administrators oversee programs which assist with the transition of terminally ill patients and their loved ones. They manage the finances and day-to-day operations of the hospice and arrange the palliative care to meet patients' needs. Other tasks include hiring staff and ensuring compliance with healthcare regulations are met. In addition to having strong leadership and problem solving skills, hospice administrators must show sensitivity and empathy when working with patients and their families to help provide end-of-life care.
Average base salary: $98,650 (Source)

Get Program Guide
Learn more about our 100% online degree and certificate programs.
Additional non-clinical health careers within healthcare administration include: 
Manager of Business Systems

Project Manager

Systems Analyst

Ambulatory Care Manager

Assisted Living Administration

Healthcare Quality Improvement Manager

Healthcare Clinic Manager

Home Health Administrator

Hospital Administrator

Nursing Home Administrator
If you're planning your next move in healthcare, the University of Wisconsin Master of Science in Healthcare Administration allows you to progress further in your educational and professional career. By developing skills in strategic management, healthcare law and policy, and healthcare financial management, you will be equipped with the knowledge to improve healthcare facilities. 
The 100 percent online program is especially great for busy adult students and those working in rural healthcare, as the ability to take courses anytime and anywhere without needing to attend in-person lectures creates room for more flexibility in your schedule. 
"If you feel it's the right time in your life and you're passionate about healthcare and you want to further your career in healthcare—this is a great program." —Katy Johnson, UW Healthcare Administration graduate
RELATED: UW Healthcare Administration Program Prepares Student to be a Leader in Healthcare
What's Next? 
If you're interested in healthcare roles, University of Wisconsin Extended Campus has degree and certificate programs for you to explore—no matter how far along you are in your career. UW Extended Campus collaborates with campuses across the Universities of Wisconsin to provide multiple healthcare programs to students. With 100 percent online offerings that allow you to fit courses into your busy schedule, our collaborative and competency-based programs provide the skills and practical experience required to excel in the field.
Learn more about our 100 percent online degree programs and their course offerings:
Master of Science Degrees:
Bachelor of Science Degrees:
Certificate Programs:
To find out more about our healthcare programs, contact an enrollment adviser by calling 608-800-6762 or emailing learn@uwex.wisconsin.edu.